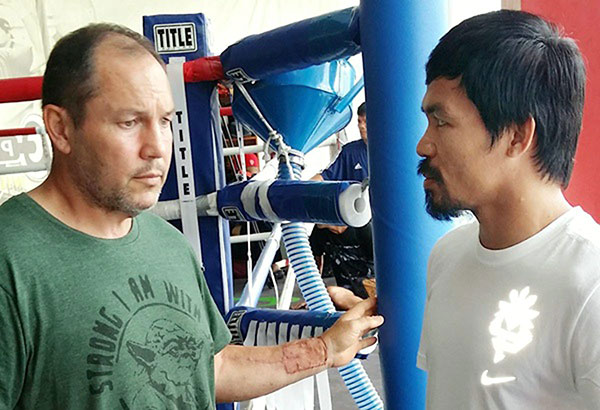 Australian conditioning coach Justin Fortune with WBO welterweight champion Manny Pacquiao. FILE PHOTO
Fortune says Manny on track for Horn
MANILA, Philippines - Australian conditioning coach Justin Fortune said yesterday WBO welterweight champion Manny Pacquiao will be ready to go beyond the distance against challenger Jeff Horn when they clash in Brisbane on July 2, adding that the fighting 38-year-old Filipino senator is training like he's 28.
A sell-out crowd of 55,000 is expected to pack the SunCorp Stadium for the scheduled 12-round bout that will be Pacquiao's first defense of the crown he regained by dethroning Jessie Vargas in Las Vegas last November. Horn, 29, is unbeaten with a 16-0-1 record, including 11 KOs, while Pacquiao's slate is 59-6-2, with 38 KOs.
"No problem with stamina or his legs," said Fortune who's in General Santos City supervising Pacquiao's conditioning drills. "Manny's dead serious when it comes to training. Can he go 24 rounds on fight night? Absolutely. Right now, Manny's about 146 or 147 pounds and we want him to be 146 1/2 at the weigh-in. But you know Manny. He'll probably come in less. In the welterweight division, weight's never been a problem with Manny. His metabolism is just incredible. I know guys who would die to have his metabolism."
Fortune, 51, said he's focusing on plyometrics and footspeed in Pacquiao's workouts. "We're not doing anything different from before," he said. "Manny's such a great athlete that he can punch and move at the same time. With his foot movement, Manny's impossible to catch. And when Horn comes in, Manny will nail him. I think Manny needs to knock out Horn and I know he will."
Pacquiao hasn't scored an abbreviated win since halting Miguel Cotto in 2009. So it's been 12 fights that Pacquiao hasn't posted a stoppage although victims like Vargas, Tim Bradley and Chris Algieri were decked in multiple knockdowns.
Fortune said Pacquiao has sparred 12 rounds twice and today, he's booked to do 10. The plan is to taper off to eight rounds on Monday, six on Wednesday and four on Friday before leaving for Australia on Saturday. Fortune said Pacquiao will spar four more rounds in Australia. Pacquiao's sparmates are unbeaten Australian lightweight George Kambosos, Mexican lightweight Adrian Young who once decisioned Filipino Silvester Lopez and Filipinos Leonardo Doronio and Sonny Katiandagho.
Kambosos stands 5-9 1/2, Young 5-8 1/2, Doronio 5-7 and Katiandagho 5-8. Horn is 5-9. "The Filipino guys are great," said Fortune. "They show Manny different styles and test his punching power. Young is a tall kid, not very fast but aggressive. Kambosos fights like Horn. He's a tough guy. He comes forward and like Young, is aggressive. I think we've got a good team of sparmates for Manny."
Kambosos, Young and Katiandagho are 24. They're energetic and eager to test themselves against Pacquiao. Kambosos volunteered to spar with Pacquiao and was highly recommended by Roach since he trains at the Wild Card Gym in Los Angeles. Young has a 23-3-2 record, with 18 KOs, and started his pro career with an unbeaten streak of 20 fights. Doronio, 28, totes a 15-14-3 record, with 10 KOs, and has fought in Russia, Mexico, Thailand and Japan, bringing a lot of experience to the ring. Katiandagho's record is 11-2, with 6 KOs, and the General Santos City welterweight has seen action in China, Korea and Australia.
Last month, Kambosos pounded out a 10-round decision over Melbourne's Qamil Balla in New Zealand. Kambosos, nicknamed Ferocious, floored Balla once in the bout where Filipino Danrex Tapdasan was the referee. Balla's claim to fame was he beat Horn when they were amateurs in the Australian eliminations for the 2009 World Championships.