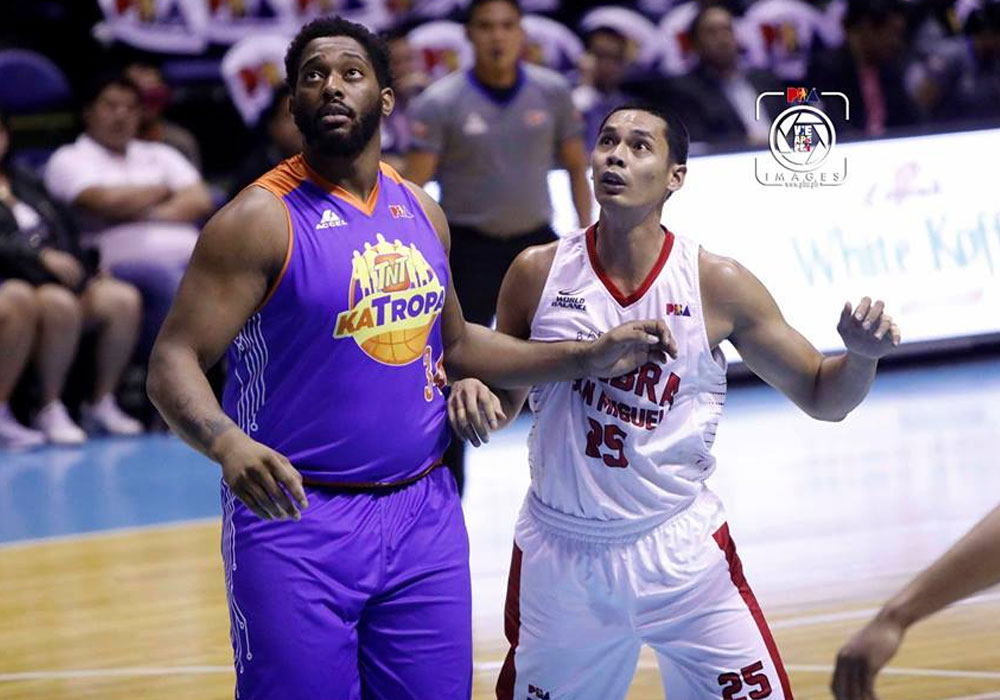 TNT's Joshua Smith and Japeth Aguilar of Ginebra during a rebound play | PBA Images
TNT's Smith ready to play in Game 4 vs Ginebra
Game Monday (Cuneta Astrodome)
5 p.m. – Ginebra vs TNT KaTropa
MANILA, Philippines – TNT KaTropa import Josh Smith showed up in practice yesterday and assured the team he's ready to play as they take their second shot at finishing off the Barangay Ginebra Kings in Game Four of their PBA Commissioner's Cup best-of-five semifinal playoff Saturday night at the Cuneta Astrodome.
Game time is at 5 p.m. with the Texters out to bounce back from a 101-125 blowout loss Thursday while the Gin Kings look for another win to send the series to a deciding Game Five.
Result of Smith's MRI (magnetic resonance imaging) test done immediately Thursday night at the Makati Medical Center showed he sustained a slight ligament tear.
"There's pain but I'm ready to play through it. I'm one win away (from the finals). I've been with the guys for a month and a half, and I can't leave them now," said Smith in a statement that has lit up the spirit of the Texters.
"The morale of the team really went down when they saw Smith limp off the court in Game Three. When he joined the team in practice (Friday), everybody was pumped up. The team is back in high spirit," said a team official.
Smith was limited to playing 10 minutes in the first half in Game Three because of the sudden pain he felt on his right foot.
Falling behind by 21 points midway through the second quarter, the Texters were no longer able to get back into the game especially as Smith left with a full quarter to go in the contest.
Joe Devance, Ginebra's main defender against Smith, admitted they're spared a huge load on the exit of the monstrous TNT import.
"Just the minutes I had on him was tough. He's huge. He's the biggest player I played, by far. And he's a great player," said Devance.
Ginebra coach Tim Cone said they will try to ride the momentum of their Game Three win in a bid to get the series to a winner-take-all setto.
"Our goal is try and get this thing to a Game Five. We said that before this game and if we get this to a Game Five then let the chips fall where they may," said Cone.
"At least we got one and let's see if we can get another," added the 19-time champion coach. "We played better (Thursday) and we hope it can carry over."
Ginebra chief playmaker LA Tenorio doesn't lose hope, saying they play better when they're the underdogs.
"It seemed being the playoff top seed got into our head. We became a little complacent and we didn't play our usual game," said Tenorio.
"At 0-2, we made things simpler. We tried to play our usual game and it came out," he added.
"I think a lot of that might be in being the No. 1 seed. The burden of being the No. 1 seed, the pressure that goes along with being the No. 1 seed, the expectations are too high for us," said Cone.
"I think (in Game Three), we kind of handled that mentality after losing the first two games, and that helped us. Hopefully, that will carry on," Cone added.