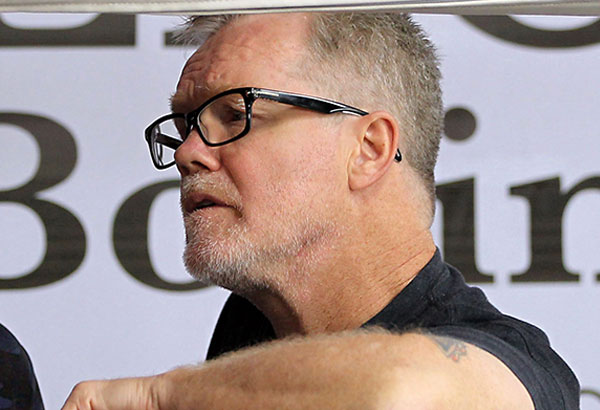 Roach gives Irishman no chance
MANILA, Philippines - Freddie Roach is on the same page with the oddsmakers for the anticipated clash between boxing legend Floyd Mayweather Jr. and UFC superstar Conor McGregor.
Even before the fight between Mayweather and McGregor was sealed and announced, the 57-year-old boxing trainer had tried to size things up.
In his own opinion, McGregor, the pride of Dublin, Ireland, who's never been in a boxing match in his life, doesn't stand a chance against the undefeated American.
"McGregor needs five years to get ready for this fight. Come on. Give me a break," Roach told Pinoy writers during Manny Pacquiao's recent training.
Oddsmakers have placed the 40-year-old Mayweather, shooting for a 50-0 boxing record, a 1/12 favorite, meaning $12 would only win a dollar if placed on Mayweather.
McGregor, younger at 28 and cockier inside the cage, is at 6/1 – where a dollar wins $6.
"That's like a wrestler versus a boxer. To me, there's no interest. But I heard it's gonna sell," said Roach.
Well, whether Roach likes it or not, the match that's set Aug. 26 in Las Vegas will definitely sell, and this early, the people behind it are saying that sky is the limit.
It's projected to even surpass the $600 million in revenues generated by the Mayweather-Pacquiao show in 2015.
Pacquiao, who's gearing up for a July 2 defense of his WBO welterweight title fight against Jeff Horn in Brisbane, has yet to comment on Mayweather vs McGregor.
"We haven't talked about it. No comment yet," said David Sisson of Team Pacquiao.
Roach was hoping that instead of fighting the UFC superstar, Mayweather would face Pacquiao for a rematch of their 2015 showdown.
"I still want that fight to happen," he said.
"This (Mayweather-McGregor) is a joke to boxing," Roach added.