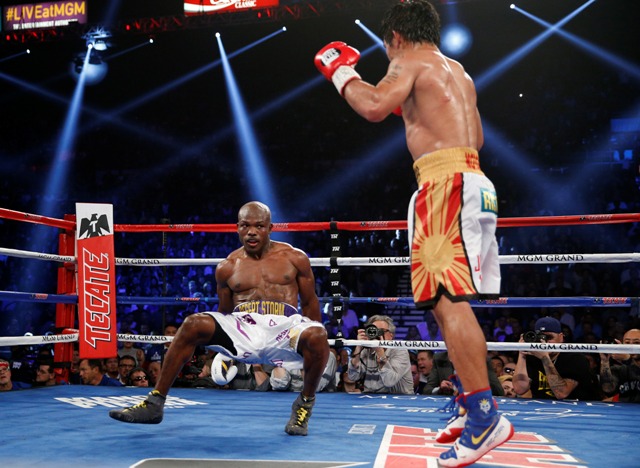 In this April 9, 2016 file photo, Timothy Bradley falls to the mat after getting hit by Manny Pacquiao during their WBO welterweight title bout at the MGM Grand in Las Vegas. | AP
Bradley cautions Horn of Pacquiao's power
MANILA, Philippines – Timothy Bradley, who fought Manny Pacquiao thrice, has warned Jeff Horn to brace for the Filipino icon's punching power.
Speaking recently to fighthype.com, Bradley pointed out that the 29-year-old Horn has a fighting style that suits Pacquiao.
He said the Australian will inevitably get tagged by Pacquiao.
"Jeff Horn is going to feel Pacquiao's power. He's there to be hit," the former two-division champion said.
Bradley himself tasted Pacquiao's heavy hands during their fights in 2012, 2014 and 2016, getting knocked down twice in their third meeting. The tough Bradley managed to hang on though, losing only by decision in that bout.
Horn will try to shock the world when he challenges Pacquiao for the WBO welterweight championship on July 2 in Brisbane, Australia.
But it will by a tall order for Horn, whose come-forward style, according to Bradley, will be the cause of his downfall against Pacquiao.
"Horn comes forward and that's what Pacquiao wants. He [Pacquiao] wants you to come forward so he can use the angles and pop you from outside," Bradley continued.
The American boxer singled out Pacquiao's left straight as the one that will do the most damage in the fight.
"That straight left is his best punch. If he lands that shot you gonna go down and you're gonna feel it," added Bradley.
Bradley (33-2-1, with 13 KOs) hasn't fought since losing to Pacquiao in their rubbermatch in April last year.