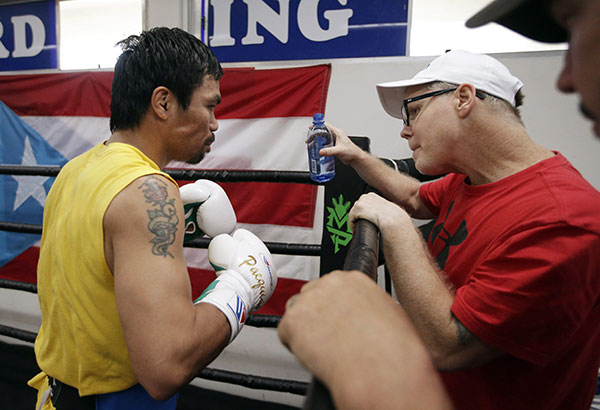 Manny Pacquiao and Freddie Roach in this file photo.
Pacquiao goes easy on sparmates; Roach unimpressed
MANILA, Philippines – Manny Pacquiao on Tuesday laced up his gloves for his second day of sparring, but it was hardly a session to remember.
Pacquiao, who will defend his WBO welterweight title against Australian Jeff Horn on July 2, went a total of five rounds against a couple of local fighters at the Elorde Gym inside the Mall of Asia Complex in Pasay City.
Under the watchful eye of trainer Freddie Roach and in front of a decent crowd—the session was open to the public—Pacquiao went to work against lightweight Leonardo Doronio and super lightweight Sonney Katiandagho.
But Pacquiao was far from the deadly fighter he's long been known for.
Journeyman Doronio (15-14, with 10 KOs) first sparred with Pacquiao for two rounds, giving a good account of himself by tagging the Filipino icon with straights and hooks. Still, he left the ring gasping for air.
"Two rounds? Parang lumaban ako nang 12 rounds pag siya ang ka-sparring ko eh," Doronio told Philstar.com afterward.
Katiandagho (11-2, with 6 KOs), who like Pacquiao hails from General Santos City, then took over from Doronio for an additional three rounds. Like Doronio, the 24-year-old fighter nicknamed "Pinoy (Thomas) Hearns" also had his moments, even besting Pacquiao in some exchanges.
Throughout the five-round session, Pacquiao was contented to bobbing and weaving while occasionally slipping in a jab or a straight. He never dominated the exchanges, and sometimes appeared to let himself get hit.
Even Katiandagho—overwhelmed by the fact that he was tapped to spar with one of the greatest boxers of his generation—noticed it, thinking that Pacquiao went easy on them.
"Tingin ko pinagbibigyan lang ako ni Boss Manny," he said, at the same time praising his employer for still having it.
"Yung speed hindi nagbabago, yung galaw niya," added Katiandagho.
On a dull day, Pacquiao still impressed his starstruck sparring partners.
But it wasn't the case for Roach, who called the five-round session an eyesore.
"His second day of sparring today is maybe the worst I've ever seen so far. His timing is really really off," Roach told Filipino scribes after Pacquiao wrapped up his workout.
Pacquiao's longtime trainer then said they're "way behind" the training schedule, and it showed in his ward's sluggishness in sparring.
Nevertheless, Roach isn't pushing the panic button, knowing there is still enough time for Pacquiao to shed rust and reach peak form.
"It [Pacquiao hitting peak form] is not gonna happen overnight. It's gonna be a process," added Roach, who also said he's mulling to bring in more guys to spar with Pacquiao.