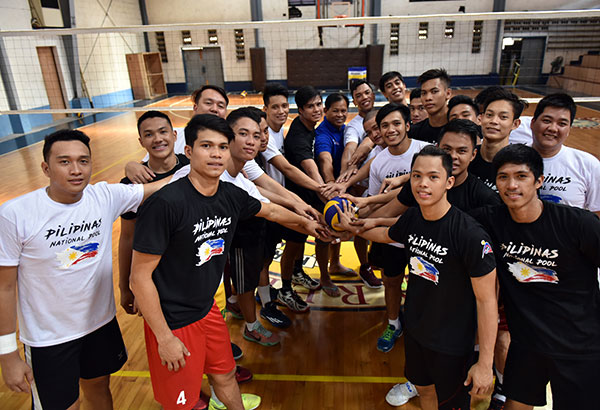 National team head coach Sammy Acaylar on Friday trimmed the training pool to 18 players.
Benilde's De Guzman leads 18-man SEAG volleyball pool
MANILA, Philippines — Down to 18 names.
Men's national volleyball team head coach Sammy Acaylar on Friday revealed the names of the 18 players who will train overseas for the upcoming Southeast Asian Games.
"I don't like na ako lang pipili ng 18, so I called up all he coaches because I want to be fair with everybody." he said.
College of St. Benilde's Johnvic De Guzman was a shoo-in the lineup after being named team captain earlier.
Also in the 18-man pool are Air Force's Jeff Malabanan, Ranran Abdilla, Reyson Fuentes and Louwie Chavez.
Despite missing the Clash of Heroes event due to training, Cignal players Bonjomar Castel, Herschel Ramos and Mark Alfafara made the list.
Three Cebu standouts made the list: Dave Cabaron, John Kenneth Sarsena and John Carascal.
Collegiate players who made the cut are La Salle's Geuel Asia, NU's Bryan Bagunas, UE's Edward Camposano, UPHSD's Relan Taneo and Jack Kalingking and FEU's Greg Dolor and Peter Quiel.
Notable players missing from the lineup are four-time UAAP MVP Marck Espejo and four-time UAAP best Setter Ish Polvorsa, who donned the national colors in the 2015 SEAG.
From the 18 players, another cut will be made and only 12 players from each team wil suit up in the SEA Games.