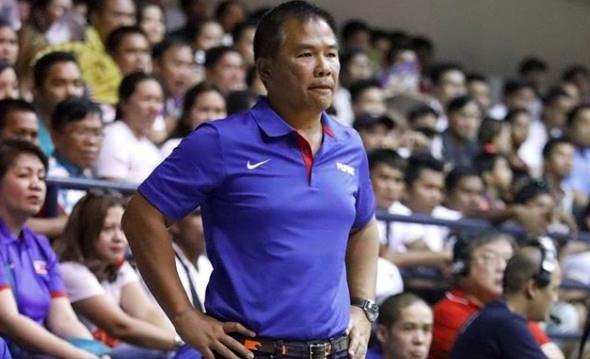 Gilas Pilipinas head coach Chot Reyes | PBA Media Bureau File Photo
Chot admits having finals showdown vs Indons in mind during Gilas-Vietnam tussle
MANILA, Philippines — Chot Reyes is saving the best for last.

After scoring another convincing victory over Vietnam, the national team head coach shared that the final SEABA game—which will be against Indonesia—had been in everyone's mind.

And it was evident early into the game against the Vietnamese.

"Well we went into this ballgame with the intent and purpose of making sure that we keep our discipline and retain good habits, and not fall into bad habits. Unfortunately, it wasn't the case in the first quarter—in the first half," Reyes said.

But that was understandable, he noted, as the players—he thought—"have been subconsciously thinking or preparing for the harder game."

Indonesia is finally competing with full potential after naturalized cager Jamarr Johnson and part-American Arki Wisnu have have been cleared to play by FIBA. They took the court Wednesday in a victorious stand against the Singaporeans.

"From Day One, not only now but from Day One we took a look at their roster and we knew it's not a roster we can take for granted, that's why we built the team that we built," Reyes furthered.

He went on to add that every game Gilas has played felt like a prelude to the final dance

on Thursday

night.

"The essence of sport is you can never be sure. That's why we keep harping on the fact that we shouldn't take anything for granted, and we'd like to think everything we've done at this point is to get us ready for the game

tomorrow

," Reyes noted.

"They have a couple of bigs who can score and shoot from the outside. And then they have Johnson who's going to be their energy guy, going to be their go-to guy," the returning Gilas tactician added.

"The key for us is to keep up with his motor. He's going to be raring to go, he doesn't have any minutes on those legs, so he's going to be very fresh. We gotta get ready for that

tomorrow

," Reyes said.

Gilas' victory against the Vietnamese has been the third straight win with a 55-point gap. Asked about the winning margin for

tomorrow's

night, Reyes said the favorites couldn't care less.

"We can just win by one. All we need to do is to get the W. We're not concerned about the margin of victory or whatever. We just want to get the job done. We just want to make sure that we get to the FIBA Asia," he noted.

"And now, there's 40 minutes separating us from that, so our key now is to prepare them. Basically, this game was played in preparation for Indonesia already

tomorrow

, but to prepare them emotionally and mentally for that team

tomorrow

, because we know it's going ot be a hard one," he closed.

The two unbeaten teams will dispute the lone ticket to FIBA Asia hostilities in Lebanon at

7 p.m.

, again at the Smart-Araneta Coliseum.