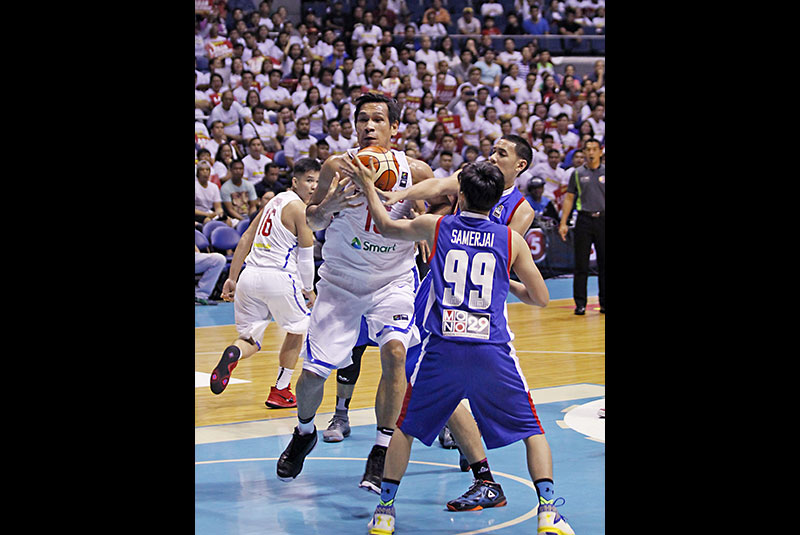 Gilas Pilipinas mainstay June Mar Fajardo tries to keep possession against Thai defenders Patiphan Klahan and Kannut Samerjai during their showdown in the SEABA Championship at the Smart Araneta Coliseum. JUN MENDOZA
Gilas raps Thais; Indonesia a threat with full roster
Games today (Smart Araneta Coliseum)
3 p.m. – Indonesia vs Myanmar
5 p.m. – Singapore vs Thailand
7 p.m. – Philippines vs Vietnam
MANILA, Philippines - Gilas Pilipinas bucked the challenge put up by Thailand in the opening period before Japeth Aguilar took charge and led a searing second-quarter breakaway en route to a 108-53 rout last night that sent Team Phl to within two games of a sweep of the 2017 SEABA Championship at the Smart Araneta Coliseum.
Aguilar churned out an electrifying 23-point game from a perfect 10-of-10 field-goal shooting and intimidated the Thais in defense as Gilas shook off a sluggish start and roared to another dominant triumph following earlier lopsided victories over Myanmar, Singapore and Malaysia.
The Thais tried to wage a fight but could only do so in the first quarter.
"We talked about it before the game. My first word in the pre-game was that we would be tested. Thailand is playing very well, long and athletic and is well coached. They do a great job packing the lane and they used their size to defend the shooters," said Gilas coach Chot Reyes.
"When we got used to their length we're able to do the adjustments," Reyes added.
Aguilar, Calvin Abueva, Terrence Romeo, Troy Rosario and Matthew Wright formed the second group that flattened Thailand in the second period.
There was no stopping the Nationals from there.
Meanwhile, Vietnam is expected to be another easy picking for Gilas Pilipinas in their 7 p.m. tonight before the hosts go for a sweep against the tough Indonesians tomorrow.
This came about as naturalized player Jamarr Johnson and US-born Indonesian Arki Wisnu have finally given FIBA clearance, enabling Indonesia to play with its full roster in its last two games.
The Indonesians are the only team to have beaten Team Phl in SEABA competition at home in Surabaya in 1996.
With Johnson and Wisnu in the fold, the Indonesians will be in full force against Gilas Pilipinas. They prime up for their face-off with the Filipinos against Myanmar today.
The scores:
GILAS PILIPINAS 108 – Aguilar 23, Abueva 15, Blatche 11, Romeo 11, Fajardo 9, Maliksi 8, Wright 7, Jalalon 6, Castro 6, Rosario 6, Almazan 4, Pogoy 2.
THAILAND 53 – Chanthachon 16, Klahan 7, Semerjai 7, Muangboon 7, Ghogar 6, Sunthonsiri 4, Klahan C. 2, Boonserm 2, Dasom 2, Jaisanuk 0, Lodiang 0.
Quarterscores: 18-14, 51-26, 80-43, 108-53