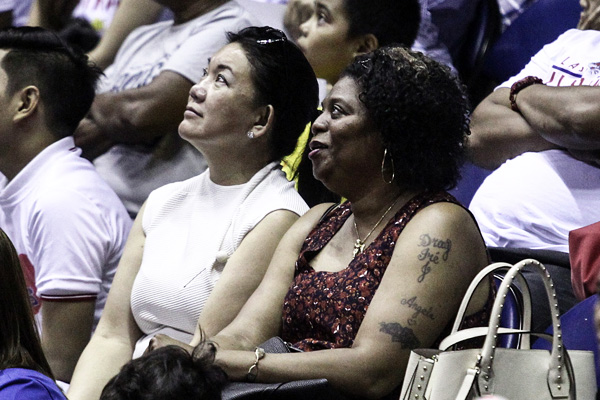 Andray Blatche's mother Angela Oliver during the Day 2 of the 2017 SEABA Championships | Contributed Photo
Blatche's mom enjoying time in Philippines, happy to watch son play
MANILA, Philippines — Even before Mother's Day, Andray Blatche's mom was already having a treat.

Coming to the Philippines with his son, Angela Oliver has seen his son's team take on two teams in blowout fashion.

"I'm excited with how they are playing. To see how athletic they are—[and the] jumping—it's great," she added.

Blatche is norming 12.5 points in the ongoing 2017 SEABA Championships. He's had an average of 7.5 boards and 3.5 assists.

Oliver revealed that this is her "first year seeing Andray play and being here in the Philippines," and she is thrilled to get what seems a double treat.

"It's Mother's Day and (this) week is my birthday," she bared. "Double celebration!"

Oliver, who is turning 54 next week, said she is proud of her first born, who also has long been an integral cog in the Gilas program.
"He's aggressive," she said of his son. "He hates to lose, loves the game of basketball, love teaching the game and he has a big heart."
Asked if she thinks Andray is cooking up a surprise for her, Angela let out a giggle, "I hope so!"

And as if she's not having enough of a good time already, the South Carolina native said thanked the Filipinos for the warm reception.

"I am having such a wonderful time, the country is beautiful, the people are beautiful, I love it!"
Gilas will shoot for a third straight victory in the 2017 SEABA Championships against Malaysia tonight at the Big Dome.