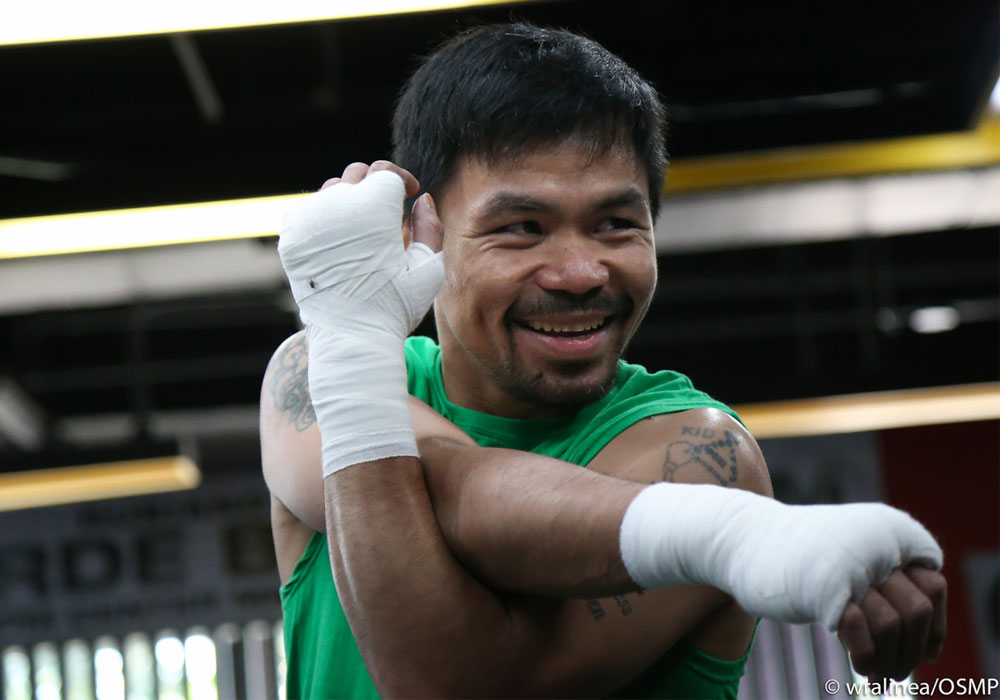 Manny Pacquiao stretches before a workout Thursday. | Wendell Alinea
Pacquiao defends Horn bout
MANILA, Philippines – Manny Pacquiao justified his selection of little-known Jeff Horn for his next fight on July 2, putting emphasis on the Australian's undefeated record.
Speaking to reporters before sweating it out at the Elorde Boxing Gym at the Mall of Asia Complex in Pasay, Pacquiao brushed off criticisms that he'll be facing someone below his level.
"Hindi natin masabi, dahil he (Horn)'s undefeated. Kung undefeated siya, so magaling (We cannot say he's below my level, because he's undefeated. If he's undefeated, then he's good)," the 38-year-old boxer said.
Indeed, Horn's most notable asset in the promotion is his undefeated slate. The 29-year-old native of Brisbane, Australia won all but one of his 17 professional fights—11 came by way of knockout—with one draw.
But missing in Horn's resume are big-name opponents, which, coupled with the boxer's anonymity outside Australia, raised eyebrows among boxing observers who said Pacquiao should've chosen a better opponent.
Pacquiao, for his part, isn't hearing any of the qualms, instead also citing Horn's aggressiveness and height advantage—Horn in 5-foot-9—as part of the recipe for an interesting bout.
"Yung pagiging agresibo niya. Matangkad siya sa akin, yun ang advantage niya. Undefeated naman yan so hindi natin pwede i-underestimate (He's aggressive. He is taller than me, that's his advantage. He's undefeated, so we can't underestimate him)," the fighting senator added.
Pacquiao will defend the WBO welterweight title against Horn on July 2 at the Suncorp Stadium in Brisbane, and said that he's willing to take on anyone afterwards.
"Wala naman akong pinipiling kalaban. Kung sinong gustong chumallenge, eh di challenge (I don't choose opponents. Anyone who wants to challenge me can do so.)," he said.