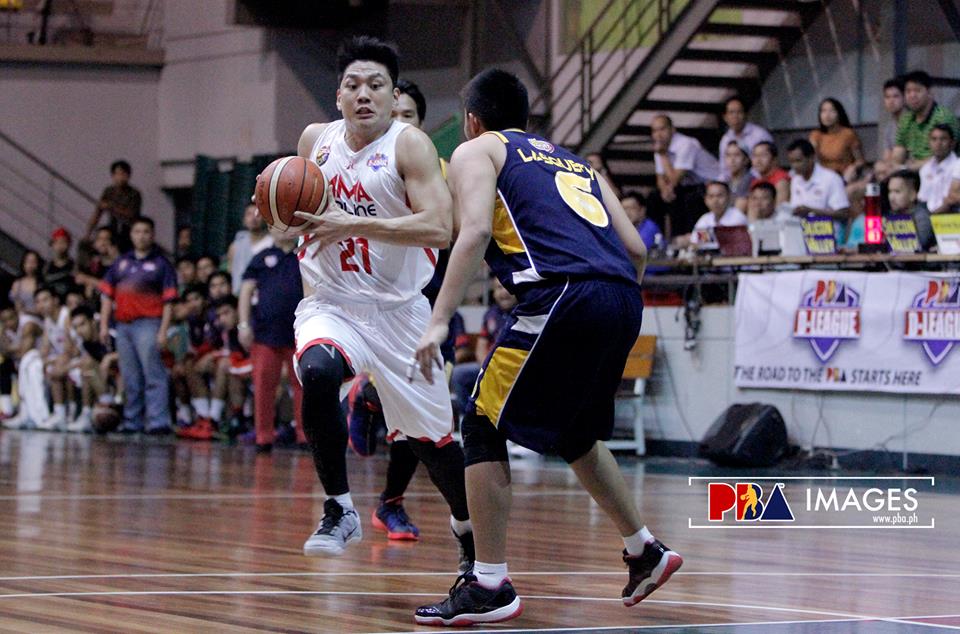 Jeron Teng carried the AMA Titans to a come from behind win against the JRU Heavy Bombers in the PBA D-League Aspirants' Cup Monday at the JCSGO Gym in Cubao. | PBA Media Bureau
Racal still unscathed, AMA rebounds in PBA D-League
(Philstar.com) - February 6, 2017 - 5:04pm
Games Tuesday
(JCSGO Gym, Cubao)
11 a.m. - Blustar vs Cafe France
1 p.m. - Tanduay vs Victoria Sports
MANILA, Philippines
—
Racal stayed unscathed in the 2017 PBA D-League Aspirants' Cup, beating Batangas, 91-78, for its third straight victory Monday at JCSGO Gym in Cubao.
Sidney Onwubere caught fire and scattered 18 points, five rebounds, two assists, and two steals for the Tile Masters.
Kent Salado also chipped in 17 markers, six assists, and three boards, while Jackson Corpuz got seven of his 14 points in the second quarter pullaway, where Racal established a 40-26 advantage.
"Depensa yung malaking bagay para sa amin," said coach Jerry Codinera. "We had a slow start, but we remained aggressive in the second quarter and eventually, we're able to pull away."
The Tile Masters unleashed a 17-0 blast in the second frame, grabbing a 40-26 lead before extending it to as high as 25, 79-54.
Batangas, though, waged back and cut the deficit to 13, 88-75 after a Wilmar Anderson fastbreak with1:48 to play before Salado quashed that rally with an undergoal stab late.
Joseph Sedurifa paced Batangas (1-3) with 20 points and six rebounds, while Anderson and Dan Sara had 12 markers each.
In the second game, AMA Online Education broke out of its slump and pulled off a 69-61 win over Jose Rizal University.
Jeron Teng unloaded 11 of his 31 points in the fourth quarter, on top of six rebounds as carried the Titans late.
AMA crawled back from a 52-47 deficit early in the payoff period and banked on a Teng-led 11-1 blast to hold a 58-53 advantage with 5:50 to play.
Though the Titans allowed Tey Teodoro to recover and grab a 59-51 lead for JRU, they did close the deal out as AMA went on an 11-2 finishing tear to seal the W.
"Nandoon yung composure ng team sa huli. Last three minutes, humabol pa yung kalaban pero sabi ko sa players, walang bibitaw. Must win talaga kami dito sa JRU," said coach Mark Herrera.
New signing Gino Jumao-as chimed in 12 markers and seven boards, while Jay-R Taganas tallied a double-double of 10 points and 16 rebounds for AMA, which improved to a 3-2 slate.
Paolo Pontejos captained JRU with 19 points, as his team fell to its first defeat in three games.
The Scores:
First Game:
RACAL 91 - Onwubere 18, Salado 17, Corpuz 14, Terso 9, Nambatac 7, Cabrera 6, Mangahas 6, Torres 5, Gabayni 3, Flores 2, Gumaru 2, Apreku 1, Gabawan 1, Dagangon 0.
BATANGAS 78 - Sedurifa 20, Anderson 12, Sara 12, Dela Pena 10, Lascano 6, De Joya 5, Laude 5, Delfinado 3, Fortu 3, Revadavia 2, Ablaza 0, Magbuhos 0, Mendoza 0.
Quarters: 20-17, 43-30, 73-51, 91-78.
Second Game:
AMA 69 - Teng 31, Jumao-as 12, Taganas 10, Arambulo 8, Tiongson 6, Caranguian 2, Alabanza 0, Barua 0, Bragais 0, Jordan 0.
JRU 61 - Pontejos 19, Lasquety 8, Poutouochi 7, Teodoro 7, Bautista 6, Bordon 6, Grospe 4, Estrella 2, Santos 2, Lopez 0, Mate 0.
Quarters: 18-17, 31-30, 47-49, 69-61.