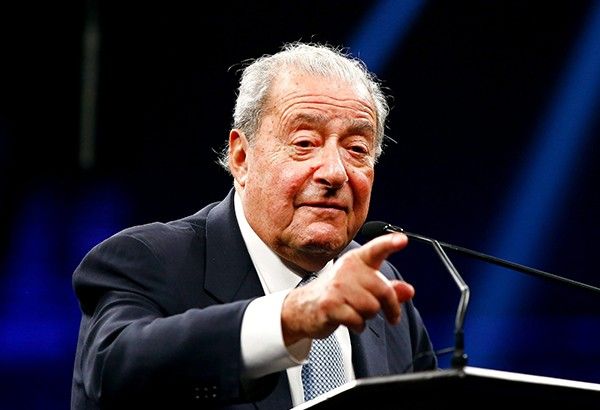 Pacquiao-Horn fight venue: Down to Down Under or Middle East
Dino Maragay
(The Philippine Star) - January 19, 2017 - 12:00am
MANILA, Philippines - Top Rank Inc. chief Bob Arum says the planned fight between Manny Pacquiao and Jeff Horn could end up either in Australia or the Middle East.
In a report by Steve Kim of boxingscene.com, Arum said an announcement on the final venue for the April 23 bout will come "probably in 10 days."
"There's no hurry," Arum told Kim.
The veteran promoter is in constant communication with Duco Events, which promotes Horn, in a bid to stage the fight in Australia.
"I just got off the phone with them, once they select the state it's going to be at, whether it's Brisbane or Melbourne, then we'll go forward with an announcement and so forth," Arum continued.
Horn's representatives are reportedly working extra hard to keep the fight in Australia and are set to meet with the premier of Queensland to convince them to bankroll the fight. If they succeed, the bout will be held at Suncorp Stadium in Brisbane, where Horn is based.
However, Arum said Pacquiao's adviser Michael Koncz is also working on a deal to stage the fight somewhere in the Middle East.
"Michael is part of the team. I think Michael is talking to people in the Mid-East as our we. In other words, you never know who you're dealing with in the Mid-East. You never know what's going to come to fruition," Arum added.
Arum said they will go where the money is.
"So say Michael's guy comes through and the number that they're talking at turns out to be the biggest number – why wouldn't we go there?"
However, Arum added that his gut tells him Australia is where the fight should be.
"In other words, we're all on the same page. I wouldn't stop Michael from talking to the Mid-East people until after we made a deal in Australia which everybody signed off on. I'm talking to people other than Australia as well. But in my mind I'm making the calculation that Australia seems like it's the most viable place for it to happen."