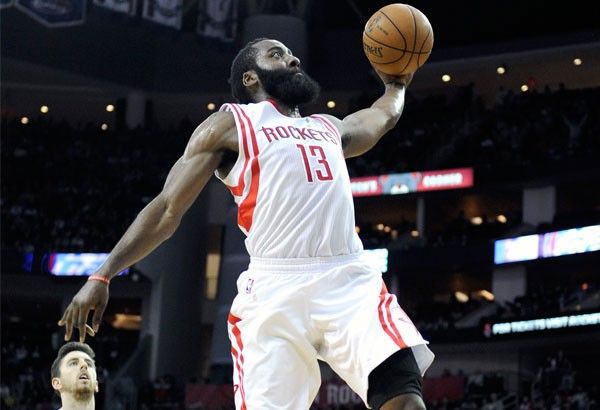 James Harden.
AP Photo/Pat Sullivan
Claims 10th triple double over Raptors: Harden fans Rockets win run
(The Philippine Star) - January 10, 2017 - 12:00am
TORONTO – James Harden had his 10th triple-double of the season to help the Houston Rockets run their winning streak to eight games. He still sees a lot of room for improvement.
"One hundred percent," Harden said after finishing with 40 points, 11 assists and 10 rebounds in the Rockets' 129-122 victory over the Toronto Raptors on Sunday night.
"We're almost halfway through the season and we're a fairly new team still and I'll get better and my turnovers will start dropping just when I get familiar with what different defenses are doing but until then, we're rolling, guys are happy and we're making shots."
Harden also had 10 of Houston's 15 turnovers.
"I've got the ball in my hands 90 percent of the time so it's going to happen," he said, adding that as long as the team stays under coach Mike D'Antoni's limit of 15 turnovers it will be OK.
In Phoenix, LeBron James scored 12 of his 28 points in the fourth quarter and the Cleveland Cavaliers fought off the Suns down the stretch for a 120-116 victory.
"I am just confident in my ability," James said. "I work on my craft. I work on my shooting every day so it is always an option I could go to. I just try to mix it up, playing interior, playing transition, playing on the exterior and I was able to knock a couple of them down."
Kyrie Irving added 27 points and Kevin Love 25 for the Cavaliers. They led by as many as 22 in the first half and 20 early in the third quarter.
"We play well, you play hard and get the lead and playing the right way then we just messed around," Cleveland coach Tyronn Lue said.
The Suns tied it late in the third and got within one in the fourth but never took the lead.
"We made enough plays down the stretch to win," James said. "We played good ball except for the third quarter. We allowed them to get out in transition and them being young and athletic they took advantage of it."
Eric Bledsoe scored 31 points and Devin Booker had 28 for the Suns.
In other results, Philadelphia trounced Brooklyn, 105-95; Washington held off Milwaukee, 107-101; Memphis trounced Utah, 88-79; Detroit edged Portland, 125-124; Golden State ripped Sacramento, 117-106; the Los Angeles Clippers smothered the Miami Heat, 98-86; and the Los Angeles Lakers routed the Orlando Magic, 111-95. (AP)