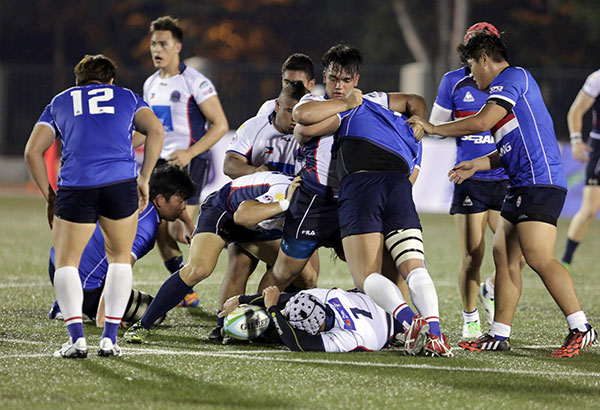 Phl Junior Volcanoes Robert McCafferty (7) secures the ball as teammate James Ryan tackles a Korean to give the Philippine side ball possession during the 2016 Asia Rugby Under-19 Division 1 tournament at the International School in Bonifacio Global City. ERñIE PENAREDONDO
2016 Asia Rugby U-19 Championship: Koreans silence Philippine Volcanoes
Olmin Leyba
(The Philippine Star) - December 15, 2016 - 12:00am
MANILA, Philippines – Korea poured it all in the final nine minutes to thwart host Philippines, 26-10, and march into the finals of the 2016 Asia Rugby U-19 Championship Division 1 tournament last night at the International School of Manila field.
Pouncing on their advantage in height and strength, the Koreans struck a pair of tries and successful conversions in the endgame to break away from a 12-10 contest.
The Junior Volcanoes failed to gain headway at the finish and found themselves relegated to the bronze medal match on Saturday against the loser of the other opening match between Singapore and United Arab Emirates.
"It's not that we had them on the ropes in the 70-minute game but our boys played up to 61 minutes and that's well above expectations," said assistant coach Jake Letts.
The Koreans went off to a blistering start, taking a 12-0 upperhand in the first half. But rallied on by the home crowd, the Junior Volcanoes strung up 10 straight points to start the second, with Ryan Santos scoring a penalty kick which he followed with a converted try as the hosts came to within two points.
A Phl turnover, though, proved costly as Korea cashed in to send Minseong Chae home for a fresh 17-10 cushion. Kimin Kim made the conversion to make it 19-10. The Filipinos failed to stop In Sik Yu from grounding the ball late in the game, with Kimin converting, allowing the Koreans to add to their upperhand and seal the win.
"At 19-10, we're only a try away. One bounce our way and it would have changed the game but that's rugby. They scored a late try which hurt us (with) three minutes to go but that's the way rugby is," said Letts.
"It's always tough to get a bunch of guys together in five days. You know, we needed to take our chances when they came and we didn't today," said New Zealand-based Fil-Norwegian Kai Stroem, skipper of the Phl side backed by First Pacific.
Kimin led all scorers with 11 points on one try and three conversions. Santos was the lone Phl bet on the scoresheet.