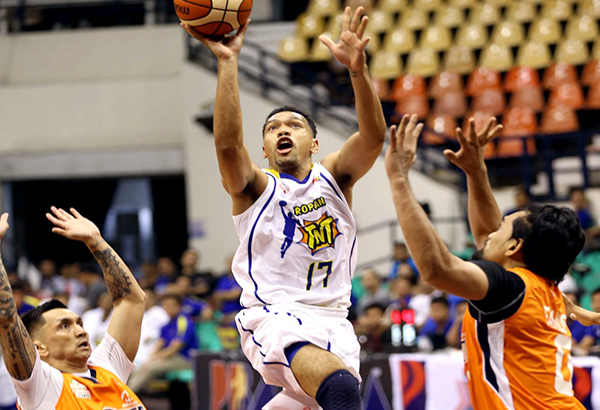 Lifetime offer for Castro ends China bid
MANILA, Philippines - TNT KaTropa star Jayson Castro has been offered to work with the MVP Group beyond his PBA days, quashing talk that he may be lured to play in the Chinese Basketball Association (CBA) where Asia's No. 1 point guard was reportedly offered a monthly salary equivalent to P2.5 Million.
Castro's agent Danny Espiritu said yesterday at least three CBA teams had expressed interest in signing up the TNT standout but no formal offer was ever tendered. The CBA started its season last Oct. 29 with the four lowest-ranked of the 20 teams allowed to recruit an Asian import aside from two out-of-Asia reinforcements. The four Asian imports who are now playing in the CBA are Iran's Samad Nikkhah Bahrami and Mehdi Kamrani, Palestine's Sani Sakakini and Jordan's Zaid Abbas.
Espiritu said he was told the CBA had also inquired about the availability of Terrence Romeo. "The CBA is loaded with bigs but what teams lack are guards with skill and talent," he said. "It's not surprising they showed interest in Jayson and Terrence." Barangay Ginebra coach Tim Cone said he heard Chinese teams also explored the possibility of enticing JuneMar Fajardo and Greg Slaughter with big ticket contracts. Slaughter, however, is recuperating from an ACL injury and won't be ready to play until late in the PBA Second Conference or starting the Third.
Espiritu said CBA agents were directly in contact with Castro. "I know he was getting calls and text messages," he said. "The offer was supposed to be for five months with a monthly salary of $50,000. I told Jayson to give them a deadline of Nov. 10 to make an offer that we can study. Jayson's contract with TNT expired last Aug. 31 and was extended until the end of the Governors Cup. I didn't like the idea of the CBA delaying its offer, like we were being held hostage. It was unfair to TNT."
TNT's initial offer was a two-year renewal. But Espiritu said when PLDT CEO Manny V. Pangilinan summoned Castro to his office in Makati last Nov. 14, the deal was sealed. The meeting was attended by Pangilinan, TNT governor Ricky Vargas, Castro, Espiritu and TNT team manager Virgil Villavicencio. The agreement was to extend Castro's contract to three years with the maximum salary.
"Sir MVP wanted to make Jayson happy," said Espiritu. "The CBA didn't tender an offer by Nov. 10. After meeting with MVP, the contract was drafted and Jayson signed before the PBA opening on Nov. 20 in time to make the roster and join the parade of teams. We're very grateful to Sir MVP for showing concern and taking care of Jayson. He told Jayson when he retires from basketball, he can work with the MVP Group in a corporate setting. Sir MVP asked Jayson to consider options of what area he'd like to work in. It was like a lifetime offer to stay with the MVP Group and Jayson is thankful for the opportunity."
Espiritu said he advised Castro to forget about China. "First, there was never a formal offer, just a lot of texts and phone calls," he said. "Second, you don't know what could happen in China. He'll be all alone over there. What if he gets injured? So when Sir MVP called, it was a blessing for Jayson. Now he can focus on TNT and his PBA career without any distractions."
Castro, 30, has played eight years in the PBA. Last season, he averaged 20.3 points, 4.0 rebounds 6.0 assists and 31.4 minutes in 41 games. In the ongoing Philippine Cup, Castro sat out TNT's first two games and has since come off the bench to average 21.5 points, 6 rebounds and 3.5 assists in two outings so far.
In 2008, Castro would've been the first Filipino to play in the NBL of Australia but the stint was aborted when his team Singapore Slingers withdrew from participating in the league at the last minute. Castro was then drafted in the first round by TNT as the third overall pick behind Gabe Norwood and Jared Dillinger. He has since played on six championship teams and claimed two Finals MVP trophies.