Filipina lifter Hidilyn Diaz ends country's 20-year Olympic medal drought
RIO DE JANEIRO — Hidilyn Diaz of the Philippines won the silver medal of the women's 53kg weightlifting with a total of 200kg at the Olympic Games here on Sunday, ending the country's 20-year Olympic medal drought.
It is the country's first medal in weightlifting.
The Philippines last snared an Olympic medal in the Atlanta Games in 1996 when Mansueto "Onyok" Velasco won silver in boxing.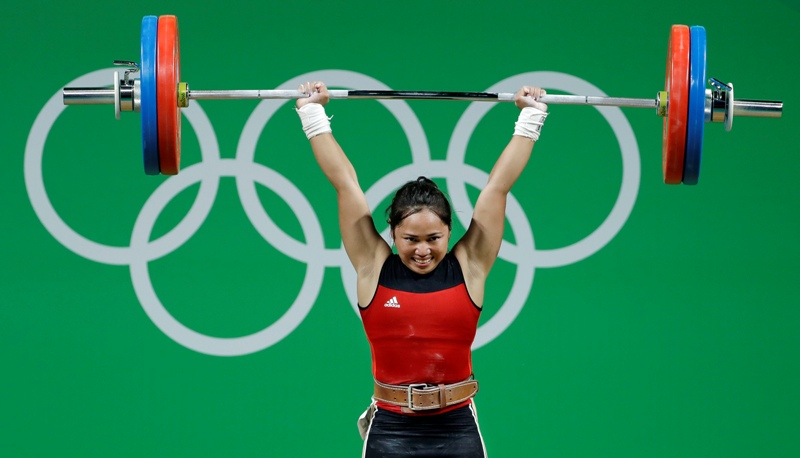 Hidilyn Diaz, of the Philipines, competes in the women's 53kg weightlifting competition at the 2016 Summer Olympics in Rio de Janeiro, Brazil, Sunday, Aug. 7, 2016. Diaz won the silver medal. AP/Mike Groll
A tearful Diaz won silver after failing to medal in the last two Olympics. She lifted in the 58kg class in the 2008 Beijing Games as a 17-year-old and impressed many in the field, but she failed on all her clean and jerk attempts in London. Diaz dropped down to the lighter class for Rio, which had just seven competitors.
"I have tried so hard. I have stumbled many times," Diaz said. "I wanted to quit, but now all of my sacrifices have paid off."
Hsu Shu-ching of Chinese Taipei won the gold and the bronze went to Yoon Jin Hee of South Korea.
Hsu of Taiwan won her first Olympic gold medal Sunday when Li Yajun of China failed to complete the clean and jerk in the women's weightlifting 53-kilogram category at the Rio de Janeiro Games.
Li set an Olympic record in the first round snatch by lifting 101 kilograms to take the lead into the clean and jerk. She was the last lifter to compete in the second round, and needed to lift 126 kilos to win gold. Her high entry total on the start list made her a favorite for the gold, but she failed to medal.
When Li didn't complete her score, the gold went to Hsu, who lifted 100 kilos in snatch and 112 in clean and jerk for an overall score of 212 kilos. Hsu is the reigning world champion and won silver four years ago at the London Games. But London gold medalist Zulfiya Chinshanlo of Kazakhstan failed a doping retest and could have that medal revoked, which would make Hsu a double gold medalist.
"I am very happy and very excited," she said.
Meanwhile, Yoon had won silver at the 2008 Beijing Games. — PNA/AP