Fil-Nigerian Batang Gilas prospect AJ Edu waiting for SBP call
Alder Almo
(Philstar.com) - November 10, 2015 - 11:24pm
MANILA, Philippines -- After the story of 14-year old Fil-Australian 6-foot-8 Ethan Kirkness applying for Philippine passport to make himself available for the national team program broke out, another Batang Gilas prospect came forward to reiterate his intention to represent the country.
Fil-Nigerian AJ Edu, the 15-year old 6-foot-9 prospect whose story was first reported by Philstar.com last year, and his family is hoping to get a clear offer from the Samahang Basketbol ng Pilipinas to chart his future.
READ: Giant Fil-Aussie kid applies for PH passport, dreams of Gilas stint
"None of them had shown serious interest for AJ to play for Batang Gilas. They had contacted me, however, last June telling us if we can renew his passport which we did. But we haven't heard from them since," said AJ's mother Josie Edu in an email to Philstar.com on Tuesday.
Edu is currently playing for the Bristol Flyers cadet team, a known farm team of the British junior national team, in the British Basketball League and for Swansea Storm in Wales League.
"He is dominating Mens D1, U18, and U16. He's been nominated MVP for Mens D1 in almost every game they have which is quite remarkable for a 15 year old boy and also the same with the other categories," Josie said.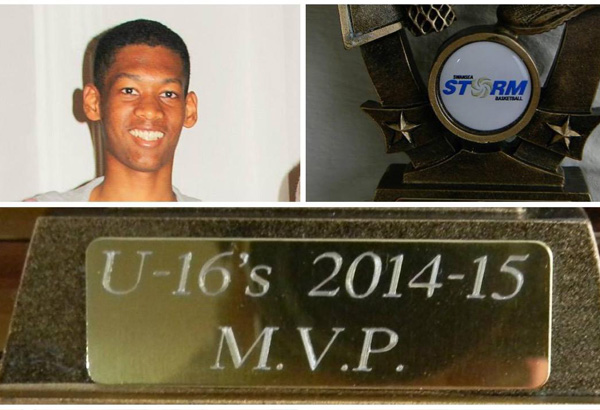 AJ is in his last year in junior high at Bishopstone Comprehensive School and he is due to get his GCSE (General Certificate of Secondary Education) and will be attending college which is A Level next school year before he goes to University according to Edu's mother.
With the GCSE, the equivalent of the National Secondary Assessment Test (NSAT) in the Philippines, AJ will be qualified to attend college in the Philippines next year.
The family is keeping their options open pending a formal offer from the SBP for AJ to join the national junior basketball program.
"There are several colleges and Basketball Academies in England who wrote to us and shown interest on him," Josie said.
"But he definitely wants to play for the Philippines. His heart is set to play for the Philippines someday. He also wants to be trained in the US," Josie added.
At the moment, there is no plan for the family to visit the Philippines due to budget constraints.
"What is holding us right now is we cannot afford to travel at the moment. We just moved to UK a couple of years ago and we are still trying to establish our life here," said Josie, whose parents and siblings live in Surigao City.
AJ's father Ayotunde Edu, who stands 6'8", is a Math and Physics teacher who also coaches their high school basketball team. Josie, meanwhile, works as part-time book keeper and office admin assistant while attending to their five kids.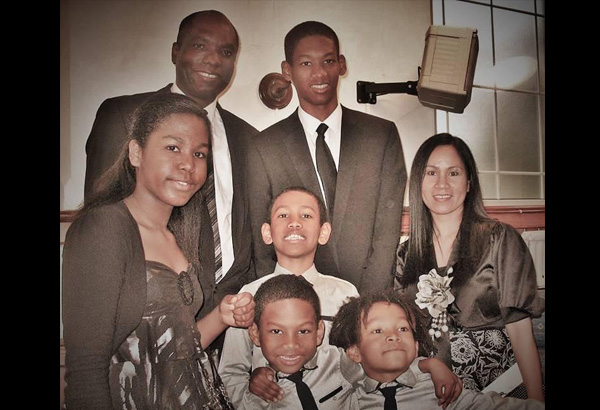 A family photo of the Edu family taken a few months ago. Josie Edu said AJ is now taller than his father.
AJ is the eldest of five. He has a 9-year old brother 9 years who stands 5'2". He also plays basketball and played for U10 before moving up to play for U14.
"People thinks that he would be better than AJ in athleticism. He is fast and furious," Josie said.
The SBP bared earlier this year that they are drafting a program to strengthen the Batang Gilas following their participation in the FIBA U17 World Cup last year.
Just last week, this year's Batang Gilas team whose tallest player is UPIS' 6-foot-4 Will Gozum, placed fifth in the 2015 FIBA Asia U16 Championship.