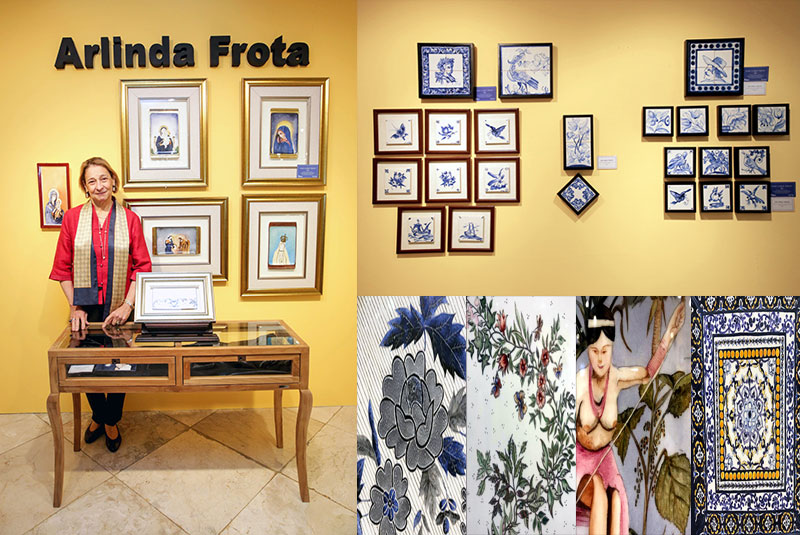 Portuguese artist Arlinda Frota is featured in Rustan's "Portugal Divino!: A Portuguese Festival." Her works are exhibited at the 5th level of Rustan's Makati until May 25, and at Rustan's Shangri-La from May 26 until June 6. Photos by MONG PINTOLO
All things divine and Portuguese
Rustan's celebrates Our Lady of Fatima's 100th anniversary with an exhibit by artist Arlinda Frota
Blue is a color that the fashion world likes to talk about, thanks to a certain movie that devoted an entire impassioned monologue to it. Now "cerulean" is not just a pigment known to painters, it's a moment in pop culture that reminds us how a craft — whether fashion, art, or music — is more than what meets the eye.
Just a few days ago, chemists at Oregon State University discovered a new shade of blue, which for now, they are calling "YlnMn Blue," and I couldn't help but be reminded of my conversation with Portuguese painter Arlinda Frota. The interview was held during the opening of Rustan's "Portugal Divino!: A Portuguese Festival," where Frota is the featured artist, her works currently exhibited at the 5th level of Rustan's Makati. The festival, timed to celebrate the 100th anniversary of Our Lady of Fatima, displays Frota's porcelain paintings, with nature, patterned tile works, and Catholic themes.
She discussed how much work goes into porcelain painting, in her own softspoken, unassuming manner. How, behind the plates, teacups and ornaments, is a process that takes a rare devotion and skill, and an ongoing tradition that's been centuries in the making.
A part of our conversation was about the color blue's intricacies, and she uses it many of her works, as you will find when you visit her exhibit. In front of us was her famous painting of the Pope Francis, set against a pale blue background with golden stars and a red border. "The blue is always the first to be done, because it requires the highest temperature," she said, and then proceeded to give me a backgrounder on the rather meticulous, calculated process of painting on porcelain. Blue, apparently, is literally the warmest color.
"I take many photos everywhere I go (she uses Canon), then I create my own patterns after my photos, and draw them on paper to adapt to the piece. For example, for this painting I made for the Pope, I adapted the picture for porcelain. It seems easy but it's not easy to make the ear, the hair, the glasses, the fold of the mouth, the shadows. Once you've drawn all the lines with carbon, you fire the plate. And then after, you start to paint. You fire many, many times to finish one plate — you have to fire each color and only one color at a time, and blue is always the first to be done, because it requires the highest temperatures — 950, 980 degrees Celsius — it depends on the tonalities of blue. Once you've fired for green, you cannot do blue anymore. So your plan should be very fixed." I wonder if she has heard of the new color breakthrough and how many degrees it would take to "fire" it?
To "fire" means to bake the porcelain, which Frota does with a one cubic meter kiln (a kind of oven) in her home, and a bigger kiln in the school where she teaches porcelain painting. "Cadmium colors are the toughest to use because they change a lot when fired. The red in the Pope's painting has cadmium. The last color you fire is gold, because it can disappear or become brown." Knowing how each plate — painting — is created inspires a new appreciation for the art. "One color is fired for 24 hours, so you lose power for 24 hours to make one color." She has hand-painted tiny jewelry boxes with several different colors — imagine how long it must've taken to make those.
Painting on porcelain and coming to the Philippines
Frota's art is, indeed, a labor of love, one that began 20 years ago, when her husband, Carlos Frota, former Ambassador of Portugal to Manila, gifted her with bags full of canvases, brushes and acrylics. Having drawn a lot since her childhood (her mother was an educator, a concert pianist, as well as a painter), her husband encouraged her to finally explore her art. At that time, Frota was a doctor. "One day, you will make it," her husband told her. She started painting on canvas, and then learned to paint on porcelain through China, her friend and mentor, a Portuguese artist whom she met when she moved to Macau. "Painting on porcelain is a completely different matter from canvas. In Portugal, we have many porcelain painters because porcelain is a very big tradition with us. It's much more expensive to paint on porcelain, but we have many shops that sell plates. I always choose the smoothest and the best quality," she said.
Apart from the cost, porcelain painting is also much more difficult. "You need to have very good sight, which God gave to me, and very steady hands. The steady hands, I think, I acquired from my first profession as a medical doctor in intensive care. Your hand needs to be very fixed. You cannot use any ruler," she said.
Frota also practiced batik painting in Indonesia and classic Korean painting on rice paper in her many travels, and incorporates these themes in her works.
For "Portugal Divino," Frota makes her nth trip to Manila (she has visited the country many times in the past during her husband's time as Ambassador), this time for Rustan's, to exhibit her works, which Filipinos definitely have an appreciation for — some of her works were already sold even before the exhibit officially opened, including a larger painting of Pope Francis, which went for around P100,000. Her paintings are mostly of nature, particularly flowers and butterflies, which she said are her favorite. She has held numerous exhibits and her works have become prized pieces. One of them was presented as a Kofi Anan Prize given by the former UN Secretary General at the 7th World Peace Exhibition.
The international acclaim accorded to her and her art is not one-sided. Having traveled almost all her life, the artist has an appreciation for different cultures and loves learning about them as much as she loves sharing her own.
"I respect people and countries very much. I used to move a lot with my husband as well as (when) growing up, and I found that each country is unique, they have their own personality, their own culture and identity, and it's great to discover all these. And I love people. I grew up around a cultural family. My mother was an art lover. We used to have tea in nice teapots. She used to invite her friends and our house was an open house. People would come in the morning and never leave!" she said. Her first trip to the Philippines was 20 years ago, and has visited countless times since. She's also met many Filipinos during her stay in Macau. "The Filipino people — I find that they are the Latinos of Asia. (Laughs). So free and so warm!"
Divine Portugal
This May, Rustan's, in partnership with the Consulate of Portugal in Manila, features the works of Arlinda Frota and Rustan's roster of Portuguese brands in "Portugal Divino!: A Portuguese Festival."
Included in the showcase are classic cookware from Silampos, ceramic servingware from Bordallo Pinheiro, contemporary porcelain dinnerware and glassware from Casa Alegre, flatware from Herdmar, and table linens from Texteis Iris.
The festival is timed to celebrate the 100th anniversary of Our Lady of Fatima. Rustan's will present collections of Our Lady of Fatima at the festival in a special exhibit in honor of the blessed Lady at the 5th floor of Rustan's Makati until June 6.
On the fashion front, "Portugal Divino!" will also feature collections by Portuguese designer Ricardo Preto and U by Ricardo Preto. The new collection, created exclusively for Rustan's, is inspired by movement and architecture. Structured silhouettes are tempered with softer fabrics, creating flowing shapes in white, blue and earth tones. U by Ricardo Preto, on the other hand, encourages ease of movement, in blue, orange, white, pink and green.
* * *
Arlinda Frota's exhibit and "Portugal Divino!" runs until May 25 at the 5th floor of Rustan's Makati and May 26 to June 6 at Rustan's Shangri-La.