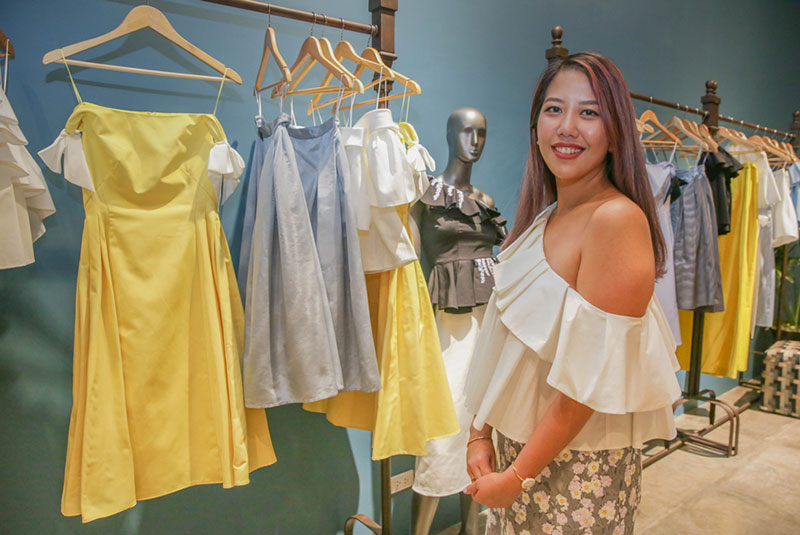 Hong Kong-based designer Melissa Bui: "Clothing is supposed to give you a little bit of magic for your everyday life." Photos by MONG PINTOLO
Bare shoulders are sexy, says designer Melissa Bui
If Hong Kong-based fashion designer Melissa Bui weren't in the business of making beautiful clothes for women, she volunteers in a heartbeat, "I'd definitely be a florist!"
Her love of flowers has been her life's compass. As a child, she drew because she wanted to see flowers on dresses, then she cross-stitched bouquets and gardens of them in her teens. It was her mother and sister, Hong Kong makeup artist Alexa, who inspired her to take up fashion. "I wanted to dress women like them who are stylish and confident in their femininity," she says.
After majoring in surface textiles for fashion at the London College of Fashion, she interned under Matthew Williamson (known for his bold, vibrant prints) and became assistant designer to Barney Cheng, Hong Kong's go-to couturier for his dramatic gowns. Melissa debuted her namesake line in 2013 and is now a favorite among Hong Kong's young best-dressed.
It's also her love of flowers that led her to the lifestyle and services store and cafe Lanai, owned and operated by Bianca Zobel-Warns, her sister Natalia Zobel, and Maria Parsons. Lanai channels a luxurious, well-traveled, and leisurely lifestyle in the tropics, covering fashion, beauty and entertaining; its flower shop has become synonymous with uniqueness. Parsons is the floral designer, and her curation and arrangements of the freshest rare and exotic blooms transforms the space. Bui came with the recommendation of a friend, sought it, walked in and fell in love. "We don't have anything like this in Hong Kong! I met the girls as I was in the store. I told them about what I did and I had to suggest a popup. My clothes, so many flowers — this is a dream come true. They've been so sweet to me," Melissa says.
Lanai has hosted trunk shows with labels like New York-based Betina and collaborations with accessories designer Bea Valdes since it opened its doors last July. With all the girls agreeing it was a match, Bui brought her spring/summer 2017 collection where us Manila girls learned a thing or two about day-to-night dressing.
THE PHILIPPINE STAR: As the inspiration for your spring/summer collection, what was it about the Wisteria Tunnel in the Kawachi Fuji Gardens in Japan that moved you to try to emulate it as a designer?
MELISSA BUI: I felt like I stepped into a fairytale. When I got back to work, I wanted to recreate that feeling of stepping into a different world, all those flowers dancing with the wind. Clothing is supposed to give you a little bit of magic for your everyday life, and this is my take on that — whimsical, delicate and feminine.
What drew you to the 1950s silhouette as a canvas for your embroidered flowers?
I've always been drawn to the fashion of the 1950s because I think that the shoulders are the sexiest part of a woman's body. I love the shoulder-baring looks from the decade, the ruffles and bows, and gowns that are very cinched at the waist. While I was studying in London, it coincided with the opening of "The Golden Age of Couture: Paris and London 1947–1957" exhibition at the Victoria and Albert Museum and I went. That set it for me.
How would you compare Manila's fashionable set to Hong Kong's?
Manila is very feminine. People here like to get dressed up more, which is a good synergy for our brand. I think in Hong Kong, women are more casual because they want to be versatile.
Through your clothes, what's something that you think Manila women can pick up from Hong Kong's fashionable women?
Our fashion is ageless, so I design in a way to make everything classic and versatile. Because not everyone can be super-dressy all the time, the tops are elegant for day to night even when styled with denims. I have a low-back shift dress with detachable ruffles that comes in yellow and black, and the black one is very popular in Hong Kong. For work, the women remove the ruffles and wear a blazer or cardigan over it, then for after work, the coverup comes off, and they just put the ruffles back on.
***
Melissa Bui x Lanai is available in limited quantities at Lanai, The Alley at Karrivin, Pasong Tamo Extension, Makati. Visit melissabui.com to shop the rest of the collection online.