The Fault in our Stars 'The greatest love story in 10 years'
MANILA, Philippines - Listen up. You should clear your schedule this week. Why, you ask. Well, it's because on June 4, a movie is set to open and this writer highly recommends that you watch it on the first day because you will spend the next days planning to watch it again!
This writer has seen the preview of Fox's upcoming film The Fault in our Stars, back in early April and it's been a long torturous many weeks waiting for the movie to open regularly in theaters so I can head back to the cinema and watch it again. And cry again. And, perhaps, watch it again just so I can be with two of my current favorite characters in movies (and in books).
At the exclusive screening held inside the Fox lot in Los Angeles, boxes of Kleenex were lined up by the entrance and every journalist who walked in was encouraged to get a couple of stacks because at the screening held earlier in the day people had nothing to wipe tears away from their faces.
It's what I would advise to my readers as well. Bring lots when you watch it because it will make you cry. Good cry, I suppose. Many journalists I talked to likened it to the classic film Love Story while Entertainment Weekly declares it the greatest love story in 10 years.
The Fault in our Stars is based on the New York Times bestselling book by John Green and it tells the story of Hazel and Gus, two extraordinary teenagers who share an acerbic wit, a disdain for the conventional, and a love that sweeps them on an unforgettable journey. What makes their love story amazing is the fact that they met and fell in love, while attending a cancer support group.
Yes, the movie is about two teenagers who try to defy the threat of death by falling hopelessly and magically in love with each other. It is not about cancer, it is not about dying, it is not even about death itself — it is about love.
Shailene Woodley, Hollywood's breakout star of the year, plays Hazel in the movie and she, too, shares the same sentiment about the book.
"I read the script before I read the book and I was just sort of blown away not necessarily by being an actor reading a script but as a human being and being profoundly moved," she said of the story. "I immediately read the book and what I love about it is, it doesn't victimize death and it doesn't victimize cancer and it's not a movie about cancer or a book about cancer. It's a movie that celebrates life."
She also thought that the messages interwoven within the story were so vital and so important to put out into the world right now. "This world where so many crazy things are happening and these simple messages that both Hazel and Gus understood at such a young age due to their circumstances: That life is fleeting and that it's not fair and nothing is guaranteed, and so to live a life based on fear or doubt or worry is just so pointless because as Hazel says, 'Death is inevitable and oblivion is inevitable.' And when it happens to you it's one thing but it's going to happen to you no matter what age you're at. I just thought that there were so many beautiful messages that it completely changed who I was as a person when I read the book."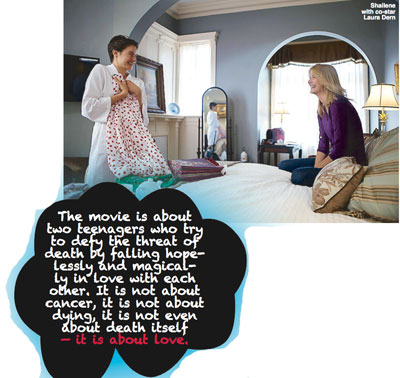 Shailene further shared that death was something that was always at the back of her mind when she was a teenager but it all changed when she did The Descendants with George Clooney some years back.
"When I was in Hawaii doing The Descendants, something happened that made me like sort of switch that attitude," she revealed. "After doing Fault…, it just reaffirms it. It's like literally there's no way to justify why we are here in this beautiful room at the Four Seasons and why there are women in India who have acid getting thrown at them and why there's probably someone four streets down who is beating up his wife or her husband or what. There's no way to justify life. There's no way to justify whether 16 year olds are dying of cancer or let alone two year olds who are dying of cancer. And so to sit in life and to worry about and to look at death that's something to be feared makes zero sense because it's going to happen and it's completely out of our control — 100 percent! There's no way human beings can control death."
This writer was completely amazed at the level of maturity coming out of someone who is only 22 years old so I had to ask her again how old she really was. I also had to ask her where all this was coming from.
"I was raised by two psychologist parents," she revealed. "At a young age, empathy and compassion were very important in my household which I think a lot of people don't learn until they are older so I got very lucky with that."
Through her parents, she also learned to harness the power that nature could bring to a person's well-being.
"I spend a lot of time with nature and that may sound hippie but it's true. The second that you get out of the crazy rat race of competition and trying to survive and you really just get down into the basics and it's just you and nature, you are able to hear your own intuition. I wake up in the morning and I make my herbs and I make my tea at the Four Seasons or wherever I am. You bring the lifestyle of who you are. Just in the same way when you pack your toiletry bag, you bring the toothpaste you like or you bring whatever you like."
The beautiful actress has been making her own herbal drinks for many years now. She has been studying Herbology (study of plants for medicinal purposes) for four years. She doesn't take any medicines if they are not plant-based. She's a staunch environmentalist and a fully self-aware person.
She shared that the first thing she does when she wakes up is to say thank you. "I start my morning just meditating and at the end of the night, you like get it out of your mind before you go to sleep just running through the adventures of the day."
"We are alive that's such a blessing to celebrate and be so grateful for. I just think that I embrace life whereas before I was half-spending so much time thinking about the future that you sort of forget about what's actually happening right in front of you and that's all you have, the moments, that's the only thing that's guaranteed."
Another thing that she is most thankful for is the fact that all her success in Hollywood now did not happen overnight.
"I've been really lucky that nothing was overnight. I've been doing this for 17 years and it took me 13 years to book a feature film and it was all slow," she shared. "I started commercials, then movie-of-the-weeks, then small TV roles, then bigger TV roles, then a TV series, then Sundance — it's all been really slow. And I think that if it happened overnight, I would have quit immediately because all of the stuff like magazines and dress-ups for red carpets — as an adult it's easy to rationalize it and understand it now but as a kid I would have been, like, 'This is boring, I'm done.'"
And she had an interesting way to rationalize all the non-acting part of the acting profession. "The fun part as an actor is being on the movie set. It's like a painter who paints his painting and then has to go to the street to sell the canvas. That's not his favorite part but it's so important to do. That's part of the whole process."
With a blockbuster franchise in Divergent and critically-acclaimed performances in The Descendants and last year's The Spectacular Now, Shailene is poised to follow the career trajectory of Jennifer Lawrence. And, after June, her star will only further ascend.
But she won't allow herself to even think of that possibility. "I feel grateful that it all happened slowly," she remarked. "You are only in control of these moments right here."
Of course, we also tried to talk about her first love, because her movie is about that after all, but she was so sweet when she answered our initial question that when she hinted that she's not willing to talk further, we honored her request.
"What I love about this book is that it's not about cancer. It's about teenagers discovering themselves and coming to age and falling in love for the first time — we can all relate to those themes. I didn't really have any first love the way Hazel and Gus had at first love, no. That's all I am willing to comment on," she said before breaking into a sweet smile.
Ansel Elgort, her co-star in the movie, is a relative Hollywood newcomer who previously played her brother in Divergent and who now plays her lover in The Fault in our Stars.
"One of the gifts of being an actor is you get to try out different colors and put on different masks all the time. We got really lucky the fact that we did Divergent before this movie because we became close in Divergent," she said. "He's such a light and you'll see it when you see him. He's so pure. Everything is so new for him in a way because he is younger."
After we ended the interview, she hurriedly went looking for her shoes (which she took off at the start) and wished that we could all "go out and enjoy the sun."