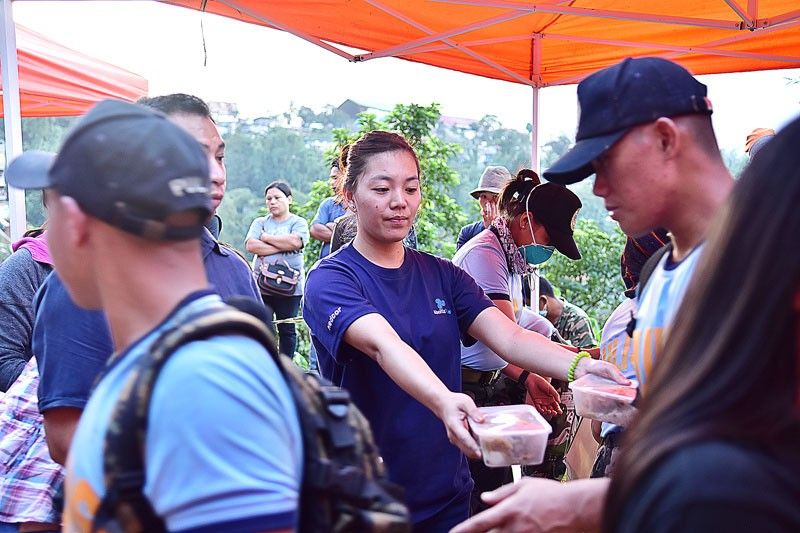 Aboitiz lends a helping hand. (1&2) Amid the ongoing relief efforts following Typhoon Ompong, team members from AboitizPower hydropower unit Hedcor offer packed meals to weary volunteer teams and affected residents of Benguet and Cagayan. (3&4) In the wake of the typhoon's destruction, Aboitiz team members quickly mobilized efforts to assemble and distribute essential relief packs as well as begin critical re-electrification efforts in Benguet and Cagayan.
Over 3,000 families receive post-Ompong assistance from Aboitiz
(The Philippine Star) - September 24, 2018 - 12:00am
Re-electrification efforts ongoing in Benguet & Cagayan
MANILA, Philippines — Various Aboitiz business units all over the country mobilized team members and resources in support of the relief efforts for around 3,000 families affected by Typhoon Ompong, which slammed Northern Luzon over the weekend.
Typhoon Ompong made landfall at 1:40 a.m. of Saturday, September 15, brought destructive winds and heavy rains to Northern and Central Luzon, and caused widespread flooding and landslide that left lives, homes, and livelihoods badly damaged and destroyed.
Immediately responding, the Aboitiz Group led by the Aboitiz Foundation alloted a total of P3.7 million to provide 3,472 food packs (2 kilos of rice, biscuits, chocolates, canned goods, bottled waters) and hygiene kits (toothbrush, toothpaste, sanitary napkin, alcohol and bath soap) to communities in Benguet and Ifugao, and re-energize residential and commercial areas.
Through Hedcor Benguet, 2,732 of these relief packs were distributed to Sabangan, Bauko, Tuba, Baukun, Itogon, La Trinidad, and Sabian in Benguet, aiding 2,732 families. Hedcor is also assisting the responders by providing meals, generator sets, and portalets.
Meanwhile, SN Aboitiz Power deployed volunteers to distribute food packs and hygiene kits in Aguinaldo, Ifugao and the municipalities of Itogon, Bua, and Bokod in Benguet. AboitizPower is also working closely with the Cagayan Electric Cooperative 1 for its re-energization efforts .
"While we are deeply saddened by reports of lives lost and more than a million people affected by Typhoon Ompong, we gather strength from all who are committed to help in this time of need. Today, our focus is to bring comfort and relief, but rest assured that we will participate in rehabilitation efforts," Aboitiz Foundation First Vice President and Chief Operating Officer Maribeth L. Marasigan said.