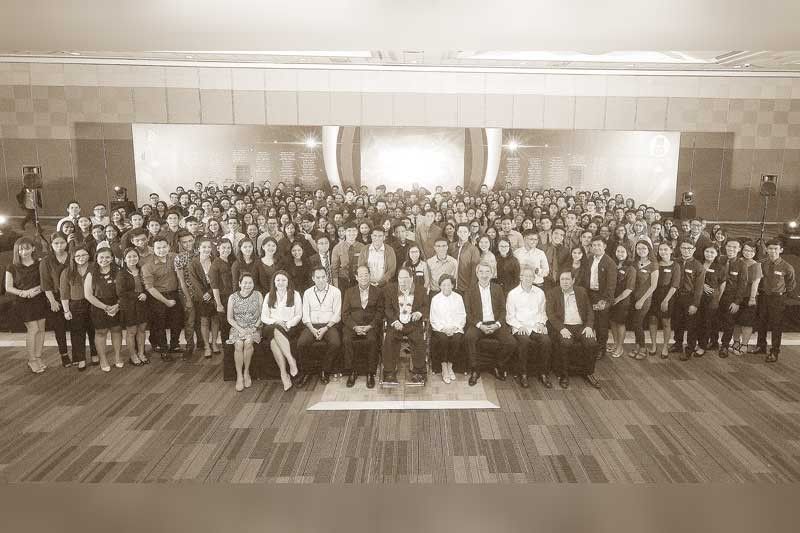 The SM Scholar-graduates of batch 2018 fill the SMX Convention Center with big smiles as they pose for a photo with members of the Sy family.
SM Foundation honors 330 scholar-graduates
MANILA, Philippines — Four years ago, 330 students hoped to make their families' lives better through quality education. This year, these young hopefuls are halfway through reaching their dreams as they finally receive their college diplomas.
SM's vision of a better tomorrow started in 1993. SM College Scholarship Program's goal was to send one member from each marginalized family to college, hoping that a chain-effect would eventually help uplift the life of a family.
After 22 years, the scholarship project has changed more than 3,000 lives. Five of the underprivileged but deserving youth shared their story with The Philippine STAR during the recent presentation of graduates at the SMX Convention Center.
For school year 2017-2018, SM Foundation supported 149 students in NCR, 115 in Luzon, 57 in Visayas and 12 in Mindanao. Out of these 330 beneficiaries, two graduated summa cum laude, 22 magna cum laude, 47 cum laude, and 20 with other academic awards.
The testimonial dinner also honored the success of scholars from Samar, Leyte and other provinces hit by the destructive supertyphoon Yolanda.
Young Dreamers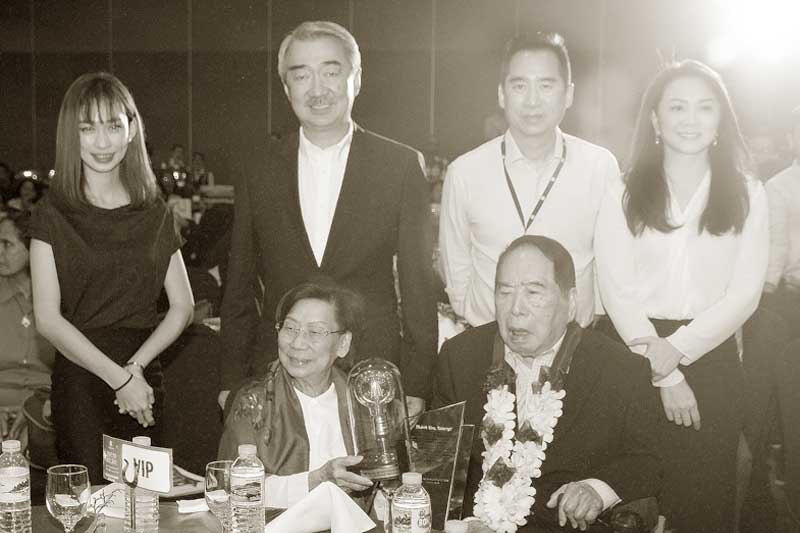 (Standing from left) Summa cum laude Danielle Olsen joins Hans Sy, Harley Sy and Debbie Sy after presenting the batch gift to (seated) Felicidad Sy and Henry Sy Sr.
Robert Carado, a fresh graduate of Central Philippine University, shared how the scholarship grant served as a key to his achievements in life.
"My father lost his job because of a health issue when I was still in second-year high school. He then told me that he could no longer send me to college. But because I knew that education would be a great equalizer, I said I would do anything to continue my studies," Carado said.
Through the full-tuition coverage, a monthly allowance and motivation from his parents, Robert successfully graduated magna cum laude. He is now reviewing for the CPA Board Examination.
"I'm currently focusing on the review. After passing the exam, hopefully, I'll strive to work in a good audit firm and in the future, start a business, like Tatang [Henry Sy, Sr.]," he shared.
"I was greatly inspired by what he has been doing. As a way of giving back for all the help he has given, I will also start a business to help the people. Soon, I plan to sponsor the education of students who are struggling to achieve their dreams," he added.
Sharing the same story are John Paul Corsanes, Joyme Naagas and Tesalonica Peregrino. The parents of the three lost their source of income, almost pausing the future of their children.
The three students believe that the scholarship grant has shaped their future and inspired them to give back.
"I am not just fulfilling my dreams but the dream of my parents and my family. I can now help give them a better life and I will strive hard to send my siblings to school," Corsanes said.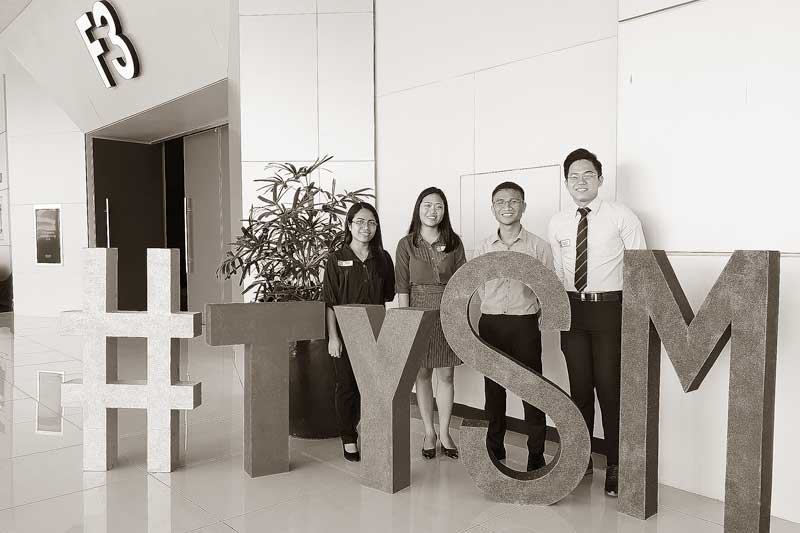 (From left) Joyme Naagas, Tesalonica Peregrino, Robert Carado and Mickoe Domingo pose before joining the 22nd Presentation of SM Scholar-Graduates at the SMX Convention Center.
"Now, I am planning to achieve two of my goals: to work at SM while helping my parents send my siblings to school. My plan is a simple way of giving back to all the people who worked hard and supported me as I achieve my dreams in life," Peregrino, the eldest in the family, said.
Naagas, an Accounting Technology graduate from the University of the East, said she would juggle studying and working to pursue her dream to be an accountant.
"As they say, failures should fuel you to strive, work harder and become a better version of yourself. So, while I am studying, I will do my best to work at SM as a way of giving back," she said.
SM scholar Mickoe Domingo managed to finish Computer Engineering despite having a broken family.
"I got most of the support from my father. But he also provides for the needs of his new family, so I had to utilize the budget given to me, which was often not enough to sustain my studies," he said.
"Thankfully, right after graduation, I was immediately hired by a prominent network security company. Aside from the certification from our school, I think what helped me get hired was the fact that I am an SM Scholar. It somehow proved that I am hardworking and dedicated not only in school, but also in life," he added.