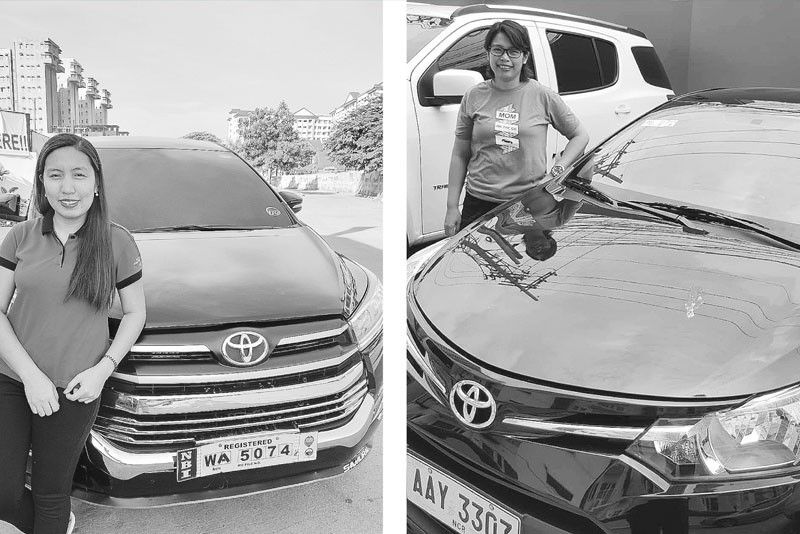 Two for the road: Grab drivers Marigail Esteban (left) and Arlynn Camorongan (right) are discovering the joys and rewards of their life behind the wheel.
After the ride: A tale of two moms
MANILA, Philippines — Commuting around Metro Manila may not be the best experience. To get from one point to another, you have to prepare three to four hours ahead to brave the long lines, horrendous traffic, crowded public vehicles, and the unpredictable weather.
For the longest time, this scenario has seemed like an inevitable part of our daily lives. However, in 2013, ride-hailing groups arrived in the country and somehow redefined our daily commute.
Now, a comfortable one-hour trip isn't only about catching your breath before conquering the day. It has become a breath of fresh air – a chance to sit back, take things slow, and reconnect to the world by hearing unique stories of the driver, who might be your newfound friend.
Marigail Esteban and Arlynn Camorongan are two of the many Grab partners who have stories that will brighten your heart after a brief ride.
Strong women on board
At her young age, Esteban already plays multiple roles at a time.
To sustain the needs of her two young kids and to send her sisters to school, the 25-year-old Grab partner has to work round the clock, grabbing all possible opportunities to earn.
"My friends call me rakitera, curacha, at babaeng walang pahinga," she joked, sharing that she currently juggles her responsibilities as a businesswoman, financial adviser and teacher.
Despite the overflowing workload, the wise and goal-oriented mom continued to look for other means to secure her family's future, eventually deciding to utilize her family's car.
"I'm the person who makes sure that I don't want to waste any of time. So every time there's a chance to earn, I take the opportunity, and that is what I saw at Grab," she shared.
"With Grab, you are your own boss. You just need to follow the terms and policies of the company, do your job as a partner, and give the best customer service to clients," she added.
Joining Grab has driven Esteban closer to her goals in life without sacrificing time for herself and her family.
"I drive, but I still do my part as a daughter, sister, partner, and a mother to my children. I also meet different people whom I can share and learn something from. I also earn more as I meet and get clients," she shared.
"So it's like hitting two birds with one stone. And it is very rewarding when they appreciate what you're doing and when they give compliments and, sometimes, tips. We also get incentives from Grab. So I can't ask for more," she added.
Meanwhile, as a young single mother in the late 1990s, Arlynn Camorongan, 37, had to hammer hurdles on her to provide the needs of her two kids.
"Raising my kids is quite a task. Being a loving mother, who aims to develop and nurture her children, side by side with being a provider, is difficult," she said.
"The fact that I did not finish college didn't stop me from studying and learning. This helped me land a job as a trainer in a multinational company," she shared.
After several years, Camorongan was gifted with another baby. With the family's teamwork and support from her kids, she decided to unload some of her jobs and use Grab as an avenue to balance all her responsibilities.
"At first, it was a means to recover my fuel cost from going to work. Then I resigned from my full-time job and decided to drive Grab every day from 5 p.m. onwards so I could take care of my newborn and provide for my middle son's education and my mom," she recounted.
She shared that driving with Grab gave her the opportunity to experience the lighter side of life while learning from other people.
"My new job allowed me to talk to different people and understand different behaviors. The laughter shared by my passengers helps me get through day," she said, sharing how driving also helped her overcome her post-partum blues.
While this has given her the chance to experience the world, Camorongan recalled the times she wished she had more time for her family.
"The most difficult experience I've had as a TNVS driver was to eat alone in a fastfood chain while hearing Christmas jingles. You also have to drop families to parks during New Year's Day. I think this breaks any driver's heart. These moments will test every inch of you," she said.
"These happenings are few of the reasons why most of us only settle for pares around the corner or fastfood meals in gasoline stations and convenience stores," she explained.
"And every time I hear 'Thank you, Ate. Goodnight at ingat po kayo' as I drop my passengers, it sends a smile on my face; but it also pinches my heart, thinking that I should be sleeping soundly with my family," she added.
Fully aware that her family is standing behind her and is relying on her strength, the determined mother continues to ignite the engine, steer the wheel and drive towards her dreams.
"If you want to learn how to drive, bear in mind that the tires are round. Jerk it and you will move. But your destination and direction depend on your steering wheel, and the one behind the steering wheel is you," Camorongan shared.
This year, Esteban and Camorongan walked up the stage to reap the fruits of their hard work. Camorongan stood beside her son during his graduation rites, while Esteban gave the loudest applause as she watched her sister clench onto her hard-earned diploma.