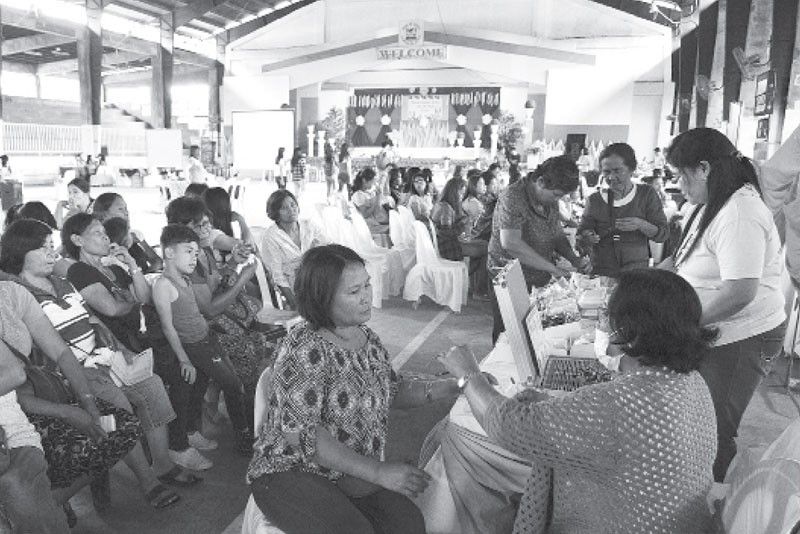 CARD Mutually Reinforcing Institutions (CARD MRI) conducted its first Kaunlaran Caravan for 2018 at the Diffun Gymnasium in Diffun, Quirino on March 23.
CARD MRI conducts Kaunlaran Caravan in Quirino
MANILA, Philippines — Diffun is the first town that greets visitors to the far-flung province of Quirino. This largely agricultural town lies in the foothills of the Sierra Madre Mountain range. Its residents, mostly living below the poverty line, rely on rice and corn cultivation for their livelihood
As such, its residents seldom receive basic services from the government because of the town's location or because they can't afford it. To get proper medical aid or avail of government services such as social security, residents have to travel an hour and a half to the nearest city of Santiago in Isabela.
It's far-flung, depressed, and underserved communities such as Diffun that CARD Mutually Reinforcing Institutions (CARD MRI) often visits to conduct its annual Kaunlaran Caravan. The rural microfinance company, along with the institutions under its wing, conducts the caravan to provide its members and non-members with a wide range of basic services such as medical, dental, financial, and educational services.
On March 23, CARD MRI held its first Kaunlaran Caravan of the year at the Diffun Gymnasium. The town's residents received healthcare services, financial literacy for the members' children, SSS orientation, family planning seminar, livelihood training and insurance awareness through the collaborative efforts of institutions under CARD MRI and its partners.
"We are driven by our passion to help the marginalized sectors. It is our thrust to provide products, programs, and services that will assist the socioeconomically challenged families to rise above poverty," said CARD MRI managing director Flordeliza Sarmiento.
Part of the Caravan is the Community Health Day (CHD), which benefitted almost 500 residents of Diffun and neighboring towns. They received free medical, dental, and optical check-up and discounted medicines. As it was also Women's Month, pregnant CARD MRI members received a family planning lecture from the local Population Commission (POPCOM) representative as well as a free prenatal check up and pampering kits in preparation for their childbirth.
CARD MRI and the government's Social Security System (SSS) have always been good partners for many years, with many CARD clients receiving coverage from the government social security service. As such, SSS was also part of this year's caravan; local SSS personnel gave residents an orientation on the advantages of getting social security coverage.
Being a rural microfinance company, CARD MRI also encourages its members and their relatives to be financially literate so they can learn the value of money, manage their income well, develop the habit of saving, and achieve a better quality of life. To foster financial literacy and responsibility among its members early on, Rizal Bank, Inc., one of the banking institutions of CARD MRI, also conducted a financial literacy seminar for members' children and relatives.
"CARD MRI has been in the business of poverty eradication for 31 years where building a stronger future for every Filipino family has been its endeavor. We provide an all-inclusive approach to the development of our members considering their different needs to uplift their way of living," said Sarmiento.
CARD MRI will conduct its Kaunlaran Caravan to communities in Visayas and Mindanao later this year.