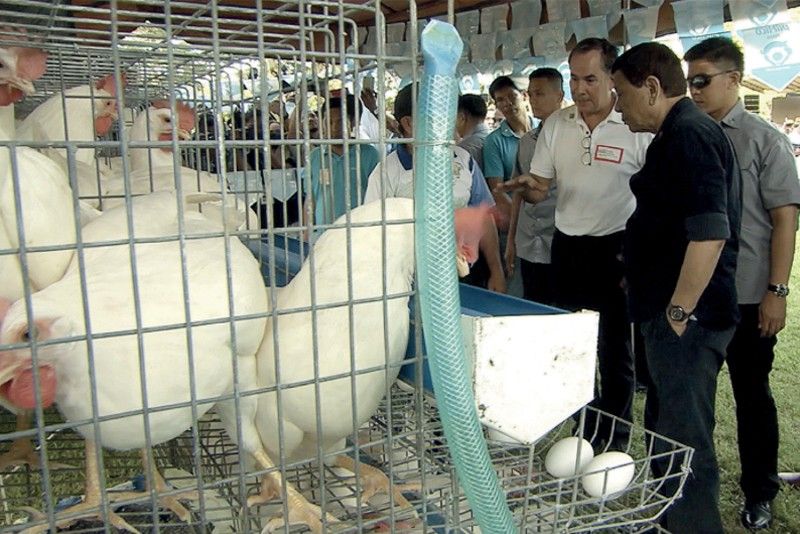 Pilmico Foods Corp. CEO Sabin Aboitiz explains to Pres. Rodrigo Duterte the egg-laying machines donated by the Aboitiz group to the wounded soldiers and military camps. Photo courtesy of RTVM
Aboitiz donates egg-laying machines to wounded soldiers, military camps
MANILA, Philippines — In response to President Duterte's call for help to wounded soldiers, the Aboitiz Foundation of the Aboitiz Group recently donated egg-laying machines that would benefit military camps and wounded men in uniform.
The idea is to bring the market to the camps since the soldiers find themselves at risk even on simple trips to the market.
"Yung mamalengke 'yung sundalo, pinagpa-patay ng NPA (New People's Army). Not in actual combat. No guns are drawn and yet, my soldiers are dying needlessly. Ayaw ko yung mamatay ang sundalo nama-malengke lang," Duterte said during the launch of "TienDA para sa mga Bayani" at Camp General Adriano Hernandez in Dingle, Iloilo last Feb. 22, 2018.
The program, a brainchild of Agriculture Undersecretary Bernadette Romulo-Puyat, is a partnership between the Department of Agriculture (DA) and Department of National Defense (DND), which allows farmers and fisherfolk to sell their produce directly to consumers, primarily the soldiers inside military camps.
Sabin Aboitiz, chief executive officer of Pilmico Foods Corp., the food subsidiary of the Aboitiz Equity Ventures, and trustee of the Aboitiz Foundation, presented the egg-laying machines intended for the soldiers.
"We are so happy that our top leaders truly care and genuinely recognize the sacrifice of our soldiers. It's a heroic and noble act to dedicate one's life to serve our country. We will continue our tradition of 'taking care of family'," said Aboitiz.
One of the recipients of the egg-laying machines, Pfc. Von Carlo Torres was wounded in an encounter with the New People's Army on Feb. 8, 2015 at Brgy. Roosevelt, Tapaz, Capiz. A caliber M-16 bullet still remains lodged inside his body. He continues to limp though he can now walk.
Torres is extremely grateful for being a beneficiary of the livelihood program, especially now that he's retired.
"Malaking tulong sa akin ito dahil di na ako nagdu-duty, matututukan ko na rin yung pag-alaga ng manok." (This is such a big help to me since I'm no longer on duty. I can now focus on taking care of the hens)," Torres said.
An egg-laying machine is a backyard farming starter kit that allows the continuous production of eggs over a period of 16 to 18 months. Each kit contains 48 ready-to-lay (RTL) hens, galvanized steel cages, feeders, and water gallon containers. In addition, one month supply of Pilmico feeds will also be provided. Each kit can yield about 46 eggs a day.
Under the "PAGKAIN para sa Bayani livelihood program," the Aboitiz Group donated several egg-laying machines to various military camps, including Camp Panacan in Davao, Camp Gen. Adriano Hernandez in Iloilo, and Camp Gen. Manuel Yan in Compostela Valley.
Empowering the soldiers by providing them with sustainable livelihood is a clear testament to the company's strong commitment in advancing business and communities to help drive change for a better Philippines.
Established in 1988, the Aboitiz Foundation is the corporate foundation of the Aboitiz Group. Its purpose is to drive change for a better world by advancing business and communities through programs on education, enterprise development, and environment. Since its inception, the foundation's CSR interventions have evolved from one-time donations to carefully designed programs that empower its beneficiaries to pursue their aspirations.