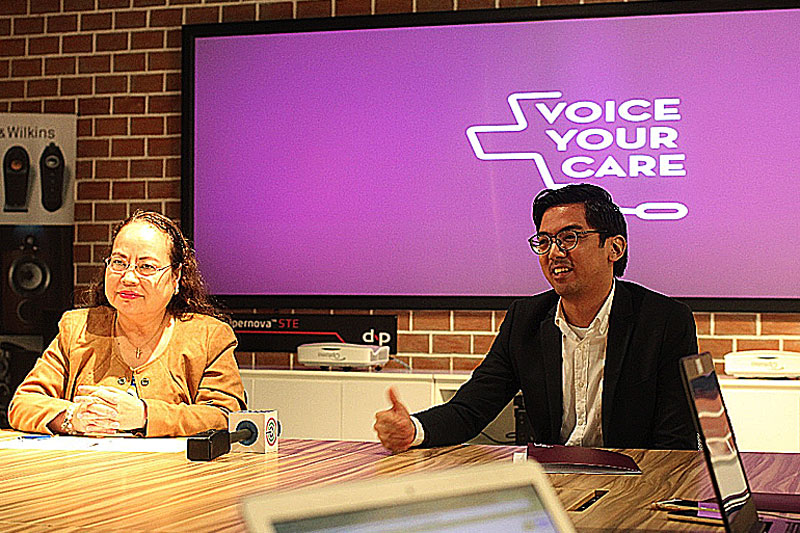 J&J Philippines brand manager and Voice Your Care project lead Karlo Patron with former Health Secretary Paulyn Ubial: 'Health and wellness should not take a backseat to keeping the job and advancing in one's career.'

J&J, DOH voice out care for Pinoy call center agents
MANILA, Philippines — Nowadays, being a call center agent can often equate to being willing to compromise one's health just to provide for the family.
Despite being sleep-deprived in a cold environment littered with unhealthy junk food, call center agents are forced to embrace their situation in exchange for numerous compensations that they could take home to their families.Apart from that, most call center agents work the night shifts.
In a study by Lorenza Errighi, Charles Bodwell and Sameer Khatiwada entitled "Business Process Outsourcing in the Philippines: Challenges for Decent Work," it revealed that working in graveyard shifts may cause disruptions in work-life balance, affecting both the physical and psychological well-being of an employee.
This is why healthcare company Johnson & Johnson (Philippines), Inc. (J&J) and the Department of Health (DOH) have launched an advocacy-driven campaign called Voice Your Care to promote health and wellness among those working in the business process outsourcing (BPO) industry in the country.
During a roundtable discussion, J&J Philippines brand manager and Voice Your Care project lead Karlo Patron underscored the importance of looking after the call center agents' health.
"It's good that the approach to health in the BPO industry has been from a macroeconomic perspective, but what we want to do with Voice Your Care is also be able to reach BPO agents and their families directly because every BPO agent deserves to live a happy, healthy, vibrant life," Patron said.
Voice Your Care aims to solve prevailing health issues surrounding the BPO industry in the Philippines. By mounting various on-ground activities and workshops together with healthcare practitioners and by giving away health modules co-created with DOH and boosting information driven content, the program hopes to create a behavioral change that would empower every BPO agent to actively seek treatment for their ailments and choose a healthier lifestyle.
"BPOs appeal to many working-age Filipinos because of the abundance of jobs they offer. Finding and keeping well-paying jobs is a real concern for many BPO workers, a lot of whom support families and households financially. However, health and wellness should not take a backseat to keeping the job and advancing in one's career," shared Patron.
"As a leader in healthcare, we want to make sure that we are present in every Filipino's life stage – making sure to care for them in every way that we can, in whatever environment they are in. Through Voice Your Care, we hope to start that change in the BPO industry," he added.
J&J Philippines and the DOH have inked a partnership and will be rolling-out more activities throughout the year, including health caravans with healthcare practitioners, corporate social responsibility initiatives with private companies, and strategic partnerships with BPO companies.
In its over 60 years in the country, Johnson & Johnson Philippines has helped Filipinos address the most common ailments and diseases with their high-quality medicine and medical technology in town clinics and hospital operating rooms.