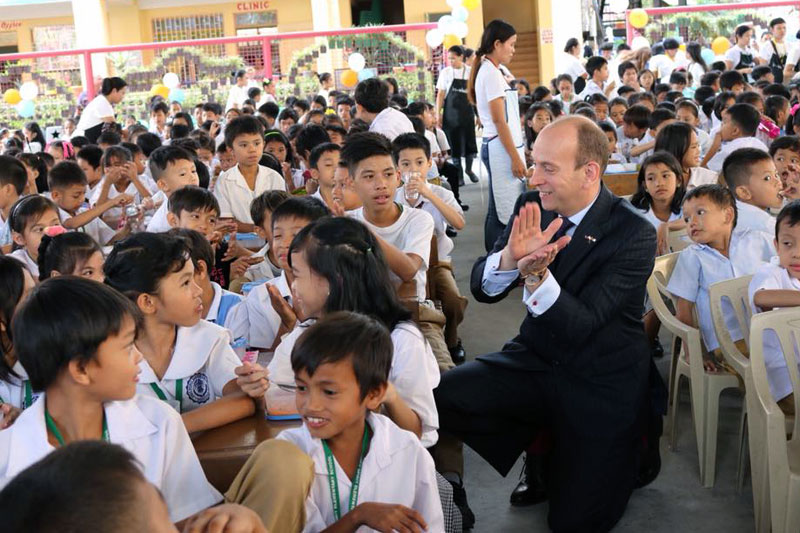 British Ambassador Daniel Pruce spends precious time with children-beneficiaries of In-Visible, which has expanded its efforts in the Philippines.

Breaking the cycle of poverty is mission In-Visible
MANILA, Philippines — Three years since it launched a program in a school in the Philippines, In-Visble, a United Kingdom-registered charitable organization, has not only managed to sustain its endeavors but also to expand it.
Late last year, In-Visible held its Christmas celebration with no less than new British Ambassador to Manila Daniel Pruce attending the event.
Founder Adina Belloli said the ambassador had a chance to spend time with the children.
"It was lovely," Belloli said.
In-Visible currently provides 500 malnourished children a free daily meal and supports the education of 16 girls. Run entirely by volunteers who have logged over 212,800 hours to date, it has provided over 374,500 meals.
The program was launched in 2014 at the Holy Spirit Elementary School in Luzon in Quezon City with the Ateneo Center for Educational Development as its partner.
The Christmas gathering was meant to celebrate the success in the past year.
"Every year we do one huge celebration at Christmas for the children to experience one day of joy. It's our fourth year of the program. Just after two years since the launch we saw we were making a huge impact already as the school dropout rate of the entire school was reduced by over 75 percent and national achievement scores increased by over 10 percent for the entire school," Belloli said.
She said that by providing free healthy meals, the children who are malnourished come to school, stay in school and perform better in school.
In-Visible has also partnered with renowned optometrist Dr. Vivian Sarabia for eye exams and glasses for children and parent volunteers.
"We know that poor nutrition impairs vision, which is why we partnered with Dr Sarabia three years ago to introduce eye exams and glasses for children and parent volunteers. We were able to identify children who needed glasses the first year of vision mission that two years later no longer needed them. One parent volunteer was identified as being legally blind and hadn't had eyeglasses or checkups until high school and only ever had that one checkup her entire life," Belloli shared.
Belloli said the whole endeavor of In-Visible is really intended to break the cycle of poverty.
It's about changing the family history from one of never attending school or high school to always attending school and shooting for university and the ultimate goal of graduating from university, she said.
"When I first started the feeding program I asked the children what they wanted to be when they grew up and most could not tell me. Now, they tell me they dream of being teachers, doctors, artists and hostesses! Nothing makes me more proud than this. There is a seed of hope blooming inside each child and just like the seed that will reach its full potential and blossom into a beautiful flower, so will they," she said.
In-Visible ensures that it's not about handouts.
"Yes we give a free healthy meal but we do so much more. To give you a recent example, a teacher approached us about a student of hers in Grade 2. He was living with his grandparents as his mother and father had died. His grandparents are not able to pay for his school uniform and so this boy was working everyday selling popsicles on a stick to help his grandparents out. Anthony, our kitchen manager, decided that rather than giving him money to buy uniforms, he asked the boy to bring all his popsicles to the kitchen and we would buy them. We supported his business and the boy didn't have to miss school to work and was able to buy the uniforms," Belloli narrated.
Indeed, In-Visible remains visible in the Philippines and continues to help break the cycle of poverty.