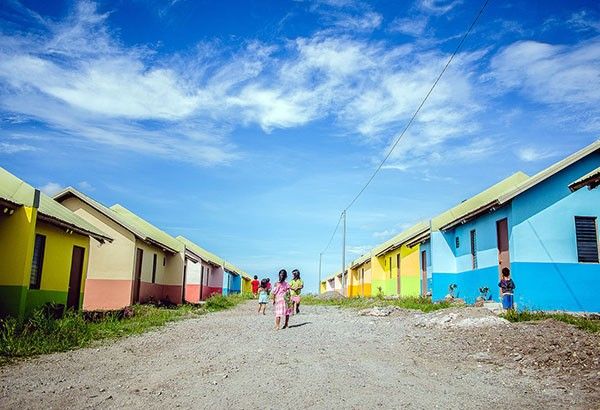 Last December, some 50 families moved in to these disaster-resilient homes in Cabug, Negros Occidental, thanks to Base Bahay Foundation.
New year, new disaster-resilient homes for 50 families in Negros Occidental
MANILA, Philippines — For the past couple of years, Carmela Piñon has been celebrating Christmas with her husband and two kids in a makeshift house near a river in Negros Occidental.
Without a house of their own, she would always worry about her family's safety from the occurrence of natural disasters.
Thankfully, socialized housing nonprofit group Base Bahay Foundation Inc., in partnership with Gawad Kalinga, granted her Christmas wish – to have a home to proudly call her own.
Last month, Carmela was among 50 other recipients who moved in to their new disaster-resilient shelter homes in a Gawad Kalinga Village in Barangay Cabug in Bacolod City.
"We feel so blessed. We're very happy to get to spend Christmas in our new home," she said.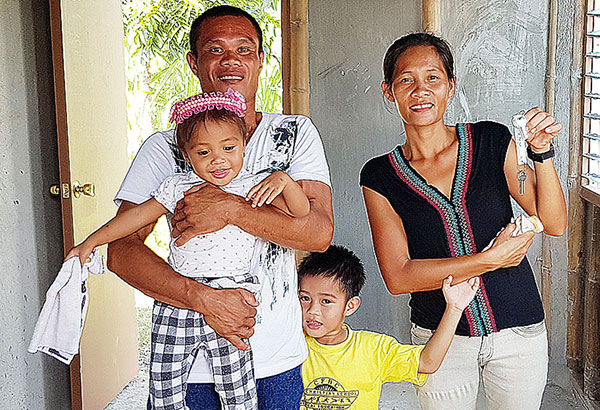 Carmela Piñon smiles along with her family as she holds the key to their new home in Cabug, Negros Occidental.
As part of its commitment, Base Bahay provides sustainable and resilient housing solutions to families living in poverty, especially in communities occupying disaster-prone and high-density urban areas.
During the turnover, Base Bahay general manager Maricen Jalandoni underscored the importance of rebuilding communities.
"As we continue to grow as a non-profit foundation, we are also proud to say that we continue to rebuild communities through permanent and sustainable housing solutions," Jalandoni said.
Building with the use of Cement Bamboo Frame technology, Base Bahay assures beneficiaries of the safety of the dwellings, which can withstand typhoons or even earthquakes.
According to Jalandi, four years after introducing the technology in the Philippines, Base Bahay has seen how it has improved the lives of every farmer, family and partner who make up their value chain, particularly for those whose main problem is something as basic as shelter," adds Jalandoni.
"We want to encourage others to build better homes today, homes that are permanent and designed to withstand natural disaster in order that we may reduce, not only destruction of property, but more importantly, the loss of lives due to collapsed or blown away homes" he said.
Meanwhile, GK executive director Luis Oquiñena highlighted the 14-year journey of their organization during the ceremony.
"[It is] a journey of gifting the poor with our gift of excellence, trying to find a way how to make life better for the least among us. This partnership between Base Bahay and GK is a testament of that commitment," he said.
Since it started in June 2014, Base Bahay has built around 400 homes with partner agencies in various sites around the country.
Apart from using local resources customized to local needs, Base also provides training, planning, supervision, and quality control across the value chain in an effort to improve local economies, and foster a cleaner environment through the use of renewable materials, to create long-term impact for people and economies in their communities of practices.