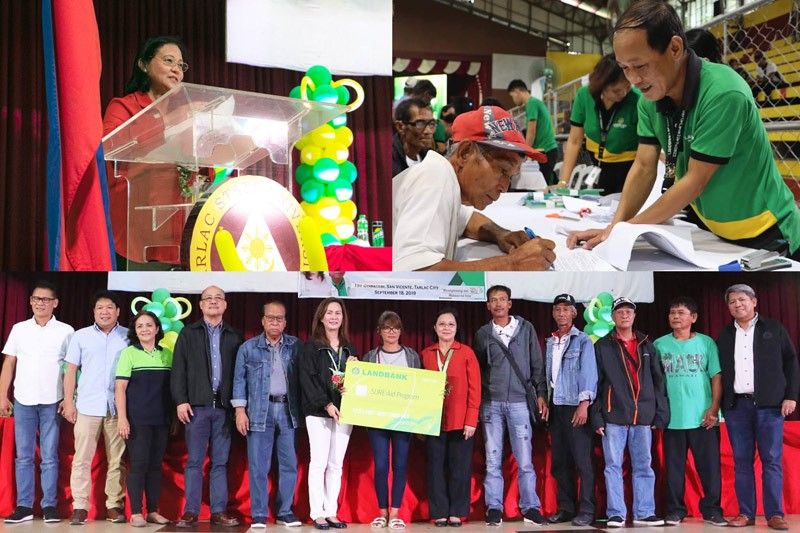 (Counterclockwise from top left) Cecilia Borromeo, president and chief executive officer of Landbank, delivers her message to the farmers of Tarlac during the event; Farmers line up to receive their cash cards loaded with P15,000; President Borromeo and Governor Susan Yap lead the ceremonial awarding of the Landbank Cash Card to the farmer-beneficiaries, joined by Vice Governor Carlito David (5th from left), Provincial Board Members Saturnino B. Mandal and Joy Gilbert Lamorena (leftmost and 2nd from left), DA-ACPC Director II Cristina Lopez (3rd from left), DA Regional Technical Director Nelson Bautista (4th from left), and LANDBANK Executive Vice President Liduvino S. Geron (rightmost).
Photo Release
Landbank, DA launch SURE Aid Program for Tarlac rice farmers
(The Philippine Star) - September 20, 2019 - 8:00am
TARLAC, Philippines — More than 1,000 rice farmers in Tarlac province received a loan assistance of P15,000 each under the Expanded Survival and Recovery Assistance Program for Rice Farmers (SURE Aid Program) launched by the Department of Agriculture (DA) and Land Bank of the Philippines (Landbank) on September 18.
Cecilia Borromeo, president and chief executive officer for Landbank and Tarlac Governor Susan Yap led the launch, together with Vice Governor Carlito David, Provincial Board Members Saturnino Mandal and Joy Gilbert Lamorena, Provincial Senior Agriculturist Celso Torres, DA Regional Technical Director Nelson Bautista, and DA Director II Ma. Cristina Lopez of the Agricultural Credit Policy Council (ACPC), and Liduvino Geron, executive vice president for Landbank.
Also present were Mayor Christian Yap of Victoria, Mayor Rafael Naral of Anao, Mayor Freddie Domingo of Pura, Mayor Diosdado Reginaldo of Ramos, and Mayor Reynaldo Catacutan of Capas.
The P1.5-billion SURE Aid Program is the government's initial relief response to rice farmers who are tilling one hectare of land and below, and are affected by the initial impact of lower palay prices.
The one-time, zero-interest, no-collateral loan of P15,000 is payable up to eight years.
The provincial government of Tarlac will also shoulder the P50 fee for the notarization of the required documents.
"We should strive to be disciplined borrowers and pay the loans in whatever way we can. As little as P5 per day should make a difference," Governor Yap said to the farmers.
The SURE Aid Program intends to provide financial assistance to a total of 100,000 rice farmers nationwide, either directly or through accredited service conduits, including 99-year-old farmer Silvino Obligano who was one of the farmers to receive the assistance during the event.
Landbank distributed cash cards containing the P15,000 loan assistance to all qualified farmers, which they can use in the 10 existing automated teller machines (ATM) of the bank within Tarlac City, plus a mobile ATM that was brought to the site by Landbank.
To complement this effort, the bank has recently launched the "Palay Alay sa Magsasaka ng Lalawigan" (PALAY ng Lalawigan) program to help local government units purchase palay produced by local farmers at P16 per kilo for wet palay, and P19 per kilo for dry palay.
The bank has earmarked P10 billion to fund the program, with a low interest rate of 2% per annum.
"We know the hardships that our Filipino farmers are experiencing, including the decrease of palay prices in the market. This is why Landbank is further strengthening its collaboration with the Department of Agriculture in providing assistance to support your farming needs," said Borromeo.