Metrobank Foundation Outstanding Filipinos: Real heroes among us
October 6, 2019 | 12:00am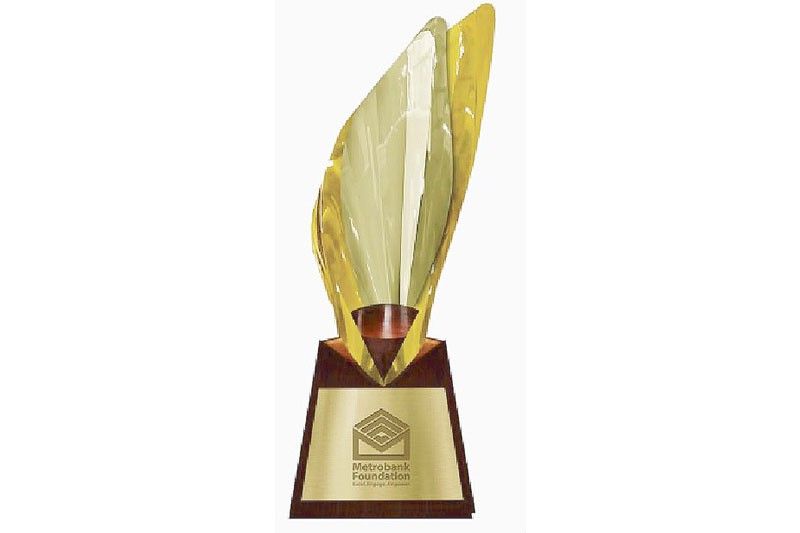 MANILA, Philippines — In times of both unrest and jubilation, people are inclined to look to others for inspiration. One need not look far. Modern-day heroes are present in plain sight, working as public servants. They are the country's educators, peacekeepers and defenders. They are in classrooms opening their doors to all kinds of learners, in the frontlines securing the country's sovereignty and in patrol safeguarding the welfare of citizens. When performing good deeds with integrity seems like taking the road less traveled, their actions reveal hope that many still choose to take that route.
Collectively, these are the individuals the Metrobank Foundation Inc. (MBFI) seeks to shine a spotlight on through its flagship career-service recognition program, the Metrobank Foundation Outstanding Filipinos. Over the years, this award has set a benchmark of excellence for paragons in the academe, military and police sectors.
This 2019, as Metrobank celebrates its 57th anniversary, MBFI once again conferred the award to 10 Outstanding Filipinos who epitomize the words "Beyond Excellence." They come from the ranks of the country's educators, members of the Armed Forces of the Philippines (AFP) and the Philippine National Police (PNP). They join the roster of 665 outstanding civil servants recognized since 1985.
Each awardee received a cash prize of P1 million, a gold medallion and "The Flame" trophy during formal conferment ceremonies held recently.
Excellence personified
The four teacher-awardees – Dorothy Tarol of Special Education-Integrated School for Exceptional Children in Iloilo City; Cristina Cristobal of Philippine Science High School Main Campus in Quezon City; Ricardo Jose of University of the Philippines-Diliman and Eva Maria Cutiongco-de la Paz of UP-Manila – are not strangers to the daunting task of donning many hats for their diverse learners. Nevertheless, they press on, fuelled by the mission to empower students.
An educator for 25 years, Dorothy Tarol shifted her teaching career to cater to students with disabilities after progressively losing her hearing at 35.
Tarol is best recognized for writing and implementing in 2011 an action research entitled "Buddy-Mediated Instruction: Pivotal Strategy for Spelling and Social Skills for Students with Hearing Impairment."
"It is a privilege to be a teacher of diverse population and a mentor who shares research as synergistic activities to her colleagues; a researcher who contributes to the generation of new knowledge; and a public servant who uses reading as a weapon," said Tarol.
She also advocates for equal career opportunities for persons with disabilities. In 2007, she co-founded an the Association of Late-deafened, Deaf, and Hard-of-Hearing for Education, Advocacy, Research and Support.
Innovative educator Cristina Cristobal introduced a learning strategy that requires grade 7 learners to use primary sources in studying history.
The approach provides opportunities for students to analyze documents, review data and construct historical narratives firsthand – a deviation from the traditional learning through textbooks and memorization.
Outside the system, Cristobal actively engages in providing teacher-training for Islamic teachers. Together with Ateneo de Davao University, she organized Buklod Guro, a program where best teaching practices of PSHS teachers are shared to madaris (Islamic schools) in several schools across Mindanao.
"I would like to be remembered as the students' Philippine history teacher who had opened their eyes about our country's history; a teacher who made them love and enjoy history," shared Cristobal.
Acclaimed historian Ricardo Jose has spent 40 years filling the gaps in the country's past, more profoundly on the subjects of Philippine diplomatic history, Philippine military history, the Philippines under US colonial rule and the ties between the Philippines and Japan.
"I have learned that there is so much we can be proud of, but are either unaware or oblivious to. Awareness of this past would build a sense of pride and, hopefully, unity," expressed Jose.
Tagged as the country's foremost scholar on World War II in the Philippines and the Asia-Pacific, Jose has produced a body of work that serves as the foundational literature on the study of the Second World War.?
Medical discovery and innovation for the Filipinos is the fuel that has pushed Eva Maria Cutiongco-de la Paz, Professor 10 of the College of Medicine, UP Manila and executive director of the National Institutes of Health, to dedicate her 22 years in the teaching profession to a branch of biology concerned with the study of genes called genomics.?
She, along with colleague Dr. Carmencita Padilla, established a Clinical Genetics Fellowship Program, the first teaching and training program in the subspecialty of Genetics in the country. ?
She also led a special research project under the Commission on Higher Education-Philippine California Advanced Research Institutes (CHED-PCARI) that aims to enhance instruction, and teaching and training innovations in genomics research.
The CHED-PCARI Shared Genomics Core Laboratory at the Philippine Genome Center in UP Diliman houses state-of-the-art genomic sequencing equipment that can significantly accelerate and expand discoveries run by Filipinos for their fellow Filipinos.?
"Genetics is not a well-known subspecialty in medicine. A dire need for more geneticists in the country has to be addressed. I have chosen to embrace this challenge,"she said.
Duty above self
The battle cry of the three soldier-awardees – M/Sgt Ramil Caporas of the Philippine Army; Maj. Romulo Dimayuga II of the Philippine Navy and Lt. Col. John Paul Baldomar of the Philippine Army – is resounding: duty above self. ?
Explosives expert M/Sgt Ramil Caporas' two-decade career in ordnance service involves safeguarding communities from bomb threats. He was deployed in Marawi for the whole duration of the siege. In one high-risk operation, he was able to use raw materials available in the area to create an explosive, called Bintana.?
"I want to be an instrument of peace. My source of fulfilment as a soldier is when I can render safe or defuse a bomb without any harm, accomplish my mission to serve the people and secure the land, and go home to my family safe and sound," said Caporas, who has conducted several IED Recognition and Safety Awareness training's and Bomb Threat Management seminars for communities. ?
Maj. Romulo Dimayuga II's stints as Intelligence Officer of Marine Battalion Landing Team-4 and Operations Officer of Marine Battalion Landing Team-12 marked his crucial role in the successful counter-communist insurgency operations in Northern Palawan. These efforts contributed to the declaration of Palawan province as a "Zone of Sustained Peace, Development, and Prosperity" in 2014.?
"My early years as a Force Recon Marine were marked literally with blood, sweat, and tears. I have experienced being wounded, being outnumbered in a firefight, losing comrades, being away from my loved ones, among others. I've always known that the moment I signed up for the Philippine Marine Corps, all those came inside my canteen cup for free and with unlimited refill," recalled Dimayuga. ?
Lt. Col. John Paul Baldomar's 22 years of service in the military is best summed up by these words: a heart that puts the nation and its people first.?
In 2001, he was assigned with Bravo Company, 37th Infantry Battalion, 6th Infantry Division, Philippine Army and subsequently became its company commander. He rallied his troop in responding to the plight of the 95 internally displaced Tiruray families at Sitio Kyamko (Hill 224), Barangay Maitumaig, Datu Unsay, Maguindanao.?
Years later, Baldomar became part of the transformation journey of the AFP as chief of the Strategic Communications Branch that steered the development and implementation of the AFP Transformation Roadmap strategic communication plan called "Horizon 1."??
"I believe this is my purpose: to serve others and fight for those who cannot defend themselves. I want to ensure that the generations to come, the children of my children would enjoy the same freedom I have enjoyed," he said.
Sentinels of peace and order??
For police officer-awardees P/CMSgt. Marsha Agustin, P/Maj. Robert Reyes and P/Col. Edwin Quilates, law enforcement goes beyond uniforms and badges; it is about upholding round-the-clock peace and order among the lands. ?
A licensed social worker, P/CMSgt. Marsha Agustin's legacy in the police force, particularly at the Women and Children Protection Center (WCPC) of Camp Crame, involves the union of police and social work.?
With her lead, WCPC has adopted an interviewing technique, "Social Worker-Police Investigative Technique in Handling Cases Involving Women and Children Victims."
She also co-authored the Standard Operating Procedures Manual widely used by the PNP when handling Trafficking in Persons cases. This aligns with the new provisions of the Republic Act No. 10364 known as the "Expanded Anti-Trafficking in Persons Act."?
"Life may be difficult for many. I serve as a witness to different stories of struggle. But I am optimistic that there's a rainbow in the aftermath of any storm. Crimes and violations are hard to end, but a united community as we are, we can ease sufferings. The battle is never-ending and the goal to provide a safer place for all is a continuous voyage," said Agustin.??
PNP's premier cyber cop, P/Maj. Robert Reyes' priority is to safeguard his stakeholders from activities that infringe their rights, but his domain entails a different tack. With illegal activities pervading the cyber space, cybercrime is the area that Reyes intends to bring to the fore.
His career accomplishments can be traced back to his being a pioneer of the PNP's Anti-Cybercrime Group in 2013. He helped develop the unit's operational and administrative manual outlining the guidelines or protocols for cybercrime investigation.
His expertise was key to the arrest of a notorious outlaw considered the No. 1 hacker in Korea by the Korean National Police Agency in 2011 and was included in Interpol's Wanted List. ?
"Doing cybercrime investigation has allowed me to better discover how important police work is and I am more determined to stay and continue to serve and protect our people," he said.
As one of PNP's most sought-after lecturers when it comes to cybercrime investigation, Reyes strives to raise awareness among his peers on the proliferation of cybercrimes and the role of the local force to combat this so-called crime without borders.
Currently the Provincial Director of the Batangas Police Provincial Office, P/Col. Edwin Quilates' mission to make the province crime-free paved the way for the launch of Oplan Iron Curtain, colloquially known as lockdown, in 2018.
Wearing hats as both officer and legal practitioner, he initiated the Agapay Kabayan campaign which involves community extension programs that aim to provide indigent communities' basic needs as well as make legal assistance available to the public, among others.
"I always bear in mind that public office is a public trust. Serving and protecting lives and properties have been my very source of fulfilment," shared Quilates.
These are the Metrobank Foundation Outstanding Filipinos. They may come from different sectors but they are driven by mutual aspirations – of empowering learners, safeguarding communities and bringing peace to a conflict-ridden society.
The Senate and House of Representatives adopted Resolutions No. 11 and No. 9, respectively, commending the 10 Outstanding Filipinos for their contributions to society.
"Our 10 awardees are modern-day heroes. How else are we to call these individuals who persist, who remain firm in their duty, in the service of others? They go beyond what is expected of them out of earnest desire to make a positive impact among their sectors and communities. There is perhaps no truer form of service," said MBFI president Aniceto Sobrepeña.