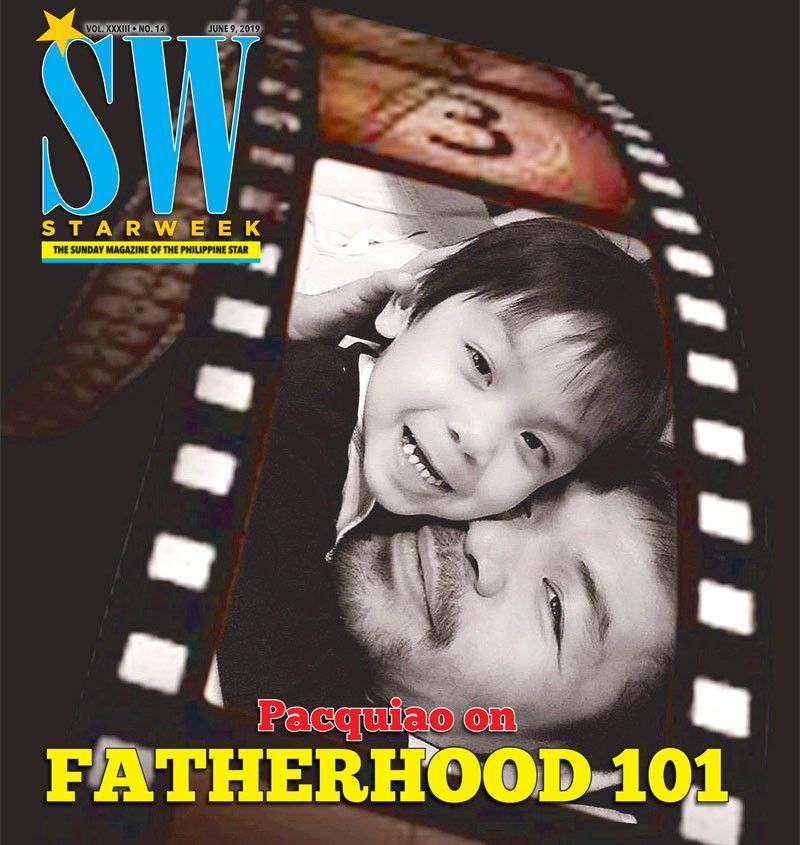 Pacquiao bonds with his youngest son, Israel.
Pacquiao on Fatherhood 101
MANILA, Philippines — Boxing icon Manny Pacquiao sat on a stool, his back barely touching the wall, as he taped his hands inside the narrow dressing room of the Elorde Gym in Pasay City.
There was silence in the room, with only a handful of others around, as Pacquiao, the boxer and senator, wrapped up his pre-training routine, a ritual of sorts.
The 40-year-old Pacquiao is gearing up for a dangerous showdown with fellow welterweight champion Keith Thurman on July 20 at the MGM Grand in Las Vegas.
This was his first week of intense training.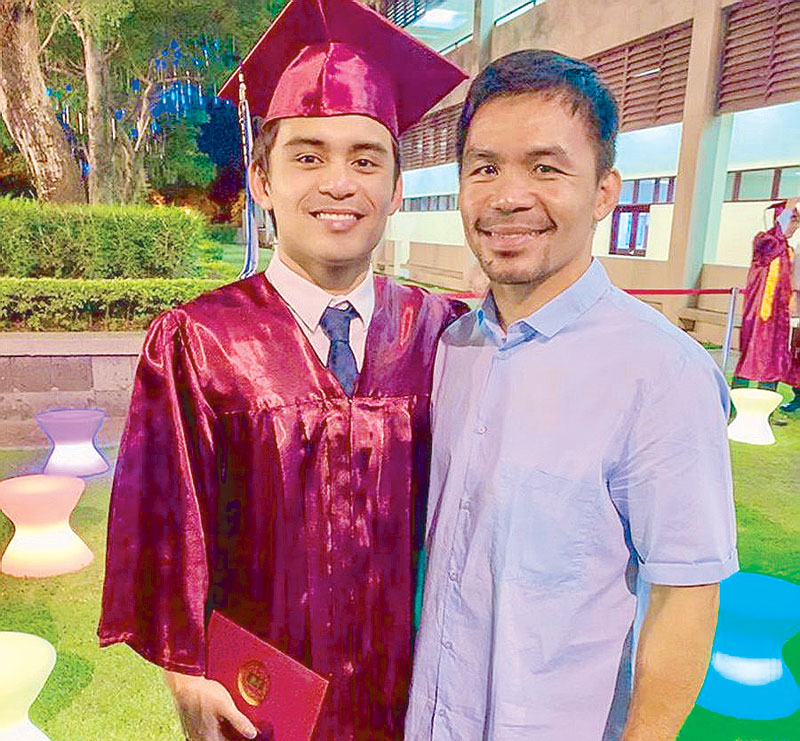 Attending Jimuel's graduation was his top priority despite his training schedule
Therefore, it didn't seem the right time or place to ask Pacquiao his thoughts on being a father or what fatherhood means to him.
But reminded of upcoming Father's Day, the charismatic figure set all things aside. He liked the topic. Almost immediately, training was put on hold.
"Let's do it," he says of the interview.
I grabbed the opportunity, and the seat nearest to Pacquiao. It was time to listen.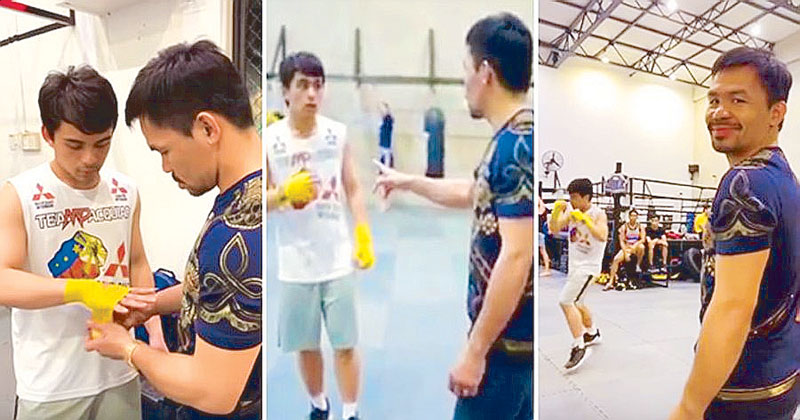 The athlete gives his oldest son, an aspiring boxer, some tips
It's Pacquiao on Fatherhood 101.
"Being a father," he starts off, "is very important."
Pacquiao caught everybody's attention, including that of his younger brother, former boxer and now party-list (OFW Family) Rep. Bobby Pacquiao.
"The father plays the most important role in the family. You must make your presence felt. It's the father who must always set the example," he says.
Pacquiao came from a very poor family and, at an early age, was forced to work. He took on menial jobs to help put food on the table. He sold popsicles, donuts as a skinny child.
"I walked as far as no one (among those selling the same commodity) else could and always went home with an empty box," he recalls.
"The others, whom I knew, were too lazy to walk, and all stayed in one corner. They didn't sell well. I walked farther than all of them and to places where I was the only one selling popsicles."
"Ubos palagi and paninda ko (I always sold out)," he says.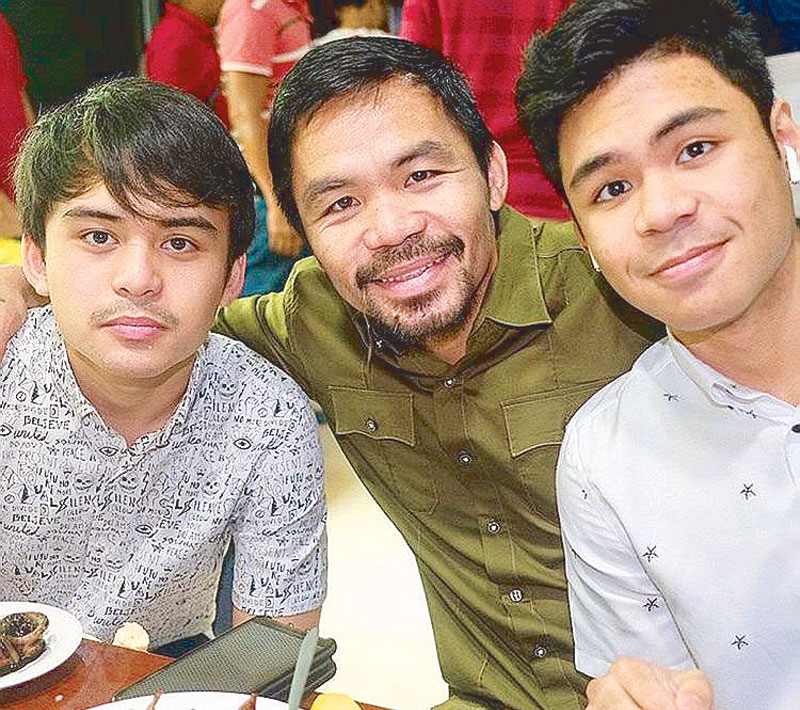 Pacquiao with his sons Jimuel and Michael
Then he learned to box, and that became his ticket out of poverty. He used to fight for a kilo of rice. He was like a father to his five siblings (three brothers and two sisters).
"That was my first training as a father – when you have to look after your brothers and sisters," he says.
"I learned to fulfill my responsibilities," he adds.
But life is good to him, and with a flourishing career inside the ring, he delivered for his family.
In 2000, he married Jinkee Jamora, and together they started a life, a family of their own. They were blessed with five children.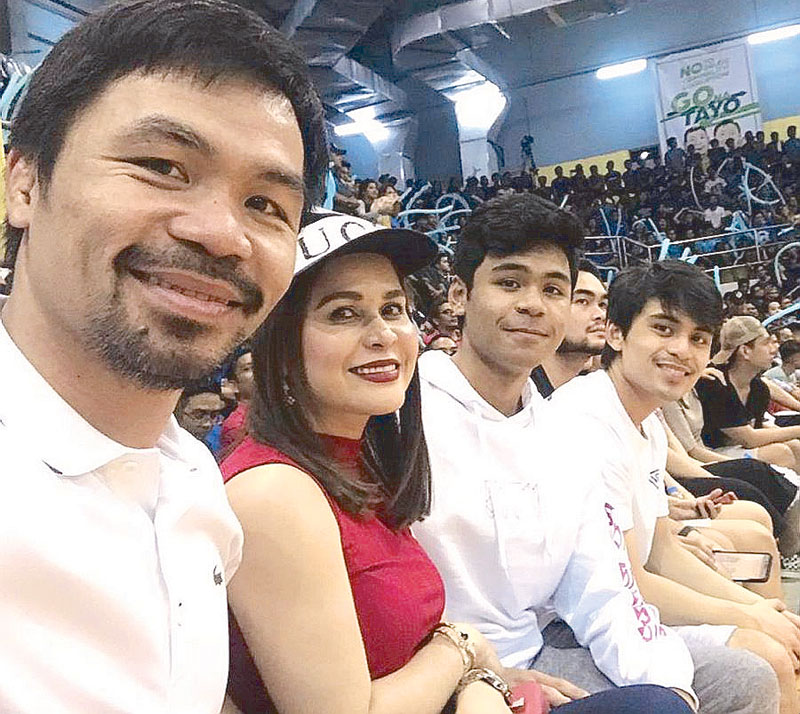 The family watches a basketball game together
"Our children are our biggest blessings," says Pacquiao, who went on to become the only boxer in history to win world titles in eight weight classes.
He became the face of boxing, a global superstar, and the richest Filipino athlete ever. These days, there's nothing his money can't buy. But it doesn't mean everything to him.
"Material things for your children only come next. The most important thing you can give your children is the advice on what to do in life."
Their eldest child, Emmanuel Jr. or Jimuel, is 18, followed by Michael, 17, Princess, 13, Queenie, 11 and Israel, who is five.
As hard as he tries as a boxer and politician, he does even more as a father to each of their children.
"That's why I train my children to read the Bible," says Pacquiao, who studies the Bible like no other.
"I teach them and always remind my children how to respect their elders, and how to live their lives. I always tell them that material things will follow if they do the right thing," he says.
For a time, Pacquiao and his wife pulled out their children from an international school south of Manila, and enrolled them in a traditional school in General Santos City.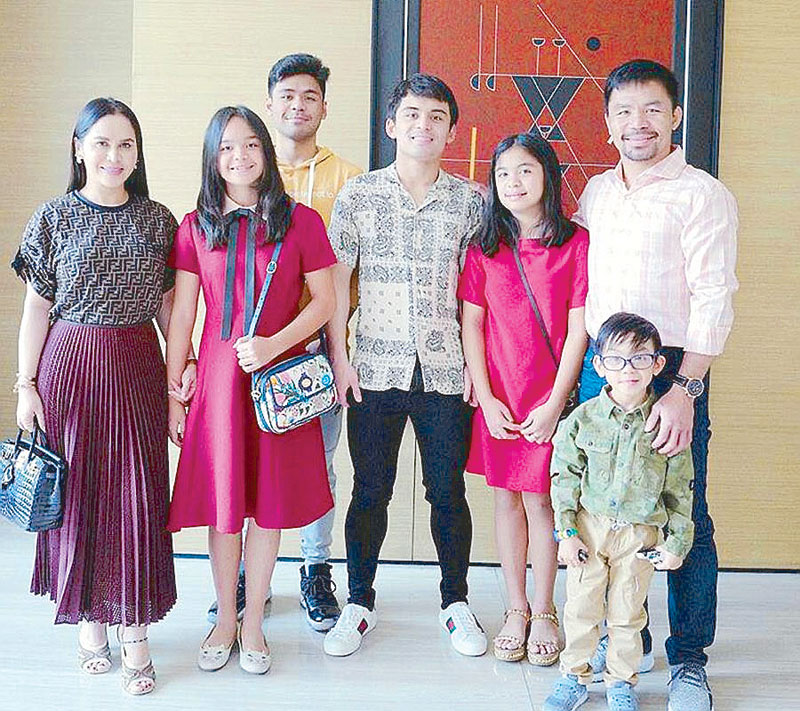 The Pacquiao family dressed for Sunday service (above, from left: Jinkee, Princess, Michael, Jimuel, Queenie, Manny and Israel).
"We wanted them to experience the simple life. But that was temporary," says Pacquiao of the move.
"I always remind my children of my past and where I came from," adds the legendary boxer who once slept in cardboard shacks on the streets of Manila.
"I share with them my experience and how much I struggled when I was their age or even younger than they are now," he says.
Pacquiao is happy that his children have learned life's lessons early.
"Ayaw ko na maging mayabang sila (I don't want them to be arrogant). I always remind them to stay humble. Most of all, never look down on others. I tell them that," says Pacquiao.
"Never belittle a person," he stresses.
The Pacquiaos have watched their children grow, especially Jimuel, who just graduated from high school at Brent International, and has shown great interest in becoming a boxer himself.
"I'm not sure if his mother will let him be (a boxer)," says the super athlete.
Time flies, and the most popular figure in the country can only reminisce about the days he had spent with his children as they grew up.
"We used to play a lot. But now they've all grown, that's why it's Israel with whom I'm closest now. He's my playmate at home," says Pacquiao with a smile. "The rest, we try to bond when we go on family vacations."
Pacquiao remembers how his father, Rosalio, who was married to Dionesia or "Mommy D," was like.
"What I remember most is how calm he was. If he ever disciplined us, it was not harsh. He will talk to you. You get spanked but it was more of the advice," remembers Pacquiao. "Pagsasabihan ka niya (He will talk to you). That's what I learned from my father."
By this time, Pacquiao was giving a lecture to those in front of him, each one a father like him.
"Love your children. Set the good example because it's always the tendency of the child to do what his father does," he says.
"Children love to emulate their parents, especially the father. What the child does is just the reflection of the father or the parents," he reiterates.
"Teach your children nothing but the good deeds," Pacquiao adds.
Then there was a knock on the door. It was getting late perhaps, and Pacquiao needed to train.
He was reminded of the time as he was to catch an affair scheduled at 5 p.m. It was graduation for his eldest son Jimuel.
Fatherhood duties cut short Pacquiao's lecture on Fatherhood 101.
He could have gone on and on.