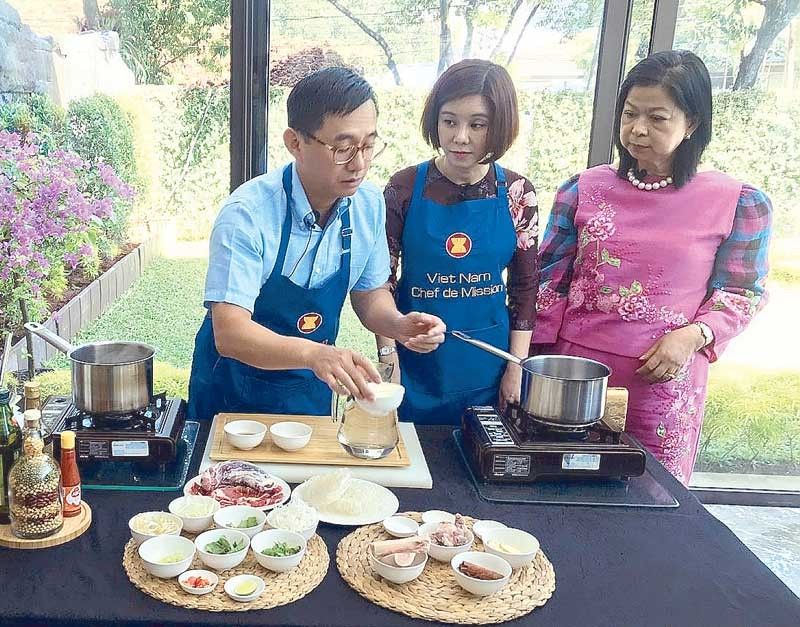 Ambassador Buensuceso joins Viet Nam Amb. Tran Duc Binh and wife Nguyen Viet Anh;
Photos by Noel Novicio
MANILA, Philippines — They donned aprons instead of power suits. In lieu of laptops and smart phones, writing pads and pens, microphones and screens, there were pots and pans, ladles and strainers, bowls and plates on top of the tables. Instead of presenting their interventions on a pressing regional issue, each of the participants proudly spoke of the uniqueness of their respective country's noodle delicacies. They exchanged notes on the similarity of ingredients, debated on the finest spices and expounded on distinctive cooking techniques for every noodle dish.
Such was the atmosphere at the chancery of the Permanent Mission of the Philippines to the Associations of Southeast Asian Nations (ASEAN) in Jakarta, Indonesia when 10 ASEAN Ambassadors, some with their spouses or country representatives, took turns whipping up noodle dishes in an exceptional cookout one sunny day in March.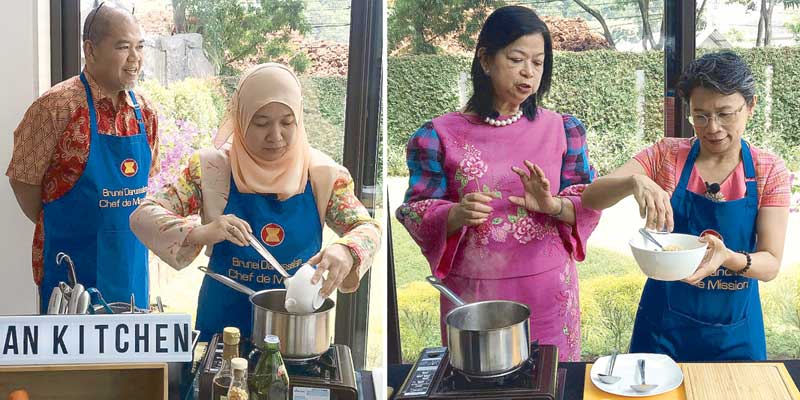 (Left )Brunei Amb. Kasmalati Dato Kassim and spouse Penigran Noor Azman. (Right) Thailand Amb. Phasporn Sangasubana as they prepare noodle dishes from their respective countries.
Unlike Gordon Ramsey in his signature white chef's get-up who startles his apprentices with terrifying opening lines in his popular cook show series, Her Excellency turned master chef for the day, Ambassador Elizabeth Buensuceso, Permanent Representative of the Philippines to ASEAN, dressed in an elegant baro't saya ensemble of pink inabel, greeted her "cooks" with fine demeanor typical of a tactful diplomat.
Like a seasoned cooking show host, she started her spiel to introduce the event of the day – Sem sem but no sem, a parody of "same same but not the same" – a noodle fest to showcase the diversity as well as commonality of the ASEAN member-nations.
The end product of the half-day event was a cookbook and a video presentation that showcases 10 various noodle recipes that mirror ASEAN's diverse yet shared cultural heritage. It is what Ambassador Buensuceso describes as her legacy, her intangible gift to the ASEAN Secretariat after her six-year posting in Jakarta.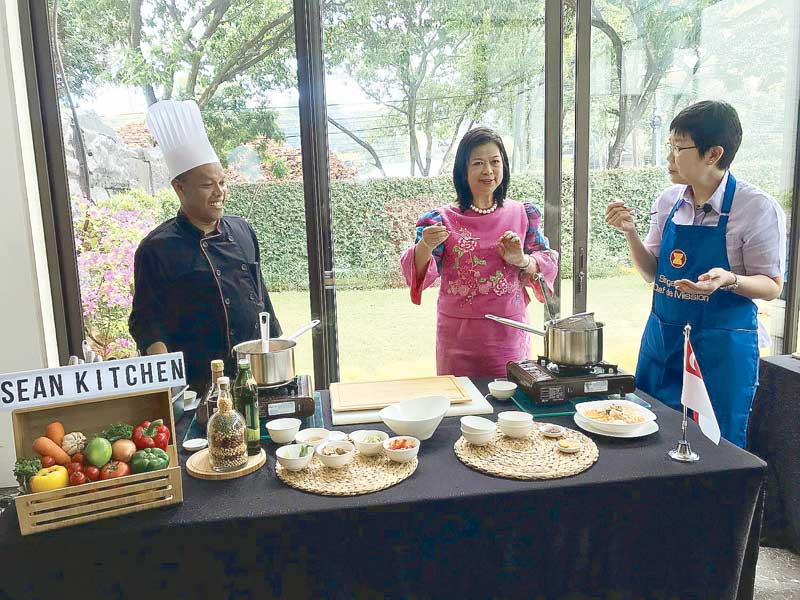 Celebrating unity through diversity with their noodle dishes are Singaporian Amb. Kok Li Peng with Chef Arsul of Aprez Cafe.
Brunei Darussalam Ambassador Kasmalati Dato Kassim and her spouse Penigran Noor Azman prepared Soto Brunei. Soto is a common name for soup dishes in Southeast Asian countries. The nature of the spices used in Soto Brunei makes it a perfect dish on a cold rainy day or as a remedy for a nasty cold. The chefs emphasized that when ordering the dish, it is important to choose the noodles according to its color. Putih (white) for rice noodles and kuning (yellow) for egg noodles. Interestingly, when the soup is taken with both rice and egg noodles, the action of marrying both noodles together creates the name Soto Kawin (married), the very same dish that Ambassador Kasmalati and Mr. Noor prepared on that day.
Chef of Cambodia Ambassador Yeap Samnang cooked Khmer curry. It is a dish that inspires delicious experimentation, which has produced many different recipes nationwide with varying levels of spice. Ambassador Samnang explained that the thick, flavorsome and aromatic broth of Khmer curry is made with coconut, cream, fresh milk, fish sauce and sweet potatoes. As he dished out the noodles in the serving bowl, he garnished the dish with garlic, shallots, turmeric, various herbs and ginger.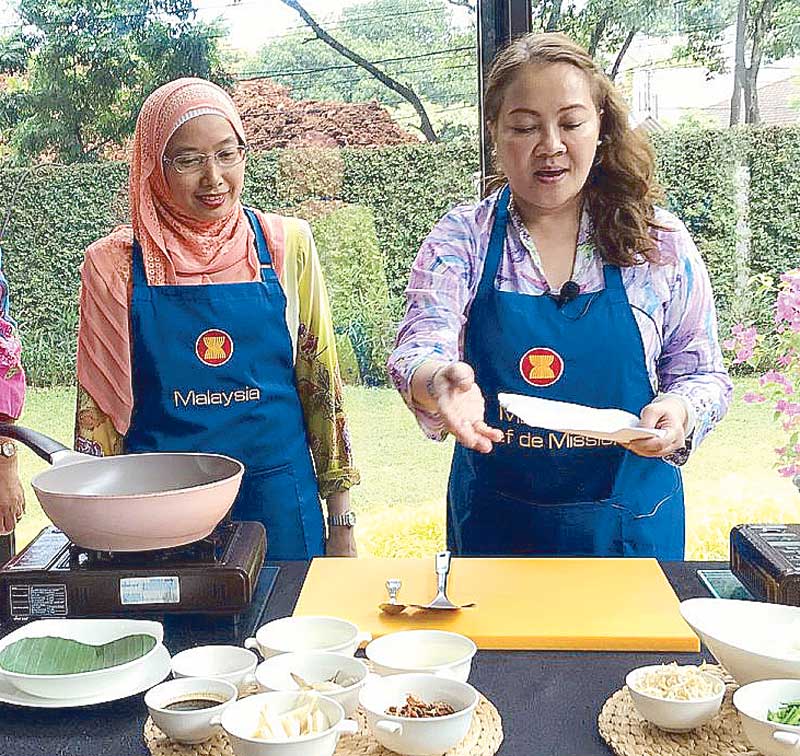 Malaysian Amb. Shariffah Norhana Syed Mustaffa with Fazlinda Fudzil.
Chef of Indonesia Madam Dhani Sarwono, spouse of the Ambassador of Indonesia Ade Padmo Sarwono, demonstrated how to prepare Bakmi Goreng Jawa, which is believed to have originated from the village of Piyaman in Wonosari, Kidul Mountain in Yogyakarta. Ibu Dhani mentioned that traditional Bakmi Goreng Jawa is cooked using an anglo, a traditional clay stove with burning charcoals. This method brings in a special aroma that enhances the distinctive flavor of the Bakmi Goreng. This sautéed dish is usually eaten as a late night meal.
Khao Piak Sen or Lao chicken noodle soup is a common comfort food that's great for a cold day, which the chef of Lao PDR Ambassador Ekkaphab Phanthavong whipped up. The noodle, thick and round like Japanese udon, is made from rice flour and tapioca flour. It has a fresh pasta texture – slightly elastic, firm and chewy, and the individual strands are coated with starch to keep them from sticking. The recipe calls for the noodles to be cooked directly in the stock, to add a pleasant thickness to the comforting soup. And Ambassador Phanthavong exactly did the same technique for his recipe!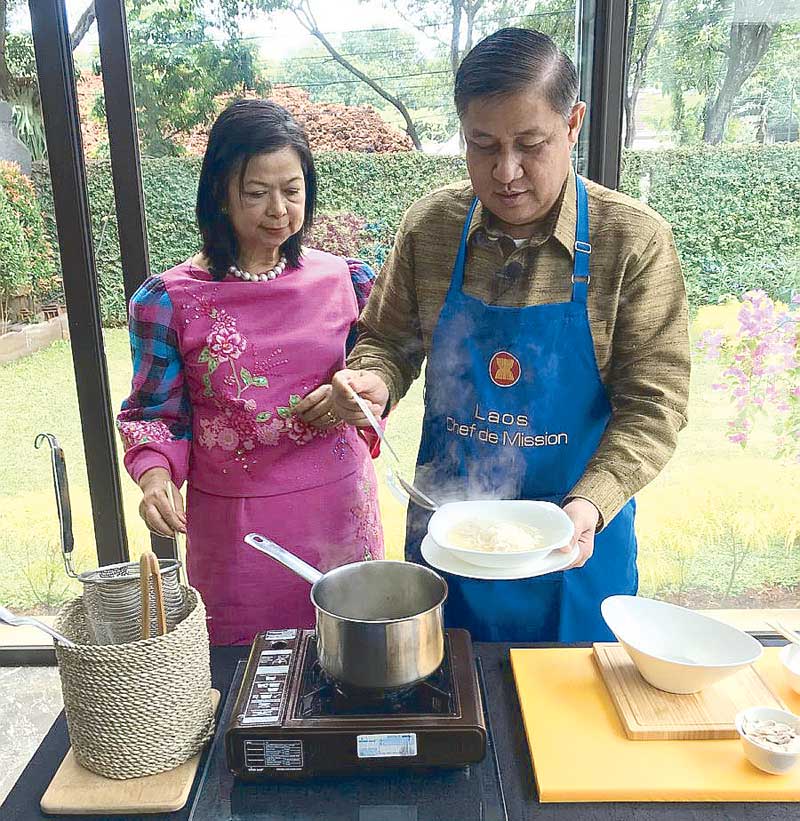 Lao PDR Amb. Ekkaphab Phanthavong
Char Kuey Teow or stir-fried rice cake strips is arguably one of the most popular dishes among Malaysians of all races. Chef of Malaysia Ambassador Shariffah Norhana Syed Mustaffa showed the audience how the dish is prepared. The noodles are stir-fried over very high heat with light or dark soy sauce, chili, prawns, deshelled cockles, bean sprouts, Chinese chives and eggs. The mixture of these ingredients gave the dish a very appetizing flavor, to the delight of the guests who tasted the stir-fried noodles.
The chefs of Myanmar, Ambassador Min Lwin and Madam Sabai Win, charmed the audience with the extraordinary preparation of the traditional Mohinga. At its core, Mohinga is a fish-based soup consisting of multiple spices and various condiments – around 30 in all – that bring out and enhance the dish's savory flavors. Garbed in their traditional Myanmar costumes, it was a delight to watch the lovely couple describe every ingredient and procedure involved in preparing the quintessential Bamar recipe, meaning a dish that is not influenced by any foreign cuisine.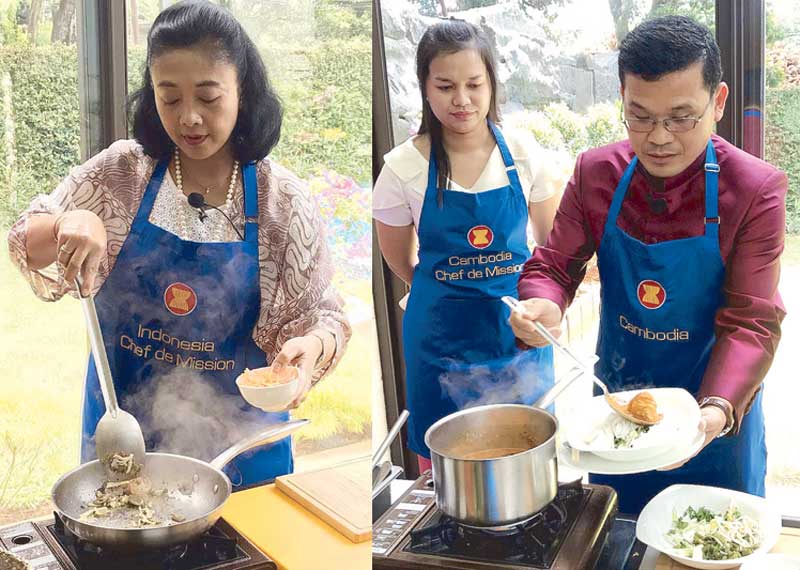 (Left) Dhani Sarwono, wife of the Indonesian ambassador. (Right) Cambodian Amb. Yeap Samnang.
I enjoyed cooking our very own Pansit Palabok. I used the freshest ingredients of shrimps and squid and tinapa or smoked fish and palabok noodles flown in from Manila. In deference to our Moslem friends, I substituted ground pork with minced chicken breast. For the toppings that usually go with the slices of boiled eggs and green onions, I used Indonesia's own version of chicharon made from beef skin for that added crunch and texture. I told the audience that the savory noodle dish is ever-present in the dining tables of Filipino households, especially during special celebrations, whether it's lunch, dinner or merienda.
Chef of Singapore Ambassador Kok Li Peng explained the preparation of Laksa with the help of Chef Arsul of Aprez Café. Ambassador Li Peng explained that the Singapore Laksa usually consists of thick noodles or rice vermicelli with beansprouts, dried tofu, prawns, fish-cake and cockles served in a spicy curry coconut milk-based soup. The Singapore Laksa is believed to be a creation from the Peranakan community, descendants from intermarriages between early Chinese migrants and local Malays.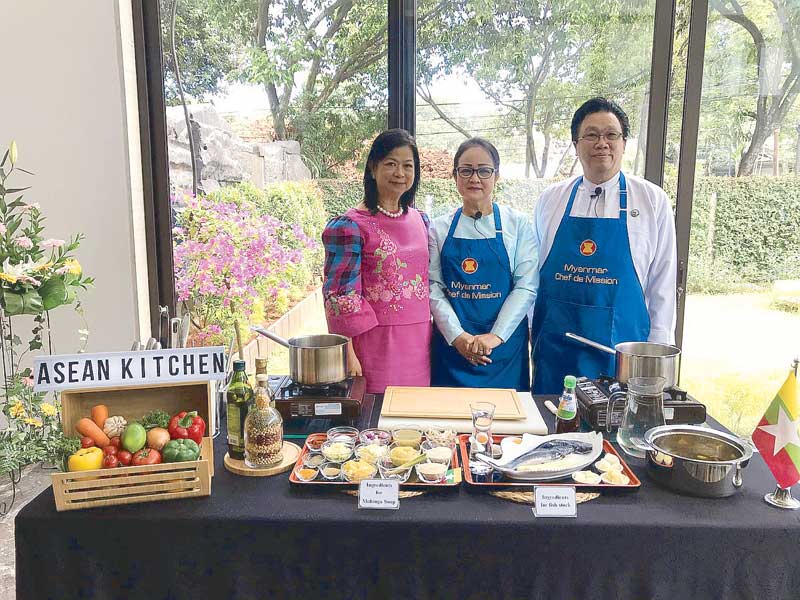 Myanmar Amb. Min Lwin and Madame Sabai Win.
Chef of Thailand Ambassador Phasporn Sangasubana not only demonstrated how to cook Tom Yum. Prior to her turn, she personally prepared the ingredients and made sure she didn't miss anything. Tom Yum or spicy and sour soup with shrimp is characterized by a delectable fusion of spicy and sour flavors. The spices that are so integral in preparing Tom Yum are believed to have been brought in from India during the maritime trading era, whereas the noodles are an alteration on Chinese recipes.
Chefs of Vietnam, Ambassador Tran Duc Binh and Madam Nguyen Viet Anh, prepared Pho noodle. They explained that the traditional ph? noodle is made from rice, which is spread thinly and cut into strips. The couple emphasized that the secret to cooking delicious ph?? is the stock, which is made by simmering beef bones. Then spices such as cinnamon, anise, ginger, cardamom, cloves and coriander seeds are added to the broth. Ph?? is served with seasonings and herbs like onion leaves, pepper, coriander and lime juice or chili vinegar.
At the lunch reception that followed after the cookout, Ambassador Buensuceso challenged everyone to try at least five noodle dishes and the guests gamely obliged.
Noodles is "the universal comfort food and showcasing ASEAN noodles naturally wakes up a feeling of coming back to the comforts of one's home." Sem sem but no sem not only roused that comforting feeling of being firmly nestled, steadily united through a one ASEAN home, it was a testament, an authentication of how "unity in diversity" works in true ASEAN spirit.