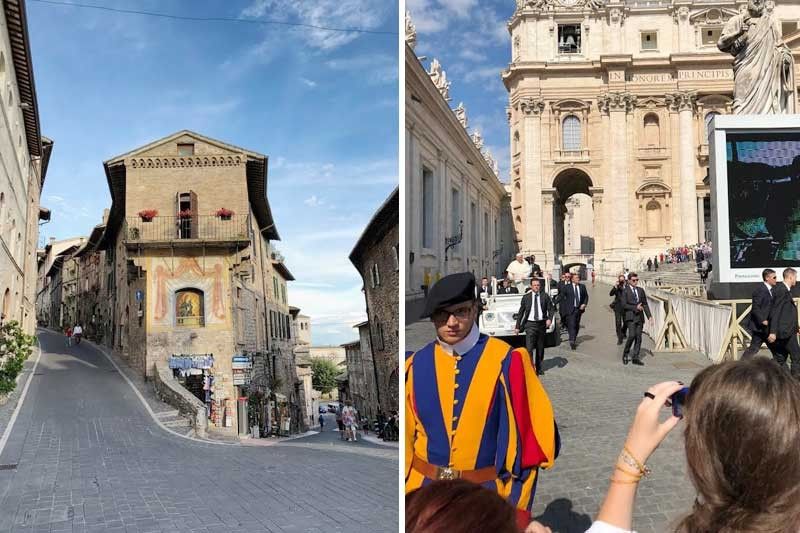 (Left) Parco del Monte Sulbasio in Assisi. (Right) And here he comes – the Holy Father in his Pope mobile.
Chit U. Juan
(The Philippine Star) - July 15, 2018 - 12:00am
MANILA, Philippines — I have been involved with Slow Food based in Bra near Milan and in Terra Madre which happens every other year in Turin, but I have not visited the southern towns of Italy for some time. From central Rome down to Pietralcina and up to Florence, there are places I have skipped in past visits to the sunniest place in Europe. But first, let's report to the Vatican.
It was good to finally revisit the Vatican and actually see the Pope within "photo distance." I have never attended a papal audience and it was a good time to do it this summer. It was a hot 26-degree morning as we waited at 6:30 a.m. for the gates to open. When they finally did, it was a mad rush to get front seats, corner seats or any seat which would have an unobstructed view of the Holy Father as he goes around in his Popemobile. "Would he pass this way?" someone asked. "Would he turn this corner?" But in faith, we just got the seats and waited.
Then he came on the TV monitor/screen; "he's there now," someone whispered. We craned our necks only to find out he was being filmed inside the hall as he first blessed the sick, the elderly and those on wheelchairs.
It was another hour of waiting with various nationalities gathered under the hot morning sun. You could hear different languages and watch both young and old – children preparing their gowns – waiting patiently. We were in the first two rows and guarded our prized seats with our purses and tote bags "reserving" more places.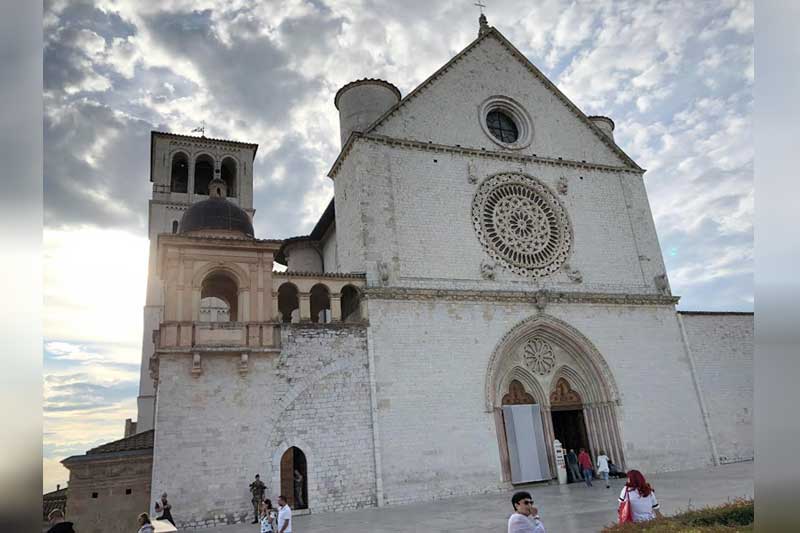 Basilica of St. Francis of Assisi.
Then, we took the cue from photographers with their long lenses perched on a barrier beside our area. He was coming out soon, for sure. And then the pope came out within a few meters from us – we could not decide whether to take a video, a still, a selfie but it was a wonderful feeling to see him waving at all of us and going around the square before finally alighting to go up a stage. There is a blessing which could have taken all of ten minutes but because of translations into various languages took almost an hour. It was a good feeling to be part of Christendom and be at the center of it all.
Padre Pio
Over the next few days, we went on a road trip to see places I have never been to. Padre Pio's corpse is now exposed (encased in glass) in San Giovanni Rotondo, about 380 kilometers by car from Rome towards the southeast.
There were masses in two churches and we chose to attend the one held in the Chiesa Inferiore (in a subterranean level) where the corpse of Padre Pio lay. It's a huge cathedral, with several places where masses could be held, and I heard the town really gets very busy on Padre Pio's feast days.
After two nights in San Giovanni Rotondo, we could not miss going to Padre Pio's birthplace in Pietralcina, another 180 kms from San Giovanni Rotondo. Here, we saw where he was born, where he lived and the town has preserved almost everything for the past hundred years, even the confessional where he heard confessions and some relics like locks of his hair.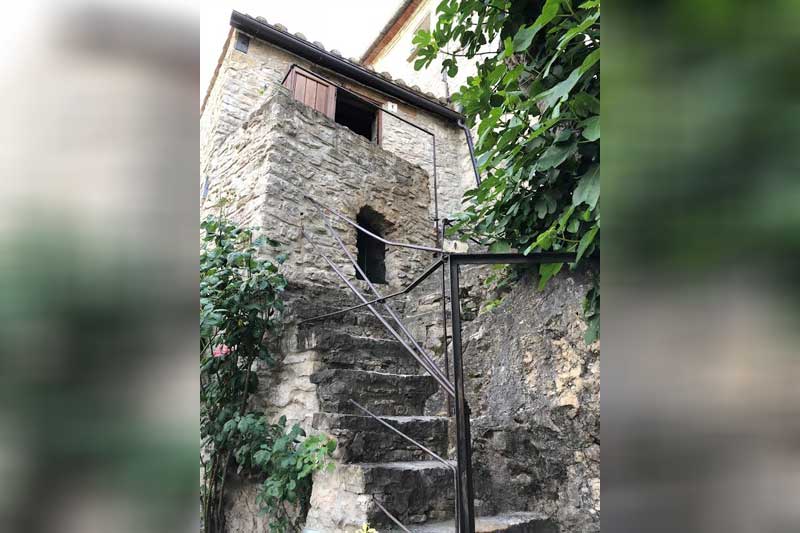 The climb up to Padre Pio's quarters in Pietralcina.
It made one's hair stand to see all these parts of his life, down to where he was actually born (the very bed where his mother delivered him) and the climb to his quarters where a simple desk, a small bed and a lamp where he wrote and prayed most of his life. When he got ill, he stayed in a room not so hard to climb which has been converted into a small chapel.
In between these destinations, you can stop by a trattoria where lunches are served from seasonal vegetables, selections of grilled meats and a homemade pasta or soup. I loved the random places in the country where our driver had to call to confirm landmarks to get to hidden osterias or trattorias, which served good local fare.
Manopello, Assisi
A Bicolano priest we met at the Vatican, Fr Don Jess Maraño, suggested we pass by Manopello, another pilgrimage site between Pietralcina and Florence.
It has images of Christ wrapped in a cloth much like the Shroud of Turin. Unfortunately, the church was closed but we did see the small town and actually got to meet the locals at Tratorria Lu Gattone, a hidden treasure of a restaurant which serves very good pasta and farm-to-table meals.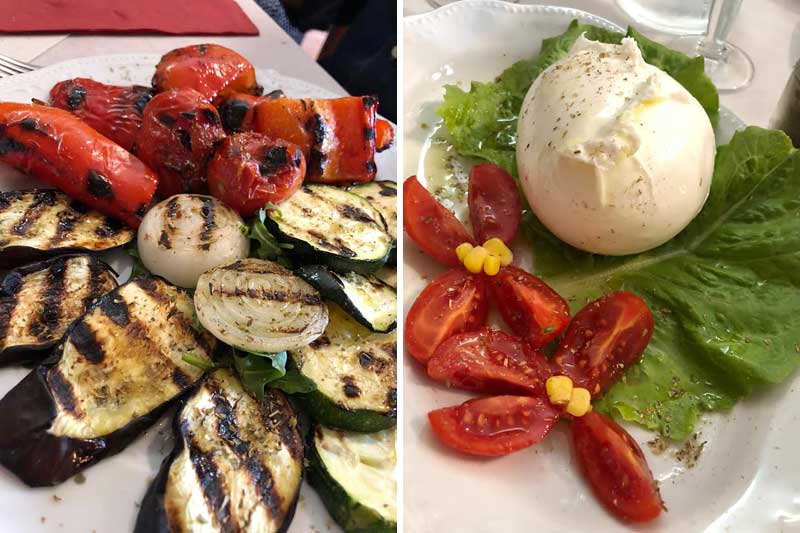 Stop for lunch at a trattoria long the way for simple but delicious fare like grilled seasonal vegetables and fresh mozzarella salad.
From our base in Florence, we did a post lunch road trip to Assisi, the most visited pilgrimage site in these parts and which the Franciscans call home. It was a good time to see sunflowers along the country road and finally get to Assisi in just under two hours. As it is a popular tourist destination, there are escalators to bring pilgrims (pellegrinos) to the Church of St. Claire (Sta. Chiara – say Ki-YA-RA) and the walk from that church to the main cathedral is a pleasant one, passing by shops selling local linen and cotton, eateries, gelaterias and wine bars. There are several entrances to the cathedral, and every portal is worth a picture.
I have always loved hearing the song of St. Francis ("Make me an instrument of your peace…") so this visit was very special to me. I could hear the Italian verses in my head (which our local choir sings in Makati) as we walked along the narrow streets of Assisi. The view is spectacular as you near the main cathedral and we were lucky to be there as Gregorian chants were being sung.
I asked myself why it took me so long to visit. But these pilgrimages come into one's life when one is ready, I guess.
It's a moving experience not just for Christians but for everyone who wants to be taken back in time and see how they lived before. In simple ways, many of these simple people – now saints – became inspirations and actually became icons for this century and the next.