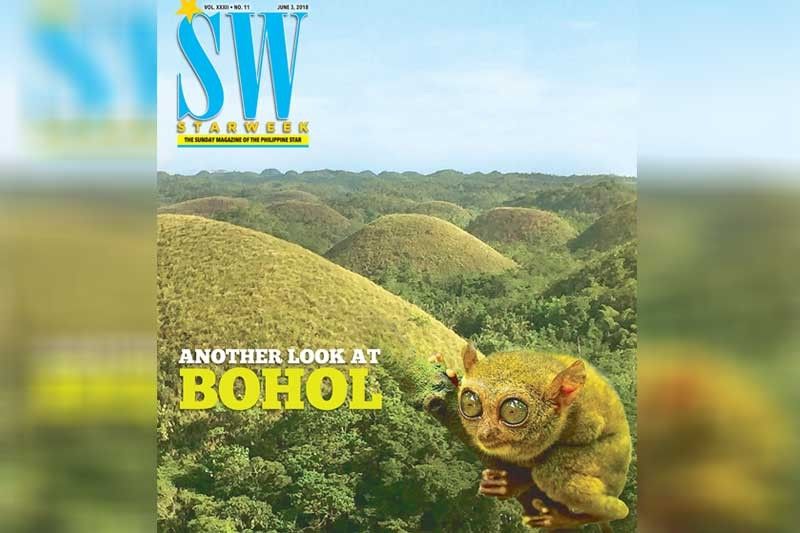 MANILA, Philippines — I peeked through my window with restive anticipation. It's been six years, a few months before the devastating earthquake since I last visited Bohol, my second most beloved place next to my hometown Sorsogon. The quick ride from the airport to our hotel and the after-dinner drive along Tagbilaran City and nearby Baclayon ascertained much has changed. I relished the tender sight of the familiar, relieved that the quaint city center is still devoid of high-rise buildings and famed malls that have in recent years been used as benchmarks of a town's supposedly economic progress.
Some years back my best friend and I started a tradition to take an annual leave from our respective homes for our "we time" to explore new places. She has not been to Bohol and I didn't mind going back for my sixth. Our trip coincided with the closure of Boracay and we braced ourselves for possible misadventures considering the influx of tourists. But our five-day vacation proved otherwise.
Our accommodations were both the old and new, a compromise between my best friend's wish for a room with a tranquil view of the ocean and my preference for a homey boutique hotel with crisp clean sheets and fluffy towels. The bayside room at the fabled Bohol Tropics pleased us just as we savored the satisfying taste of home at the contemporary Sweet Home Boutique Hotel, both in the heart of Tagbilaran.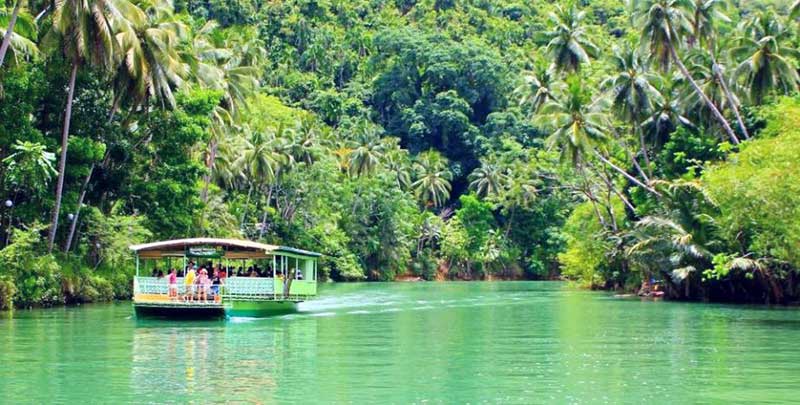 Loboc River Cruise
Bohol Tropics had its glory days and friends from the city said it is still a favorite venue for weddings, conventions and family getaways. Its serene view of the bay draped by the majestic Tagbilaran Bay sunset doesn't fail to enchant city dwelling guests.
Sweet Home, on the other hand, is tucked in a busy avenue, a few steps from an inconspicuous heritage site, the Balili House. The hotel appears to be unassuming from the outside but exudes its own charm inside. Upon checking in we were welcomed with a glass of thirst-quenching fresh lemon drink while a slice each of luscious banana chocolate cake awaited us in our room. The supple pillows, impeccably white linen and cottony duvet comparable to five-star hotels were gratifying and so were the hand-made bathroom amenities.
The cozy Sweet Home Café where breakfast is served is a comfy place to perk up for an afternoon coffee or to wind down over a cup of tea. It has a tempting spread of homemade pastries and cakes with intriguing names such as Sweet Revenge and Impossible Cake. One fine afternoon, in the middle of my writing tasks, though tickled but not quite ready to taste the impossible, I finally gave in for a slice of no bake, New York cheesecake glazed with fresh strawberries. I downed each delectable bite with a mug of steaming hot peppermint tea from the room's complimentary tea and coffee set.
The best part of staying in Sweet Home is its amiable team and their warm, personalized service. They were kind enough to grant small requests such as a simple omelet for breakfast (breakfast servings were huge for a small and non-meat eater like me), a pick up from our previous hotel or a drop off to the port. One night I was pleasantly surprised to see the bed sheets turned down with a moon-shaped cookie neatly propped beside a good night note signed and punctuated with a smiley face by the housekeeper, Elsie. I wished Elsie saw my grateful grin for that thoughtful gesture.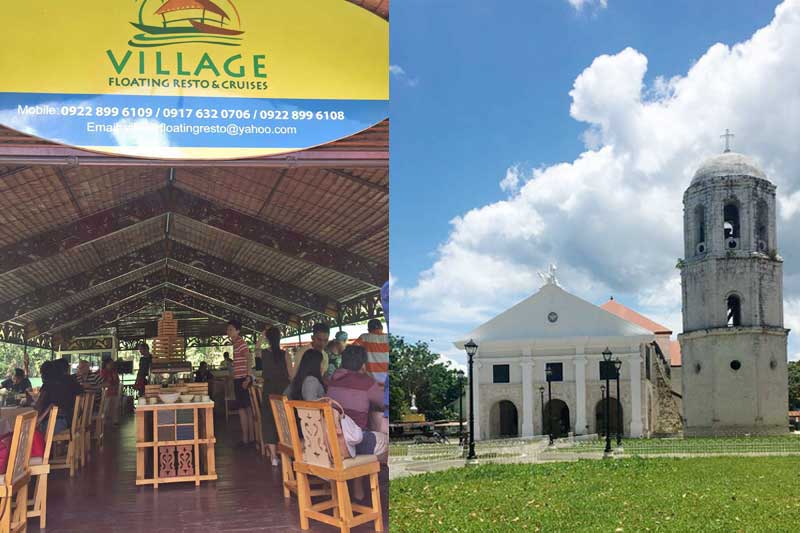 (Left)Lunch on the Loboc River Cruise takes al fresco dining to a whole new level. Panglao Church(right)
I noticed that the hotel had a good number of foreign guests – Caucasians and Asians alike. I felt comfortable with the thought that the guests were in a nice place and they too were experiencing a sweet taste of home – the Filipino or distinctively, the Boholano way.
Heritage Tour
An exceptional part of our trip was the Heritage Tour. My good friend Lourdes Sultan, one of the pillars of Bohol tourism and owner of the 25-year-old Travel Village, graciously arranged the whole-day program specially designed by a local historian, the esteemed Marianito Luspo, a living historical relic who breaths, eats, sleeps and speaks of anything and everything about Bohol's heritage. He brought us to six of Bohol's century-old churches and transported us back to the Spanish, Japanese and American eras. What's absorbing about the tour is beyond what we saw. It was Luspo's engaging stories behind each artifact such as the ornaments in a church pew, the details in a door carving, the characters in paintings of church ceilings or some unknown men and women who made their mark in the province's heritage but have remained unfamiliar if not mysterious. To my mind, all these represent invaluable snippets of history that have to be treasured and preserved.
Skip Trip
Skip Trip is how the Bohol countryside tour is nicknamed. Ten years ago, Lourdes and her team created a whole-day tour of Bohol's bucolic countryside for tourists from Cebu. It evolved into a brand, which is now popularly known as Skip Trip. On that day we joined a curious mix of Japanese, Korean, Canadian, American travelers, four fellow-Bicolanos and a lone, friendly tourist from Kuwait who introduced himself as a lawyer and who, to my relief, didn't ask any questions about the diplomatic row between our countries. He had a thousand and one questions about Philippine mangoes though, which I might have answered miserably.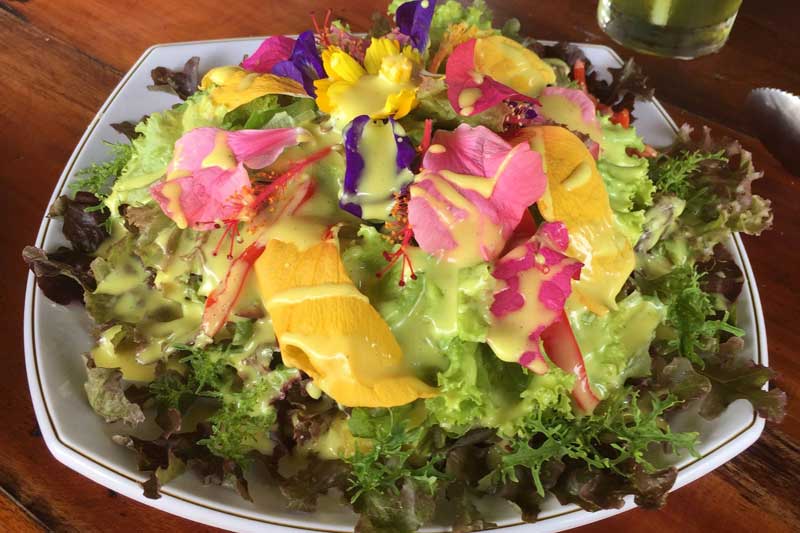 Bee Farm's vibrant garden salad.
Our first stop was the newly restored Baclayon Church and Museum. Since we were there the day before, we just took photos by the grand façade while our companions explored the place.
I was saddened when we had to miss the Sandugo marker. I regaled my best friend on how the place looked like a few years ago – of how it was a postcard perfect scene, the historical marker imposingly nestled amidst a backdrop of the placid bay and lush mangroves. What used to be a significant symbol by the highway of Baclayon was reduced to a "by the way" mention by our jovial guide, Dolly. I reminisced my children's attentiveness way back in 2012 when the hubby related to them how the Sandugo or blood compact between the valiant Datu Sikatuna and the Spanish explorer Miguel Lopez de Legazpi took place many centuries ago and how the unique pact paved the way to a lasting friendship between the two chieftains. Gone was the grandeur of the stunning obra of the recently deceased illustrious sculptor and National Artist Napoleon Abueva, one of Bohol's prides. What's left is a gated piece of iconic sculpture, eclipsed by a hotel and swarming with vendors and tourists who were more mindful of the souvenirs for sale than the importance of the once prominent monument.
As the bus moved to our next stop, Dolly informed us of these fast facts about tarsiers: They are nocturnal and suicidal when in distress. Their tail is longer than their body. They can leap up to three meters, their eyes are bigger than their brains or stomach and they can turn their heads up to 180 degrees. They're not monkeys but mammals. I have heard these before and while they still enthral me, the very sad fact is tarsiers are now endangered. When I first visited Bohol 15 years ago, I had a rare photo with five tarsiers – one nestled on my head, two hoisted on each of my shoulders and two others mounted on each of my folded arms. What I thought to be cute from way back had actually been very stressful to the primates. To this day, I still feel very sorry for the suffering they must have gone through in my arms – literally. Before we entered the sanctuary, Dolly reminded us of the dos and don'ts while in the reserve. I was glad that everyone was cooperative and respectful of the rules and mindful not to disturb the sleeping tarsiers. We were content with merely looking at them up close and personal as they slumbered.
A splendid respite from the summer heat was the refreshing Loboc River cruise lunch. On that sweltering hot day, a kilometric, yet orderly queue of tourists snaked their way to the floating restaurants. There was nary a bedlam. Dolly said that on that weekend the number of tourists soared to close to 3,000 a day. What a boom to Bohol's and to our country's tourism, I thankfully thought. Guests patiently waited until 4 p.m. to get slots for lunch aboard the floating restaurants that leisurely sail along the green and tranquil Loboc River. Travel Village has its specially built Filipiniana-themed catamaran adorned with intricate decor, a spunky clean toilet, a neat verandah with vibrant throw pillows and native stools where guests could mingle either to take photos or to delight in the breathtaking view after a hearty buffet lunch.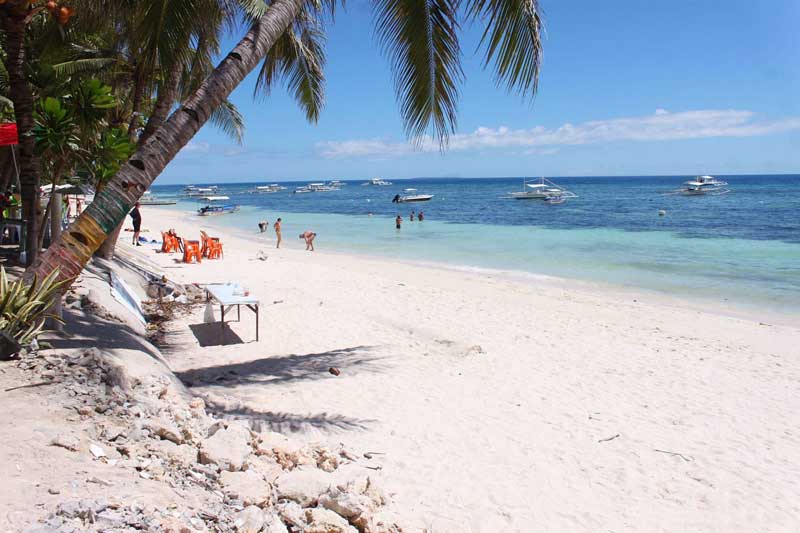 Alona Beach
The next part of the tour was a brief stop at the Butterfly Garden, where amusing guides entertained us with trivial descriptions of numerous species of butterflies. For all their wit, humor and skills in taking photos of guests simulated on preserved and mounted butterflies, I thought that the guides comprise 50 percent of the reason why it's always worth stopping by the garden. We carried on with an unhurried drive along the man-made forest of Bilar, perhaps one of Bohol's greatest contributions to environmental conservation while the concluding part, a saving-the-best-for-last stop of the Skip Trip, was the majestic Chocolate Hills of Carmen. Again, orderliness was evident despite the multitude of tourists. There were no pushing and shoving and even at the driveway, bus and private drivers good-naturedly took turns in systematically dropping off or picking up guests. I gazed at the throng of people going up and down the observatory. I keenly observed that unlike in the past when people paused midway through the hike to enjoy a breath of fresh air or to simply revel in the resplendent view of the brown and verdant hills, tourists these days are more focused on taking selfies and group-fies. While there is nothing wrong with capturing precious moments, I hoped that visitors on that day left the place with hearts filled with awe of God's creation and a greater appreciation of one of nature's greatest wonders.
Panglao Island Tour
After what had happened in Boracay, tour operators and residents of Panglao have become more vigilant and aware of the need to preserve the pristine beaches and surrounding areas of the island. This is what our guide Brian told us as we strolled along the busy stretch of Alona Beach. The once quiet beachfront now teems with resorts, bars and restaurants catering to a specific group of tourists as characters in the neon signs show. I thought of how different the place looked from the first time I set foot on it. Brian was optimistic that perhaps on my seventh visit to Bohol, Alona Beach will be back to its former splendor.
There is more to Panglao than the beach. Hinagdanan Cave is said to be Bohol's own version of the Blue Lagoon. While we looked forward to a refreshing dip, we ended up with a series of pictorials care of our techie guide. Taking advantage of the natural lighting coming from the crevices of the cave, Dennis has apparently mastered the art of tinkering with smartphones to take photos complete with instructions on where to stand and how to strike a pose amidst a background of stalactites and stalagmites.
The Nova Shell Museum is another place of interest in Panglao. The modest center boasts of a substantial collection of shell varieties from Bohol and other parts of the Philippines. A guest commented on how he sees the need to revamp the museum. I couldn't agree more. Refurbishing the place will certainly attract more tourists and conchologists alike.
The high point of our island tour was a relaxing stop and late lunch at the Bee Farm. Over a nourishing set of garden fresh salad topped with edible flowers and honey mustard dressing on the side, grilled tuna with brown rice and lumpiang sariwa, we dined al fresco overlooking the gorgeous waters of Panglao. That was the slowest meal we had, as we were perhaps subconsciously chewing our food in harmony with the gentle rustle of the invigorating breeze coming from the beach and the nearby garden. After an impressive tour to observe how Bee Farm's sustainable industry thrives, how it continues to support the locals in their livelihood while remaining committed to take care of the environment and at the same time help enhance Bohol's tourism, my best friend and I indulged on a cone of ice cream each: malunggay flavor for her and spicy ginger for me. It was a filling way to cap our day.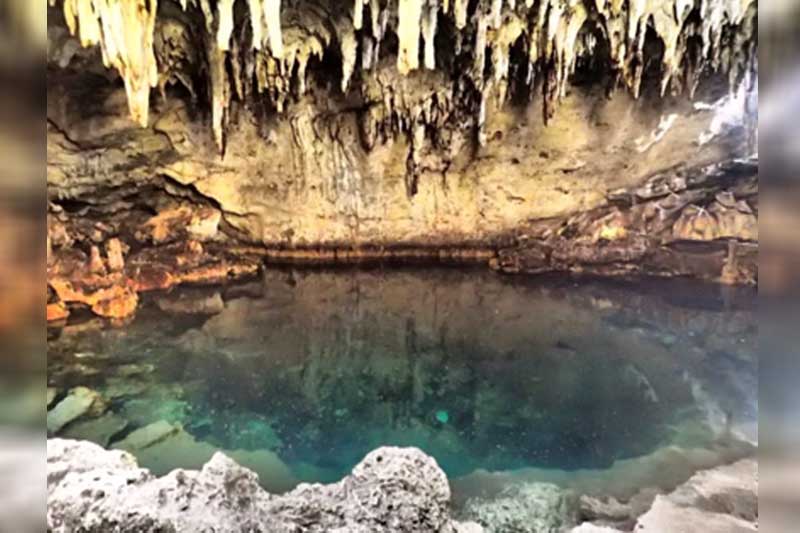 Hinagdanan Cave
In between the tour with Luspo, my conversations with Lourdes and chats with our guides, I learned a lot on how Bohol has bounced back from the destructive earthquake, the damaging floods that followed months after, not to mention the acts of terrorism that took place last year just as Bohol's tourism was picking up. While the whole province received assistance from the government, the private sector and generous individuals who openhandedly took part in Bohol's recovery, one huge factor that contributed to Bohol's resurgence lies in the people's devotion and indomitable spirit. Luspo recounted that while churches crumbled during the earthquake, this did not deter people from practicing their faith. For example, the new church near the rubble of the original Loboc church was built out of the generous contributions of rich locals and Boholanos from overseas. Lourdes said while the floating restaurants were washed out when the Loboc River overflowed in the aftermath of a flood, they were rebuilt and remodeled and now operate through a common commissary that conforms with standards catering to the needs of both local and international tourists. Dolly and Brian shared how the association of tour guides banded together and agreed to reduce their professional fees at a time when tourist arrival was at its lowest.
Now that Bohol is on the receiving end of tourist arrivals in the wake of Boracay's closure, Lourdes intimated that they are excited about the opportunities but at the same time quite nervous of what lies ahead. But they are more hopeful, attentive and cautiously taking a cue from the experience of Boracay. The local government, tour operators, owners of tourist establishments, concerned citizens and the church are earnestly working together to conserve Bohol's natural wonders and to preserve their cultural traditions. I share the same hope. Beyond the flourishing beach resorts are the heritage tour, the countryside trip and the whole mix of culture and nature adventure that only Bohol could offer.
* * *
The author is vice president of the ASEAN Women's Circle of Jakarta and has an upcoming book, JOURNEYS: The Rosary in the Lives of Wandering Women.