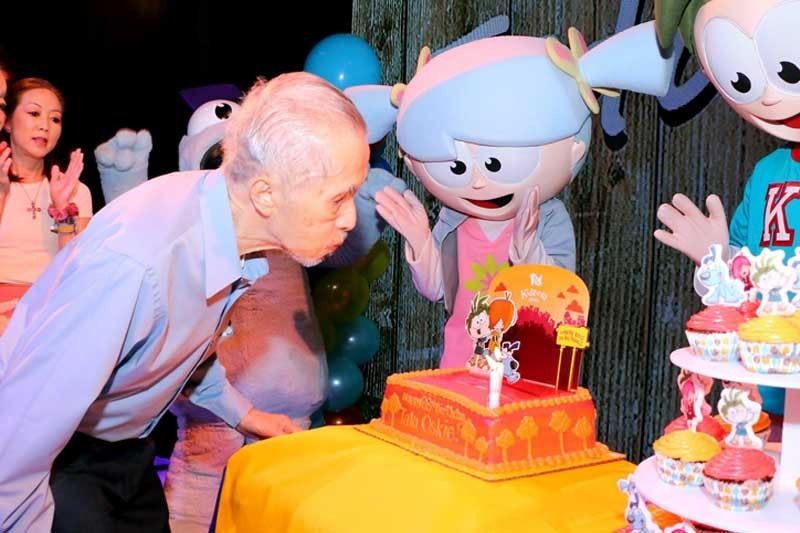 Oscar Lopez blows the candle on his birthday cake during the celebration at Kidzania.
MANILA, Philippines — Together with family, friends and colleagues, First Philippine Holdings Corp. chairman emeritus Oscar Lopez celebrated his 88th birthday in a unique and youthful way – with a party at Kidzania and the launch of a children's book, "On the Trail with Tata Oskie." The book celebrates Lopez's love for nature, trees in particular.
The book is written by acclaimed children's book writer Carla Pacis, illustrated in vibrant watercolors by Mikaela Balita. Pacis, a close Lopez family friend, was emotional at the launch. "I always remember the weekends we spent at the Lopez house," she shares. She recalls Saturdays playing in the garden beneath the Lopez's trees. As a young girl, she vowed that she would have a lush garden in her own house, too.
"Tito Oskie even sponsored our summer classes," she said. There was hula dancing and watercolor painting. "This book is my way of thanking Tito Oskie and Tita Connie for all those weekends, and for friendships that are deep, true and forever."
On the Trail with Tata Oskie, as he is called by his grandchildren, centers around the story of a young Marianna who gets to join the family's annual hike for the first time. The story exudes family dynamics, opening with her brothers teasing her, telling her that she will be left behind in the middle of the mountains if she cannot keep up.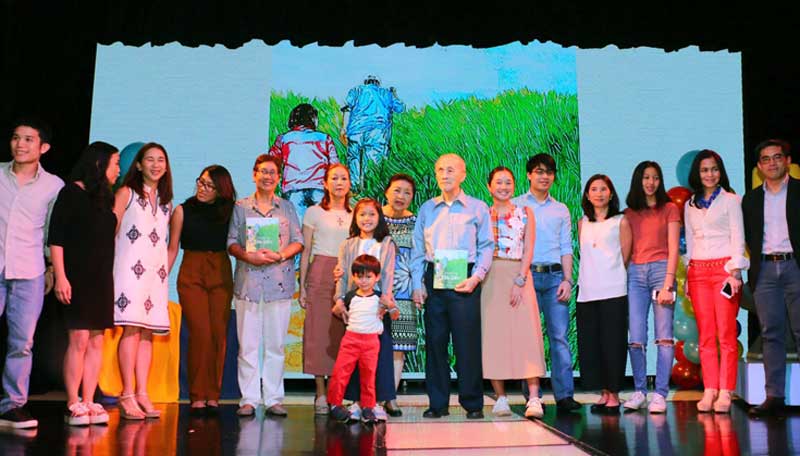 Tata Oskie (center) is flanked by wife Connie and granddaughter Marianna as family members and friends gathered for the launch of the children's book "On the Trail with Tata Oskie" (left).
The hike, which takes place in Baguio, details Lopez's life beyond being a successful businessman. "Tata Oskie had become a different person. No longer was he the serious businessman of a few words. He was smiling, relaxed…" the story narrates.
The story also highlights Lopez's love for the environment and for trees. The family's main activity in the story is planting several trees in a bald clearing. "Please grow," whispers the young Marianna to the seedlings as she buries them in the soil.
The real-life Marianna Vargas, now grown up and the partnerships head for the Oscar M. Lopez Center for Climate Change, indeed has many fond anecdotes about hiking with her grandfather. "When we were children, we spent a lot of time by the ocean. We spent a lot of summers traveling the Philippines, discovering all these islands. So when I was entering my freshman year in college, I was so excited to tell my Tata that I was going to take up marine biology. I went to his house, I sat down for breakfast with him, and I said, 'Tata, I'm going to take up marine biology' and I still vividly remember his response. He looked at me and said: 'Don't you want to study the trees?'"
Vargas, who holds a Bachelor's degree in Environment and Development Studies, shares, "Short of having an existential crisis, I did not end up becoming a botanist, nor did I study dendrology. But in that instance and in other instances with my Tata, I was deeply inspired by his immense passion for something so integral to saving the planet and its people."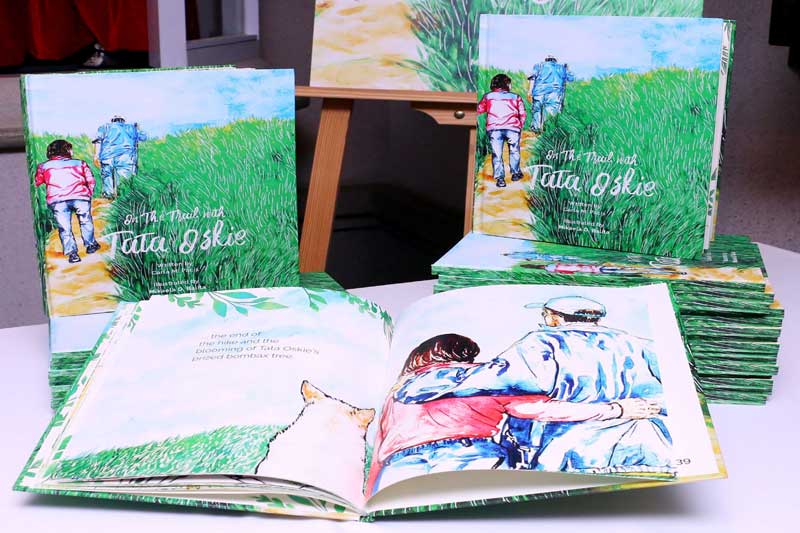 Vargas says what she learned from her grandfather is "fundamental to who I am as person now, and to the work that I do for climate change. Here and now, as we are dealing with climate change, let us be guided by the principles that my Tata has taught me. It's that this is our common home and we all have a collective responsibility to protect it."
On the Trail with Tata Oskie ends with the family coming home in a celebratory mood – both for finishing the trail and for the trees in full bloom in Tata Okie's garden. The birthday party and book launch likewise ended on a joyful note, with a celebration of 88 years as a trailblazer, a fully-blooming advocacy and a life deeply-rooted in love for family, country and the environment.