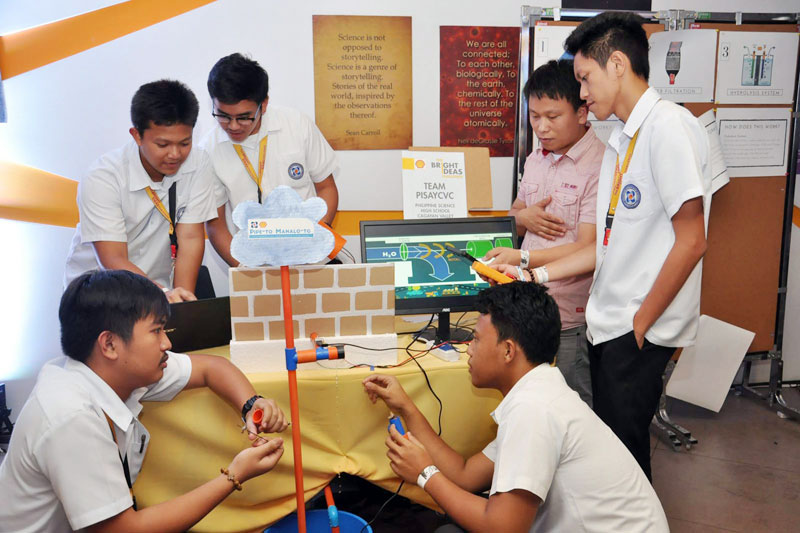 Philippine Science High School Cagayan Valley team mentor Jenshiam Balgua (second from right) explains the features of the pico-hydroelectric generator.
Whose bright ideas are these?
(The Philippine Star) - March 11, 2018 - 12:00am
MANILA, Philippines — How do we power the cities of tomorrow? And how do we keep them vibrant and healthy for future generations?
Global power, energy, and gas technology leader Shell recently challenged students of science high schools to come up with solutions in The Bright Ideas Challenge Philippines, a national competition on innovative energy solutions that the company is introducing.
Out of 26 teams that submitted entries on how to sustainably power future cities, the 10 chosen finalists were student groups from Meridian Learning International Experience, St. Theresa's College, CCF Life Academy, Dumaguete Science High School, Philippine Science High School Cagayan Valley, CEU Senior High School and Biñan National High School.
Aside from showcasing the Filipino youths' ingenuity, the competition also aims to spark students' curiosity in tackling real world problems through energy efficiency and other innovative ways to make future cities vibrant and healthy.
"We hope to inspire a generation of innovative Filipino scientists, thinkers, mentors, city planners and decision-makers through The Bright Ideas Challenge," said Ramon del Rosario, vice president for external and government relations of Shell Companies in the Philippines, during the opening of the students' exhibit at the Mind Museum in Bonifacio Global City, Taguig.
"We aim to propel future leaders to think big, use their problem solving, teamwork and STEM (Science, Technology, Engineering and Math) skills to come up with solutions on how future cities might run in cleaner and healthier ways. We are also giving high school students a platform to be seen and heard, and help deliver the school curriculum through an innovative, more engaging approach," added Sankie Simbulan, social performance and social investment manager of Shell Philippines.
Del Rosario said that the ideas of this year's finalists contain elements of sustainability, energy efficiency, science, technology and engineering. "The ideas here can be used in communities which don't have access to energy and water," he noted.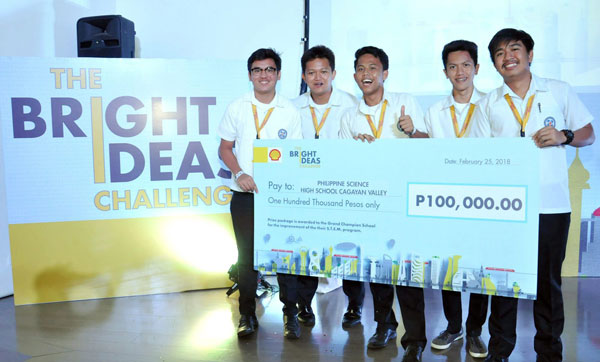 Daniel Nikko Tumanut, Earvin Bibay, John Paolo Lumanlan, Jose Benjamin dela Cruz and John Liam Catli of Philippine Science High School of Cagayan Valley celebrate after winning the grand prize.
At the end of the competition, the student team from Philippine Science High School Cagayan Valley (Team Pisay CVC) and their prototype invention called "Pipe-to Manalo-to" was named grand prize winner. The team will bring home a P100,000 prize package for their school that they can use to pursue their STEM program. In addition, the team also wins P100,000 and a fully-funded trip to attend the Make the Future festival in Singapore this month.
Rounding out the other winners of the competition were first runner-up ERMACC Energy Biñan National High School and second runner-up Centro Escolar University Senior High School. Also adjudged Merit Award winners were Team LIT Ideas and P for Power, both of Meridian Learning International Experience.
The second prize winner gets P70,000 plus P70,000 for their school's STEM program, while the third prize winner receives P50,000 plus P50,000 prize package for their school's STEM program. The merit winners, meanwhile, each receive a P10,000 prize package.
Team Pisay CVC of Philippine Science High School Cagayan Valley was able to miniaturize the principle of hydroelectric power generation for household application. "Our idea can produce less than 5 kilowatts of electricity, which can charge mobile phones and power house lights," said team leader John Paolo Lumanlan, explaining their pico-hydroelectric generator.
Lumanlan added that the generator uses a Kaplan propeller made from tin cans and fitted into a pipe T-joint. The T-joint can replace the elbow joints of household water pipes and the water pressure runs the device like a dynamo with current flowing through an abutting electrical wire.
Designed to show how STEM can tackle real world problems, The Bright Ideas Challenge invited high school students from Grades 7 to 12, aged between 12 to 18 years old, to participate.
Powering future cities sustainably requires a mix of vision and realism, urgency and thoughtfulness from all sectors of society. With the youth at the forefront of the competition, Shell aims to inspire optimism and go beyond convention to achieve its vision of a low carbon world, aside from offering smarter mobility programs, energy efficient products and natural gas technology that diversifies the energy mix.
* * *
To find out more about the competition, check out http://www.shell.com.ph/energy-and-innovation/the-bright-ideas-challenge-2018.