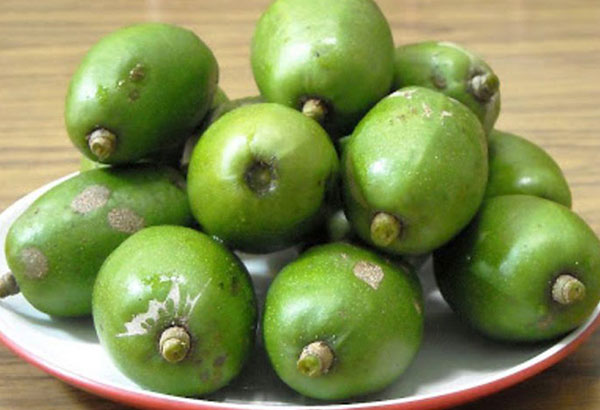 Kedongdong, a cross between green mango and guava.
Chit U. Juan
(The Philippine Star) - December 31, 2017 - 12:00am
MANILA, Philippines — It is always a joy to visit a place where you seem to know the language because you hear familiar words like pintu, selamat, mahal, mura. But that's where the familiarity ends. Aside from Bahasa, the languages in Indonesia number about 200. But when you eat the food, then there are things that really seem familiar.
Being a councilor for Slow Food covering Indonesia and the Philippines, I was excited to get to know how slow the country really is… in terms of food, that is. And so a four-day trip took me to its capital Jakarta, to meet friends who would introduce me to the islands' favorite fare.
Everyone was asking me to try the juice of kedongdong, a fruit that's a cross between green mango and guava. And I'm glad I did. After trying it at Sate Haus, I was looking for it in subsequent restaurants we visited. Kedongdong is also known as ambarella and is native to Indonesia.
I had to try the native food, starting with terong balado – which sounds like talong or eggplant –and that is exactly what it is, eggplant cooked in a spicy sambal sauce of tomatoes and spices. Then there is rojak, a dessert of diced fruits dipped in a spicy sweet peanut sauce. And there is gado gado, a mix of assorted steamed vegetables like beans, potatoes and other greens doused with sweet peanut sauce. Yes, most Indonesian fare is sweet, using a lot of palm and raw cane sugar or what we call panocha.
As I am also campaigning for our Filipino friends to sign up with Slow Food Jakarta and add to its membership base, I had dinner and then lunch with potential members – farm owner Fe whose organic farm is in Pila, Laguna; a semi-retired mom and her son who just graduated from Chicago who immediately signed up online and is now creating a Slow Food Youth group; an auditor/accountant whose business is a condo/dorm hotel in Clark, Pampanga and a diplomat's wife who made our green salad for the dinner and who I am sure is a Slow Food advocate already. They guided me as I tried the tahu isi, a tofu cube stuffed with bean sprouts and other vegetables, lightly fried and with two chili sauces, the terong balado and homemade fish head curry.
The next day we went all out and had for lunch the staples of Indonesian cuisine: telur tofu, chicken sate, gado gado salad and nasi goreng and nasi campur (say champur), which has turmeric rice at the center and lots of meat and potatoes around it and topped with the ubiquitous krupuk or kropeck as we call it. And for dessert, their version of halo-halo called es campur (es is Bahasa for ice) and chendol, strings of jelly in crushed ice and coconut milk sweetened with thick palm syrup.
I think Indonesians love vegetables and eggs, as every dish comes with boiled egg or fried egg and lots of chili. They also use a lot of coconut milk, peanuts and sweet sauces. I loved all the traditional dishes and would not tire of eating nasi goreng or fried rice any time of day.
The traditional soup with different meat balls, squid, shrimp and dumplings is called bakso. But alongside each serving is a selection of sweet, spicy sauces and garnishes like chopped onions, chopped parsley, scallions and fried garlic with which you can make your own version of seasoning the hot broth which is very flavorful. There are many street vendors selling bakso as there are fancy hotel settings for you to enjoy the popular snack or light meal.
To get a glimpse of how the locals cook, we went to a supermarket and checked out their ingredients: all kinds of ginger and turmeric, herbs and spices like cloves, ground all-spice and all kinds of fresh cabe (say chabe) or chili fingers, from short and stubby to long and firm. And the sambals – oh my, one would go nuts just trying to tell the difference between one and the other and yet another. There is sambal with fish, with herbs and spice recipes from many kitchens, now sold at the supermarket.
Definitely one can go slow and try all the island favorites – some are specialties from Palembang (a pempek fish cake dish I tried many years ago), some from Java, Bali and the coffees from all over. Indonesia has 17,000 islands and this gives you an idea of the terroir for the coffee – you can have some from as far west as Banda Aceh called Aceh Gayo to as far east as Papua, Indonesia, some from Sulawesi and others from Toraja.
To cap our afternoon we had the Woodpecker Early Bird coffee blend of 50 percent Bali, 30 percent Ciwidey and 20 percent Aceh Gayo – all Indonesian Arabicas. Woodpecker Cafe in Panglima Polim is a tiny space but we had a good time talking over our espresso and long black, sitting on hairy stools (from cow or pony) and enjoying the local vibe.
Try Jakarta sometime. There are rows of restaurants along Senopati, Kemang and in Menteng where we had afternoon tea with the ladies at Plataran. There we had lumpia, squid balls and salted egg yolk balls. Still traditional but in a fancier setting.
I can keep coming back. And enjoy more Slow Food with my new friends who believe in eating well and taking it slow. Indonesia can very well preserve and promote Slow Food and its principles of good, clean and fair food. And I'm not even taking about the countryside. Next time, we will go back to Bandung or Bali, Semarang or Medan, places I have been and where I have tried local food when I was not yet even conscious about Slow Food.
The next stop will be in farms like the one I went to in Ciwidey where we ate in a farmer's house, squatting with the rest of the people and communing over fish and vegetables, all local and worth preserving. No fast food in these parts; just slow food and lots of good coffee.But it's in Jakarta where you can start your gourmet trip to savor the flavors of 200 million people and 17,000 islands.
Join Slow Food at www.slowfood.com and sign up for the Philippines or wherever you are in the world.