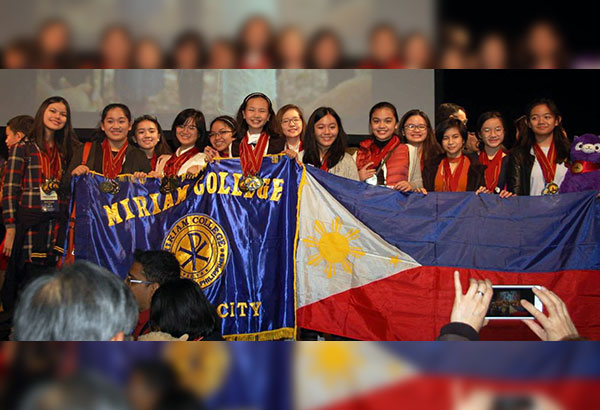 Delegates of the Junior Division from Miriam College proudly hold up the county flag
Pinays shine at World Scholar's Cup
(The Philippine Star) - December 2, 2017 - 4:00pm
MANILA, Philippines — Metal detectors at the airport surely rang non-stop as 16 delegates from Miriam College (MC) came home triumphant after winning a total of 90 medals and three trophies at the recent World Scholar's Cup Tournament of Champions held in Yale University, Connecticut from Nov. 10 to 14.
The students were from Middle School and High School. The three-member team which competed in the Senior Division ranked 9th, besting more than 300 teams in the final rounds of the tournament. They got the highest ranking and were declared top in Southeast Asia in that division.
High school students Mary Katherine DJ San Miguel, Aleeza Moira Tiongson and Alyssa Santana – referred to as Team 686 – competed in Team Debate, Collaborative Writing, Scholar's Bowl (group quiz bee) and Scholar's Challenge events. They got a total of 29 gold medals, 21 silvers and three trophies.
Solid team dynamics played an important role in their success. "I think our advantage as a team is how solid we are and how supportive we are of each other. Through our journey in the WSC, from the regionals to the Tournament of Champions, we built and strengthened our team dynamics and such helped us collaborate and work better together," said Tiongson.
Competing at the event was a total of 2,200 scholars coming from 50 countries. Nine other schools from the Philippines also competed, with Immaculate Conception Academy making it at Top 10 in the Senior Division.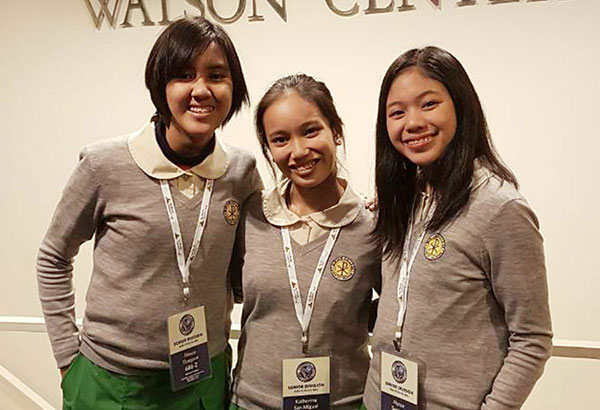 The top students in Southeast Asia in the Senior Division (right): Aleeza Moira Tiongson, Mary Katherine San Miguel and Alyssa Santana
"It's important to note that WSC does not measure 100 percent academic knowledge but the attitude, dedication and independence of its scholars when given topics that are not taught in schools. These three qualities cannot be taught, but are acquired by the students – to win in WSC is to reflect how holistic the learners are," said Team 686 coach Amity Yap.
"The Unlikely World" was this season's theme. This guides the students on the coverage of the events' topics, which they read and research on their own. Apart from Arts, History, Social Studies, Science, Literature and Special Subject, a new subject added this year is Modern Mythologies.
The Junior Division team, on the other hand, won a total of 22 individual gold medals, 23 individual silvers, 6 team golds and 9 team silvers in the Team Debate, Collaborative Writing, Scholar's Bowl (group quiz bee) and Scholar's Challenge events.
They are Alize Madayag, Juliana Guillermo, Samantha Arcenas, Leica Cecilia, Joie Ocampo, Jiana Lim, Marina Fagela, Keithley Mirandilla, Katrina Asedillo, Angela Lim, Monnica Carbonilla, Alyssa Salazar and Maxene de Castro with Isabel Aguilar as coach for the entire division.
Among 1,200 competing scholars in the entire Junior Division, Jiana Lim won 2nd place in the Literature category of the Scholar's Challenge while Asedillo of the Middle School placed 7th, also in the same category. Lim landed 12th overall in the individual ranking. Chosen to carry the Philippine flag during the closing ceremony's Flag March was Asedillo.
"The idea behind the World Scholar's Cup was to create something different from traditional academic competitions and conferences: a celebration of the joy of learning, a tournament as rewarding for the team that came in last as the for the team that came in first," the WSC website said.