National artist in the making
September 9, 2017 | 4:00pm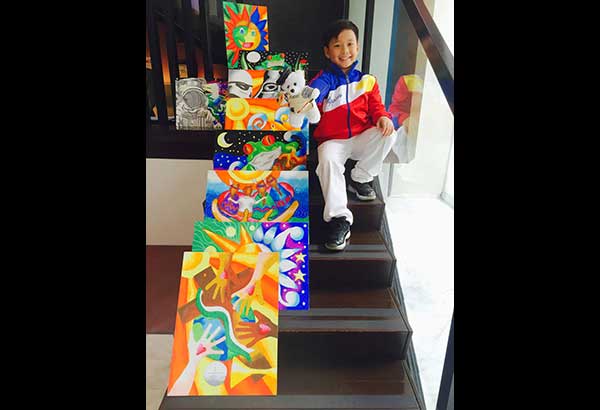 MANILA, Philippines — Worth Lodriga has placed in various local and international competitions and has won the title of Little Picasso, but it is not his awards nor his skill that makes the 8-year-old a potential National Artist in the making. The young artist is also a staunch nationalist, so much so that his declarations even surprise his mother, architect Wendy Lodriga.
"Anyone can draw. What is important is your love and passion for it. That's what I see in him. And a big plus is his love for the country," says the proud mother, who recalls that even when Worth was starting to draw and color, he would choose red, yellow and blue, telling his mother that these represented the country.
Wendy noticed Worth's aptitude for drawing when he was two years old. She was teaching him how to read, writing letter and words on a white board. When they took a break, Worth borrowed the marker and started doodling on the white board – something that Wendy found out later on was advanced for his age. She also noticed that Worth could sit for long hours doing his art without getting distracted.
Worth says he grew up seeing the people around him drawing – his mother, an architect; his grandmother, an art teacher; his grandfather, a painter; and his aunts and uncles who all took up Fine Arts.
"I do this for the Philippines because I love the Philippines," says Worth, who is often decked in his trademark Philippine flag jacket given to him by the owner of My Philippines Lifestyle, a company that specializes in Philippine-themed apparel.
"I want other countries to know that Filipinos are good artists," he says, adding that he wants to make his mother and younger brother Wisdom proud.
Aside from art, Worth also excels at school and is on the varsity baseball Mustang team of La Salle Greenhills – Team A, he points out with pride. However, Worth would choose his art over sports any day – "It's better because it's just my hand that gets tired, but not my legs," he says with a smile.
Tiredness aside, Worth brings sports' sense of discipline and competitiveness to his art contests.
Worth joined his first national art competition at the age of six, mom Wendy tells STARweek. The competition was for stamp design and the other contestants were aged 12 and up. While he did not win, he received a special recognition for being the youngest artist to join.
After a number of unsuccessful tries at other contests, the young Worth told his mother that he did not want to draw anymore. Wendy, however, believed in her son's talent and told him, "Keep on joining... I do believe in you. I'll look for a competition. I'll prove to you that you're good."
With that, mother and son kept on – and it was definitely worth it. Worth started winning international competitions, including the Frogs Are Green International Art Contest 2016 in New Jersey, against 1,441 entries globally; the 2017 Airtime Watertime International Flotation Suit Design Contest in Santa Barbara, California; the 7-Star Artist Award at the Junior Picasso International Art Contest in India; and most recently his piece "Where No Man Has Gone Before" won first place from the Mars Society in Colorado.
Worth has also been making a name for himself in the local art scene by becoming the youngest member of the Philippine Pastel Association and youngest member of Art Expands. This month, he also received the Natatanging Batang Pintor sa Larangan ng Sining Biswal recognition from Bahay Kubo ng Sining Foundation Inc.
Despite this winning streak, Wendy is quick to remind Worth to keep his feet on the ground. "I always tell him that when you lose it's OK. You're still going to benefit from it because you're honing your skill, so you're going to get better and better."
She makes the point with an analogy that Worth can easily understand: "I ask him, 'When you lose in a video game, do you quit? What do you do?' He says 'I restart.' It's just like art competitions. When you lose, just press the restart button. Join again."
Wendy advises parents who have gifted children, "Do not force them. It will come out. Just let them enjoy what they're doing and listen carefully how they feel about it. Time and love is very important. No matter how busy you are with work, let them feel that you're there."
My favorite is La Familia," says Worth, referring to one of his newer pieces that features a Filipino family in bright colors. "I like this because it represents a family of Filipinos and shows that Filipinos are one." The piece is up for competition in Malaysia.
Worth says, "My inspiration is my love for the arts and my love for the country."
Taking after his mom, Worth says he wants to be an architect when he grows up so he can design houses and buildings. Meanwhile, he's getting a lot of practice building structures on Minecraft.
The future is surely bright for the young artist who has already accomplished so much. Ever the nationalist, he advises budding artists: "Keep drawing, be proud to be a Filipino and continue to discover and inspire the world."