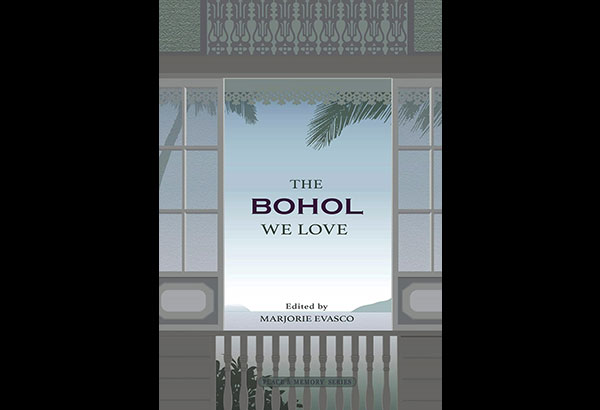 (The Philippine Star) - June 10, 2017 - 4:00pm
MANILA, Philippines - We've heard it said that too much nostalgia is dangerous, and this is true of one of the recent releases of Anvil Publishing's place and memory series, "The Bohol We Love," where a majority of essays and poems skirt the precipice of longing for a lost time not altogether irretrievable. That quite a few manage to avoid the shifting tides of unbridled sentiment makes for quite a feat, and on the whole the book succeeds in holding up the island province in all its rustic mystery for perusal.
Much of the credit should go to the editor, Marjorie Evasco, herself a native Boholanon from Maribojoc, whose careful selection of entries is impressive for its breadth and range, bringing together under one cover Bohol's favorite sons and daughters of the written word. Those who have never been to the central Visayan province can now feel the mysterious vendaval blowing on one's face.
Perhaps the essays and poems originally written in Cebuano are in a class by themselves, and the editor's translations are unencumbered by the usual baggage. Caught in the crosshairs of language, Bohol rises up like a kraken from the sea of memory, and for itinerant travelers who have been to the island only once or twice, this can be nothing short of a revelation.
'The Well' by Ramon Boloron chronicles the evolution of a small village and its steadfast community through the omnipresent water source, how lives intertwine and are irrevocably separate, anchored on a well that sits on a piece of land dating back to one's ancestors. It has one of the more memorable lines, that of water being a healing agent both physically and emotionally. The closing paragraphs evoke figures in a painting, as we find ourselves on a muddy trail with ripening morado bananas in the distance weighing down the branches.
But, the editor says, the original is better, as there are some things that remain untranslatable. The well in English is however brave enough, and those who don't know Bisaya won't be able to tell the difference anyway, the cadence very Arguilla, the essay bringing home a wife smelling of mornings when papayas are in bloom.
'Dapdap of Memory' by Noel Tuazon engages the reader by positing a tree at the center of proceedings, the guava leaves as cure for circumcision growing out willy-nilly. Again time becomes immaterial, and certain personages of childhood never really fade away. It uses as epigraph a quote from Albert Camus, how he had discovered an invincible summer inside him. The dapdap tree does not disengage but rather reinforces that summer, a time and place invincible.
Of those written straight into English, the essay by Ulysses Aparece is notable for its catalogue of imaginary beings and assorted creatures of midnight, rooted in his fascination with things that glow in the dark. And so the sigbin, the wakwak, the tambaloslos are given new leases on life, as if they ever left. Folklore is a cipher that makes Bohol what it is, indeed some of the beings mentioned by the author might be endemic to the place. It reminds us that the family that tells stories together stays together, even if those stories are otherworldly or are set in the twilight of ghost ships.
Jordan Carnice has an entertaining essay on his growing up years in Bohol, including incidents of childhood like when he chased after his white balloon at hillside. It is also like a coming of age piece, as the writer discovers his sexuality and his mom helps him wear an earring during one gathering with relatives. His aside of college years in Silliman University in Dumaguete mentions a familiar professor, Cesar Ruiz, himself an itinerant sleepwalking chess player after midnight.
Then the writer Pam Gallares-Oppus recalls shuttling to and from Manila and Bohol on the inter-island ships of old, turning wistful when the loudspeaker blurts out 'pwera bisita' meaning all those sending off friends or kin must disembark, as the purser goes around clicking away with what sounds like a small stapler for a headcount of the manifest on board.
Ray Luminarias tries valiantly to recreate his place in Loon after years living abroad, a kind of self-reflection and taking stock after having failed to come home for his mom's funeral. The saying about never being able to come home again may be true in his case, as he's left clutching a shard of memory by a half forgotten son.
Originally written in Bisaya, the poem by the late Clovis Nazareno about eating with one's hands by lamplight sums up the poet and his short but happy life, forever one and at peace with the elements.
The drawings and sketches by another native son Leo Abaya are indispensable for full appreciation of this Bohol of memory, and like the dying Robert Duvall character in the movie version of Camus' The Plague, the last word can only be nostalgie, French for nostalgia, which has a nice ring to it despite being tangled up in metaphysical kelp, the seaweed or bamboo flowers transcendental.