Montenegro PM visits Manila
September 22, 2023 | 12:00am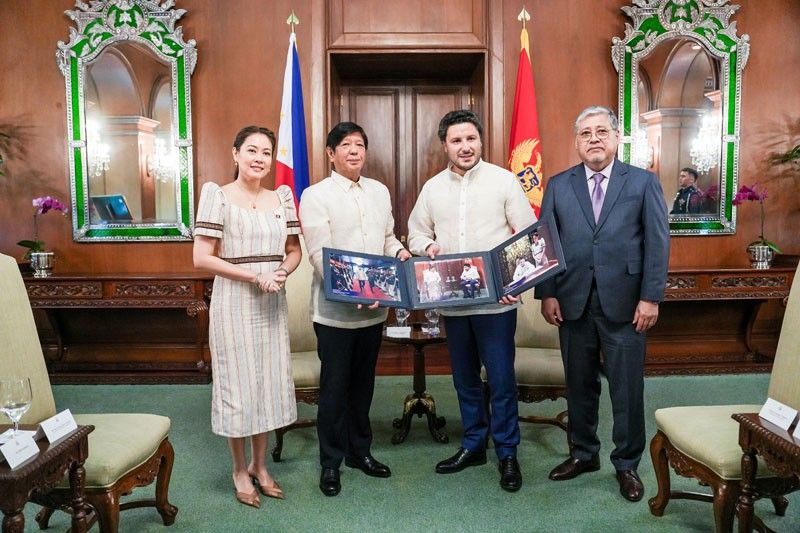 Ain't no mountain high enough for stronger diplomatic ties.
Prime Minister Dritan Abazovíc of Montenegro, which literally means "Black Mountain," recently made a groundbreaking visit to Manila, marking history as the first-ever head of state from Montenegro to set foot in the Philippines.
Despite the private nature of his visit to support Montenegro's men's basketball team in the 2023 FIBA World Cup, Abazovíc was warmly welcomed by President Marcos, according to Honorary Consul to Montenegro Vanessa Pastor-Ledesma.
Abazovíc took office in Montenegro in April 2022, making history as the first ethnic Albanian and first Muslim to serve as Prime Minister. At 37 years old, he is currently one of the world's youngest state leaders and also serves as the acting Minister of Foreign Affairs for Montenegro.
During his face-to-face meeting with President Marcos at Malacañang, the Prime Minister expressed his deep gratitude to Mr. Marcos for the warm reception despite his unofficial visit.
"I am very thankful to the President for the meeting because I came to the Philippines not officially. I think this is a very good beginning of more intense cooperation between the two countries," said Abazovíc in a press interview before he left Manila. He also expressed optimism about the potential for the Philippines and Montenegro to foster a deeper connection.
The Prime Minister highlighted the allure of Montenegro as a tourist destination and emphasized the desire to facilitate easier access for Filipino tourists. The discussion included opportunities for Filipino workers in Montenegro's expanding tourism and energy sectors. I visited Montenegro almost exactly a year ago, and indeed, it is a breathtakingly beautiful country of lakes and mountains.
"The Philippines must have an established presence in our country. To do this, we must have access. So, we're talking about flights between Manila and Podgorica (Montenegro's capital)," Abazovic said, adding, "I hope for the Philippines to also open a consulate in our country because you have consulates in countries around us, which are bigger. But having that kind of diplomatic place where we can share not just services for the people but also share contacts in the business community, I think that can be very productive. In that sense, I see the role of the Philippines will have more impact in Europe, as Montenegro is the gateway to Eastern Europe. That's what we want to do in the beginning," he said.
Montenegro, a nation known for its stunning landscapes, including UNESCO World Heritage sites like Boka Bay, beckons tourists seeking authenticity and natural beauty. The country's commitment to environmental sustainability, enshrined in its constitution, positions it as an ecological gem. Abazovíc encouraged Filipinos to explore Montenegro's pristine landscapes, inviting them to discover a land where crystal-clear rivers offer safe drinking water.
Energy cooperation also emerged as a significant point of discussion, with Montenegro boasting abundant energy resources. The nation has harnessed wind and solar power, facilitating the possibility of technology transfer and expertise exchange with the Philippines.
During the press interview, Abazovíc also shared his views on global peace and stability, affirming Montenegro's dedication to promoting these values. He encouraged nations to respect international law and uphold shared values, emphasizing the importance of cooperation and diplomacy.
Montenegro "always promotes peace, stability and friendship. And I think the Philippines will play an important role in the next decade. This meeting with President Marcos is a good beginning of world relations, of which we want to develop in the near future," Abazovíc said.
According to Pastor-Ledesma, Abazovíc also expressed hope for a reciprocal visit from Mr. Marcos and highlighted Montenegro's readiness to serve as a bridge between Southeastern Europe and Asia.
"As the Philippines and Montenegro embark on this journey to enhance bilateral relations, the historic meeting between the two leaders serves as a promising starting point for a flourishing partnership."
The youngest state in Europe, Montenegro (literally "Black Mountain," because dense evergreen forests blanket its mountains), has only 600,000 people, all of whom have a roof over their heads, according to Dino Pepic, our guide during a visit I made with friends to Montenegro in the fall of 2022. "There are no homeless people in Montenegro."
What Montenegro may have more than its fair share of are real-life postcards in 3D strewn all over its 13,812 square kilometers (the Philippines is about 22 times bigger).
My favorite place in Montenegro is the city of Kotor, a walled city like Dubrovnik but more quaint and charming. And yes, with less tourists, thus the prices in the restaurants and souvenir shops are friendlier. The entrance to Kotor is already jaw-dropping — it's the focal point of the city. Built against a backdrop of limestone cliffs and mountains, the main entrance boasts a moat over crystal clear waters where fish abound.
Though Kotor is ringed by 4.5 kilometers of centuries-old walls, it looks more like a Mediterranean village than a bastion.
"Montenegro is one of the most beautiful countries in Europe. Its majestic landscapes, lush natural greenery, side-by-side to the Adriatic Sea — the calmest sea in the world and which leads towards Montenegro Bay — are a sight to behold. If I were to describe how I felt when I first saw Montenegro, I would have to say that it would be similar to how one would perhaps describe the Garden of Eden… truly a piece of heaven on earth," said Pastor-Ledesma. "Though I have been to Montenegro at least five different times over the past four years, recalling these favorite places and experiences makes me want to go back to this piece of heaven on earth again, very, very soon." *