Puey Quiñones: A 'Golden'-berg moment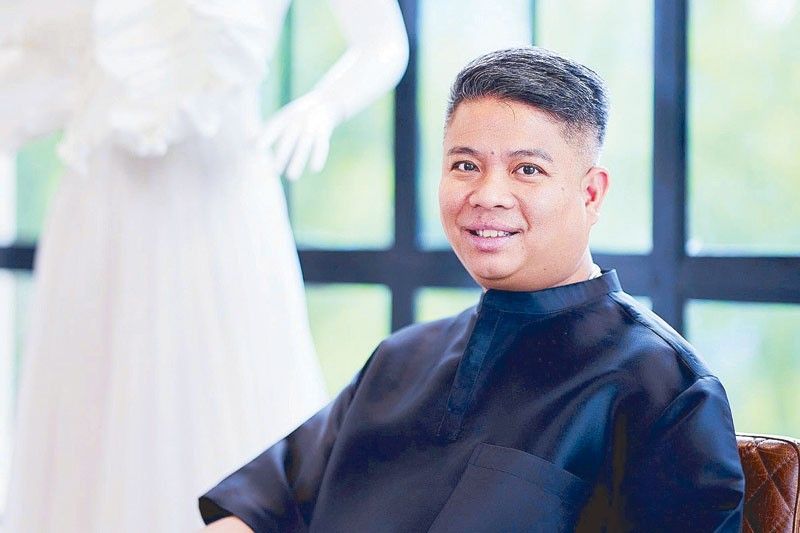 The setting for designer Puey Quiñones' fashion show, a comeback in more ways than two, was a mansion that, along with Puey, was making grand entrance in decades (for Puey, after 23 years) — the Goldenberg Mansion on Gen. Solano street, a stone's throw away from Malacañang Palace.
The golden thread that bound the artist and the setting was woven expertly and gracefully by First Lady Louise "Liza" Araneta-Marcos, who has worn a Puey on her sleeve, literally, and who seeks to spark a renaissance of arts and culture in all forms. Not just in fashion, but in the restoration of heritage buildings, including the Goldenberg Mansion.
In his opening remarks, delivered on behalf of his "microphone-shy" mother, Ilocos Norte Rep. Sandro Marcos said: "If you've just heard the history of this fantastic building, and for those of you that don't know, when our President first took over, it was, for lack of a better word, quite dilapidated. So, the First Lady took it upon herself to take charge of the renovations of this fantastic building, along with two other heritage houses that I believe started in the 19th century. As you can see, she's done quite an incredible job. I, for one, am a proud son to see that she's turned this building to become such — should I say Imeldific or Liza-ific — (building).
"But in any case, like I said, this is part of a series of events that is spearheaded by our beloved First Lady and of course, the administration, to push the rich culture, the rich history, and the fantastic arts that we have here as a country, and it's something that we should definitely be proud of. And, like I said, this is the first event of many, and I can't think of someone better to spearhead or start the inaugural event here at the Goldenberg Mansion than my friend, Puey Quiñones."
Puey's standout show, "Filipino," featured stunning ramp models as well as personalities whose moves could steal the show from them any time — like Kevin and Michelle Tan, Tourism Promotions Board's Marga Nograles, Philippine Airlines president Stanley Ng, Aimee Marcos, jeweler Carl Tessera, and social media influencer Small Laude. Their catwalk was the black-and-white tiled floors of the elegant first floor salon of the historic Goldenberg, with its Moorish-inspired intricate arches and grand wooden staircase.
For many, it was a first look inside Goldenberg. According to online historical sources, the 19th-century mansion once served as the residence of the military governor Arthur MacArthur, father of Gen. Douglas MacArthur. Later, the mansion was bought by cosmetics manufacturer Michael Goldenberg, hence its name. In 1966, the house was reportedly purchased by First Lady Imelda Marcos and its restoration was carried out by Leandro Locsin, who decorated the house with antiques, ceramics and books from around the world. Social observer Toto Gonzalez was quoted as describing the mansion as "the most elegant extant example of late 19th century Filipino residential architecture."
Puey said his collection shows his "appreciation for heritage."
"Today, I present the collection after 23 years, it is rooted in all of what I have experienced and embraced. This is Puey Quiñones, Filipino," was how Puey introduced himself at the beginning of the show.
Puey seamlessly fused the romance and elegance of the '50s with floor-sweeping numbers, including gowns with trains, fichu necklines and overlays, with the drama and flourish of the '80s in gowns and dresses with tiered tulle skirts, sculptural and ruffled sleeves. Gloves, like in the golden age of Valera and Slim's, are so back, but with a modern Filipiniana twist in the form of exquisite and handwoven fabrics. A visibly slimmer Small Laude, her waist cinched with a black sash, wore a classic black-and-white terno with a sweetheart neckline and floral embroidery and appliqué adorning the terno's sleeves down to the bodice and skirt.
The finale was the statuesque photographer-slash-model Jo Ann Bitagcol — who reminded me of Queen Guinevere in Camelot — with her timeless sleeveless dress with an A-line satin skirt, with the drama reserved on the cape and beaded gloves. Choreographed by Robby Carmona, the models swayed and glided to old standards, and the culminating walk was to the tune of April Fools by Dionne Warwick.
***
Puey comes from Bobon, Northern Samar. His father advised him to take up Political Science but he followed his heart instead, leaving for Manila to take his best shot at becoming a fashion designer.
Although he did not attend fashion school, he immersed himself with the industry's best and brightest. Among those he apprenticed with were Dennis Lustico and Lulu Tan-Gan, who were both there at Goldenberg during Puey's show to applaud.
Puey has known highs and lows in his life. From his lowest point, he learned "to grow up," Puey told PeopleAsia magazine. He moved to Los Angeles were his clients eventually included Olivia Culpo, Katy Perry, Destiny's Child member Michelle Williams and Lori Loughlin.
Aside from his Goldenberg show, Puey, who shuttles between Manila and LA, has another career high this 2023. The Los Angeles County Museum of Art has again bought two of his dresses, which are slated to go on display at the museum later this year.
"I think they saw the originality of the terno and the history behind the exaggerated sleeves. The material I used for the collection was made from piña fabric and mother of pearl," he told PeopleAsia.
That's Puey Quiñones, Filipino. *