Dr. Bernadette Madrid and David Bradley: The couple that gave new life to thousands of rescued children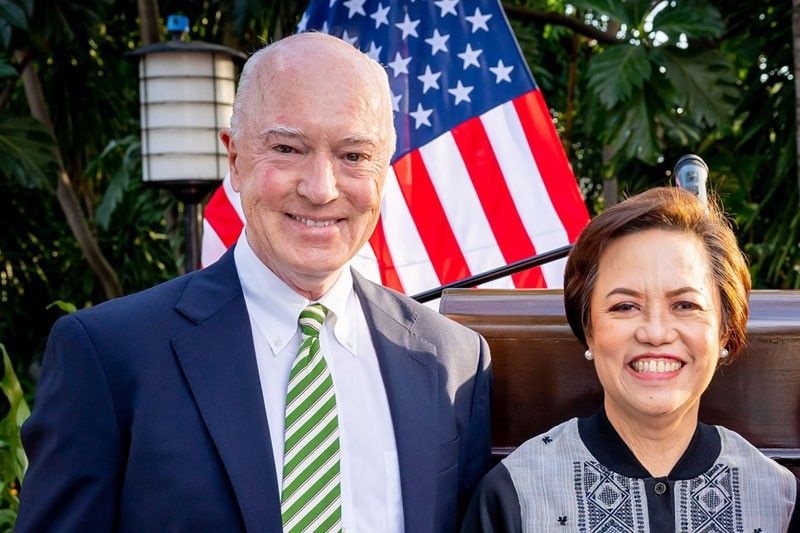 It was unlikely that their paths would cross, but when they did, it ended up at the altar of child protection.
The partnership 25 years ago between Ramon Magsaysay 2022 awardee Dr. Bernadette "Bernie" Madrid and American business mogul and former Fulbright scholar David Bradley was a union of two passionate crusaders that spawned tens of thousands of children rescued from abuse through the Child Protection Network (CPN).
US Ambassador to the Philippines MaryKay Carlson recently hosted a roundtable media forum with Dr. Bernie and David, followed by a reception and a tribute, at the embassy residence in Makati. It was also the 25th anniversary of the Philippine General Hospital-based CPN, which David founded and which Bernie heads
David, who is happily married to his statuesque wife Katherine, actually was first smitten by the sight of a Filipina before he fell in love with the Philippines and even before he set foot on Philippine soil.
"I knew nothing about the Philippines. I was in my second year at Harvard Business School. We were waiting for class to start, and the room went completely quiet. I looked up and the most beautiful woman I'd ever seen in my whole life walked into the room. And she was at the Kennedy School at Harvard, but she took courses in business school. Everyone said, "Who's that? Who's that?" She turned out to be Minnie Osmeña, daughter of Sen. Sergio Osmeña Jr. and sister of Serge Osmeña.
"I was far too shy to talk to Minnie Osmeña, but when I received the Fulbright, there was a knock on my dormitory door and there was a maid out front with a handwritten invitation to come over and meet Minnie."
Over dinner, Minnie briefed him about the Philippines and Filipinos he should meet. "This is a known thing in the chemistry of romance, where the first time you fall in love, the brain releases a flood of dopamine. And what's interesting is that the brain never does it to that extent, again. So, the brain spends the rest of its life looking for that feeling. Once again, the analog for me is, I arrived in this country at 24 years old. And I just fell in love immediately, not with a person — just with being in this country. So, the charity is my proximate cause for being here, it gives me an excuse to keep coming back."
David first came to Manila as a Fulbright scholar in the '70s and never left, in a manner of speaking. Since first setting foot in the Philippines, he has returned 40 times. As a Fulbright scholar, he was approached by Jesuit Fr. James Donelan about the growing, but hush-hush problem of child abuse in the Philippines. Twenty years later, in the '90s, Father Donelan called him again and said, "David, the problem with street children is just oppressive now. We have arranged for another Filipino family to give a certain amount of money, would you match their money, and we'll buy a house for street children?" The problem was, the house had 30 beds, but despite the number of street children, only three residents. Soon, there was only one child left and 29 empty beds. David realized that the problem wasn't only about food, clothing and shelter when a child is abused.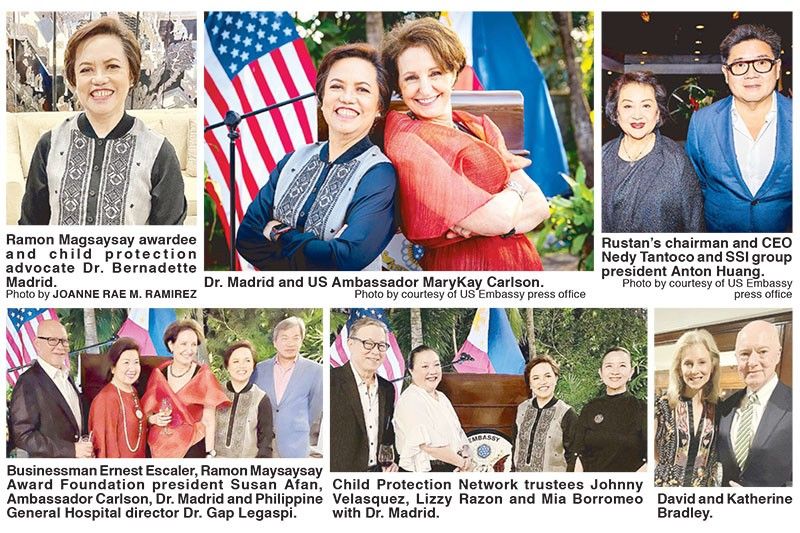 PGH Chancellor Dr. Perla Santos Ocampo recommended a pediatrician who was trained in child protection, and was then practicing in Iloilo City, to establish a more holistic approach to the problem. Her name was Dr. Bernadette Madrid.
After Dr. Bernie and David met, there was no turning back in their resolve to make many children live happily ever after.
***
It was while she was earning an international fellowship in primary care pediatrics at the Montefiore Medical Center that Dr. Bernie, an alumna of the PGH and Assumption Convent Iloilo, was first exposed to an in-depth study on child protection. She realized that child abuse was "prevalent" in the Philippines but was not identified.
She remembered that while she was a pediatric resident at the PGH, one of her patients was a badly-burned nine-month old baby, who was otherwise healthy.
But since there were no laws on child protection till 1992, and the investigation of child abuse was uncharted territory, the baby was treated as a burn victim. There was no investigation as to the cause of her extensive burns. But one consultant intimated that it could have been the result of abuse.
The Child Protection Unit was created in 1997, a dedicated emergency room and clinic for abused children at the PGH. It is now a network with 126 units in 61 provinces and 10 cities, which have served 119,965 children and adolescents and 30,912 women.
In 2021, at the height of the pandemic, it established TeleCPU Centers sa Barangay, an online training program and web-based women and children protection and management system.
In 2022, the Ramon Magsaysay Awards Foundation recognized Dr. Bernie's "unassuming and steadfast commitment to a noble and demanding advocacy; her leadership in running a multisectoral, multidisciplinary effort in child protection that is admired in Asia; and her competence and compassion in devoting herself to seeing that every abused child lives in a healing, safe, and nurturing society."
In her speech after she was honored by Ambassador Carlson — David Bradley quipped that he has always wanted to be ambassador to the Philippines — Dr. Bernie shared her Ramon Magsaysay award with David.
"David, you made this happen," she said. *