The best man for the job is a mother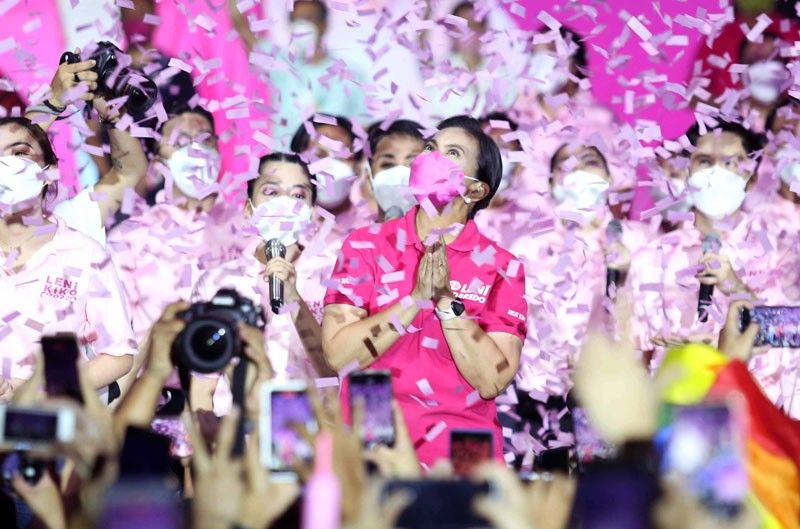 I believe that the best man to lead the country after noon of June 30, 2022 is a mother.
Leni Robredo, mother of Aika, Tricia and Jillian, has served the country with as much fervor and dedication as she has raised her daughters. The daughter of a judge and an English professor, a UP-trained economist and lawyer, community servant and NGO worker, Leni takes more than just her formidable mother's instincts to the table — she comes with experience, an unalloyed moral backbone and a selflessness that made — and makes — her put the nation before herself.
We've all seen photos of Vice President Leni flagging a bus bound for Bicol on a dark night when she could have well been chauffeur-driven, and heard accounts of how she would sleep in a banca during out-of-town trips when she was a community worker, only to be awakened by the fishermen in the morning and told to vacate the banca as they were going out to sea. To me, that is the type of leadership we need, service before self, with an unerring focus on the goal.
In an interview with lifestyle media early this year, she revealed the kind of mother she was when she was raising her three daughters, who are six years apart.
"They would say that when they were much younger, I was a 'tiger mom.' When they were in grade school, I monitored them closely. Sobrang tutok. We did not have a driver of our own in Naga. So, I did everything. I would bring them to school before 7 a.m. and be there again before 12 noon to pick them up because they went home for lunch. And then bring them back again by 1 p.m., and then pick them up again at 5 p.m. And then after 5, they would have many extracurricular activities. They would have student council meetings; they would have piano or violin lessons. They're swimmers, all of them, so they train. I was a 'soccer mom.' My car would be filled with all they would need in their activities — piano pieces, violin pieces, swimming accessories, even their merienda. I would keep an eye on them during their practices, and while doing so, I would outline all their lessons. So when they'd go home before 9 p.m., they would have dinner, and whatever I outlined, that's what they would study. When they're asleep, that's when I would start preparing for my hearings the following day. With the benefit of hindsight, even if my children call me a 'tiger mom,' they say that what was imparted to them by such a rigid schedule was discipline. Such that when they were in high school already, and especially when they were in college, binitawan ko na sila. And after I let them go, they were still very hardworking, very driven, very disciplined, very focused. They know how to do housework. We can go on for months without help. So very responsible. And I think all the sacrifices I made when they were much younger really paid off. I am very fortunate with all my three daughters."
Leni was raised by hardworking parents herself. Her father Antonio was a judge who would bring home strangers to feed and clothe, sometimes even house, during typhoons.
"My mom (Sally) was a teacher in a local university where we also studied. She would teach English, grade school, high school and college. So she would go home around 7:30 p.m. So when my dad would pick her up, he would take us but we had to do our assignments first. Dad would buy us peanuts in the plaza. In front of the plaza was the PNB Building, which had a dancing fountain. And every night, while waiting for our mom in our Beetle, we would watch the dancing fountain. I think that is my best memory of my childhood."
"When my late mother was still alive — we lost her just before the pandemic — mas maayos yung nanay ko sa akin. Pag lumalabas ako sa TV, may interview ako, lagi niya akong sinasabihan: 'Magsuklay ka naman, lumalabas ka sa TV di ka nagsusuklay.'"
***
A product of a happy, solid childhood, and perhaps the driving force behind her children's successes, being a mother has not only instilled a nurturing character in Leni, it made her realize that "tutok" or micro-managing was the best way to manage, whether a household, an office, or an advocacy.
Before she even announced her presidency, she described her leadership style to me as very hands-on.
"I'm not the kind of leader who'd be content on just reading reports and ordering people around. For me, I want to do the dirty work myself, but of course with the help of my staff. If you could call it a fault, I'm really a micromanager. I am involved in the minor details of everything. And I think it's not good all the time, but in crisis situations, it's an advantage in the sense that people act very fast because you're there. Ever since, even when I was the head of NGO, I was like that already. I'm not content with just staying in the office. If we do programs with the communities, I would prefer that I'm there."
When she was asked after she announced her presidential bid what kind of Cabinet she would like to have, she asked for virtual mirror images of all she had striven to be.
"They should be experts in their field, they should be respected in their field. Not just experts, they should be managers, because they will be managing an entire department. And the fourth is their character. We have diverse personalities, but the values should not be distant from our own values. They will be my extensions. Cabinet secretaries are alter-egos of the President. And their conduct will reflect on me. So, definitely, character will be an important factor in choosing the members of my Cabinet. There should be no record of corruption, we are very big on that. If politics will be a consideration in the choosing, hind siya tatanaw ng utang na loob. A lot of the success or failure of the presidency or the administration will be dependent on the kind of Cabinet members."
***
I asked her oldest daughter Aika recently what it is that drives her mother.
"I'll answer it in three parts," she said. "One is her sense of mission. Second is she has this complete surrender to what's meant to happen or destiny, if you want to call it that. And I think that has helped her handle a lot of the things that she has gone through — if it's meant to happen, it will happen, if not, then it's not meant to be. But the third one is that she must have done all she could have done. That it couldn't be said at any point na kulang or bitin or 'I could have done this and this.' In all cases, she's always all-out."
As mothers are — all-out, hands-on, a moral compass, a guiding light.
The last man standing should be a mother.