Christmas with my father
December 24, 2021 | 12:00am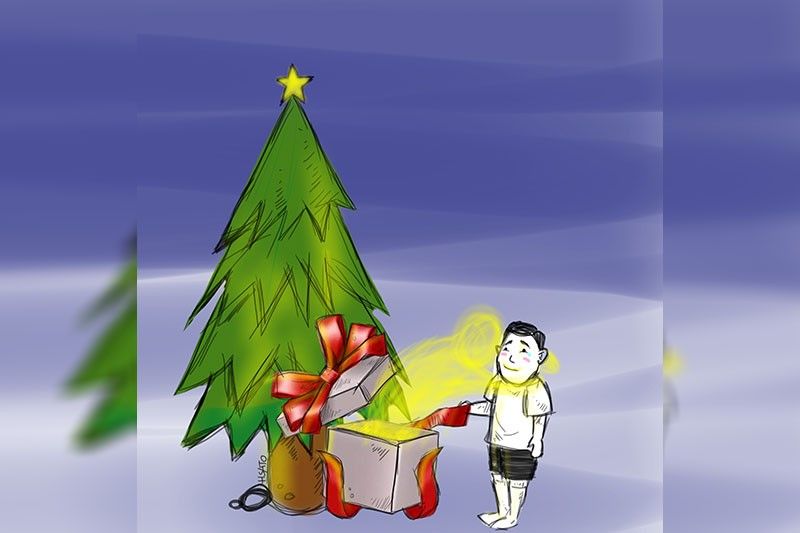 There was one Christmas Day when I was a child when my father brought me and my two older brothers to the rice field to attend to the farm owned by a landlord. It was the most wonderful time of the year with the other kids in the neighborhood going around town making merry in their best attire and getting gifts from their godparents. But my brothers and I, garbed in shorts and long-sleeved shirts to protects us from the sun, were in the field helping out our father, a farming implement called a weeder in our hands.
In the vast rice field, as muddy as if it had just been irrigated, the early morning cold breeze brought with it the feeling of Christmas. There was a Christmas carol in my head as I ran the weeder through and between rows of two-month-old palay, making sure the teeth of the tool would only clear the weeds and not touch the roots of the grass. Yes, as my father taught us, rice is a type of grass. In three more months, the field of green grass would bear golden grains. That was the time for harvest season.
We brought with us a basket filled with rice wrapped in banana leaves. The rice was topped with fried tuyo (dried fish) and boiled egg. A tightly sealed plastic pitcher of water and two glasses were in the basket, too. In a taklab, a small makeshift hut that could only house a large pipe that supplied water in the field, we washed our hands and splashed cool water onto our faces lined with sweat. By lunchtime, we took a break and ate our Christmas lunch on the paddy, under a duhat tree. Several meters away was a mango tree, which, during summertime, was also a source of joy to our juvenile spirits. We were happy.
Looking back, that particular Christmas left an imprint on my young mind: contentment. There's happiness in contentment. There's peace in contentment. Happiness is peace. That is Christmas.
***
I believed in Santa Claus, too, when I was a kid. Father Christmas, in my heart and soul, was as real as the big poster on the door of my grandfather's house. A fat, bearded man in a red suit. A big bag bursting with gifts slung over his shoulder.
I also wanted a gift from Santa. My father heard me. So he instructed me to hang the left sock from my pair of green Boy Scout socks by the window of our lawanit house.
I asked: How sure are you that Santa would give a gift?
Believe, my father said. Just like how he made me believe that every full moon God would grant my wish to have some coins if I gazed in the sky with a sincere prayer, my palms open, reaching out for the moon. I would wake up with diyes na babae (a ten-centavo coin) under my pillow.
Magic. My father would tell me that as I jumped up and down. I really thought God was a magician when I was a kid. My father, His conduit.
That particular night that I asked for a gift from Santa, my father told me to sleep early. He would be the one to wait for the Ho-Ho-Ho Man. So I slept soundly on Christmas Eve and believed that I would wake up to a sock filled with a gift.
When I woke up on Christmas Day, I went straight to where I had hung the sock. It was bursting. My heart was excited. My father was watching me. Slowly I took out the gift. Lo and behold, it was a piece of sweet potato. Believe me, I was happy. It was my first time to receive a gift from Santa.
Maybe next Christmas, my father said, Santa Claus would give another gift. It was a joyful, playful Christmas.
Looking back, that particular Christmas taught me a beautiful lesson: Santa is real. Santa is the contentment of a happy heart.
***
On Christmas 2008, the tables had turned — I played Santa to my father.
In our veranda fronting the big narra tree, I gathered everyone in my family for my annual gift giving on Christmas Eve. I was armed with a huge box filled with their Christmas wishes. When all gifts were given away to my mother, brothers, sisters-in-law, and my nieces and nephews, my father was left with no gift.
There was silence. The Christmas breeze hummed and in its humming the branches of the narra tree swayed. My father was in his rocking chair, his fingers tapping the armrest. Everybody had opened their gifts. Gratitude flew like confetti. But my father was dignified in his silence.
When my nieces asked for my gift to their lolo, that was the time I reached inside my pocket.
"Merry Christmas, 'Tay," I said as I handed a car key to my father. I pointed to the second-hand black Starex van parked in the garage. "That is your gift. For all your hardships."
A second-hand car gave my father and our entire family brand-new happiness. The joy on my father's face was priceless. I saved money for two years to afford our first family car for my father.
To this day, long after he is gone, I still feel the warmth of my father's embrace on the night Santa came to our home.
Merry Christmas! *