Survival tips in the time of COVID-19
November 9, 2021 | 12:00am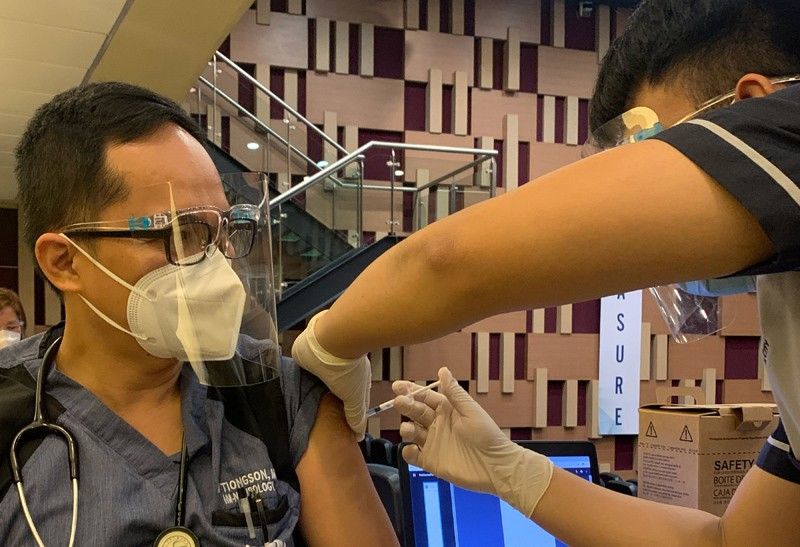 We salute our unsung heroes our doctors, nurses, and hospital staff for their bravery and perseverance throughout the ongoing COVID-19 pandemic. Because of this, their knowledge and service in the field have been of value to all of us.
Dr. John Jerusalem Tiongson, an internist and a neurologist, is the chairman of the Department of Neurology at the Medical City Ortigas. Doctor JJ, as he is known by his colleagues, did not stop his practice even during the strictest quarantine and in spite of knowing the risks it would bring to his family. He and his wife, Dr. Gwenn Pabellano-Tiongson, a neurologist (practicing at St. Luke's BGC) were constantly exposed to danger, putting their two unvaccinated children, Aro and Hiraya, constantly at risk.
Doctors JJ and Gwenn caught the virus a few days apart from one of their patients and spent their quarantine together. Aside from the initial shock and thoughts of death after knowing the results, they continued virtual consultations even at the height of their infection. To them, it was like a "mini-honeymoon" when they ordered all the food they fancied (but couldn't smell and taste them) and watched all the Korean telenovelas. Despite this, they still constantly worry every day whenever they step out of the house to serve in the battlefield.
Read on as Dr. JJ shares his thoughts on the last two years of the pandemic.
1. The show must go on. Regardless of the difficulties and challenges the pandemic brings, saving lives and improving the health of the patients, their families and the community, are sworn duties.
2. When comrades fall, step up! There was a time when the entire neurology house staff was "wiped out," either down with the virus or quarantined due to exposure. The senior neurologists stepped forward and went on 24-hour duties to man the ER, the stroke unit and the neurology floors.
3. Nobody should die alone. And I don't want to die alone. When COVID-19 patients reach the end, many of them have no family nor relatives beside them. I am happy to see that our staff, both medical and nursing, go the extra mile in spending time with patients, holding their hands and tapping their shoulders. Our stroke director, Dr. Jo Ann Soliven, brings musical instruments to serenade patients in the stroke unit and ICU.
4. "Please send me home." This is the oft-repeated request of COVID-19 patients — whether they are getting better and might go home, or going the other way. This may be because the family is the most important group of people you want to be with in your last days. Nobody ever mentioned work or the white sand beaches of Boracay or Siargao. It has always been the family.
5. Spend time with the family. In connection to the previous item, I made sure to spend time with my own. During the pandemic, my kids learned how to bike with no training wheels and my bunso knows how to swim now. And I was able to be part of these small and almost trivial successes. How cool is that!
6. Innovate or die. The healthcare landscape has changed dramatically these past two years. A day after the lockdown, I was worried if patients would accept and be comfortable with virtual consultations. Surprisingly, up to 70 percent of patients now are online and they receive quality healthcare despite the challenges.
7. Trust science and medicine. Going inside the COVID-19 ER or wards makes your heart beat a little faster, worrying that you might bring an unseen enemy with you when you go home to your loved ones. But having been vaccinated, observing the health protocols and the proper donning and doffing of PPEs, you can sleep soundly at night.
8. I am not a veterinarian. Many patients have been asking for prescriptions of a medication for animals to fight COVID-19, as "prescribed" by their kumares and kapitbahays. Truth to tell, we have seen lots of patients with severe neurological side effects with this drug.
9. Don't forget to take care of yourself. It's a dictum among first aiders to always watch for your safety and well-being first, for how else can you help others if you are down and out? Good thing my clinic mate Dr. Jannel Cleto is a psychiatrist and a mindfulness expert; she teaches me how to be calm amid the storm.
10. Good days will come and the sun will shine again. I am hopeful that in a matter of time, humanity will overcome this great challenge. Filipinos, talented and hopeful, will always find a way to make things better.
Recommended
August 17, 2022 - 12:00am