Divine Providence
September 7, 2021 | 12:00am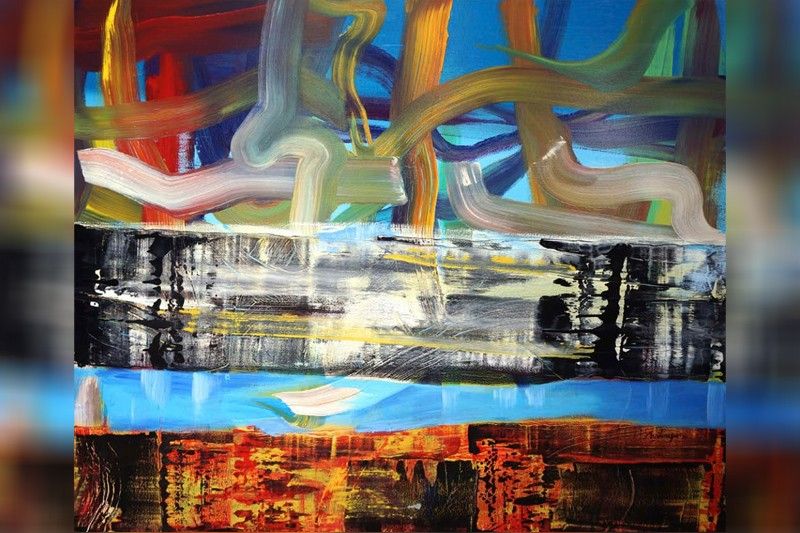 My soul magnifies the Lord
And my spirit rejoices in God my Savior;
Because He has regarded the lowliness of His handmaid;
For behold, henceforth all generations shall call me blessed;
Because He who is mighty has done great things for me,
and holy is His name. — from The Magnificat
How does one give praise to a Being greater than oneself? Whatever deity one believes in how does one give glory for gifts received so richly? The gift of life, of family, of talent. Of years.
"Master Abstractionist" Edwin Wilwayco, who is mounting his 37th solo exhibit titled Magnificat Opus 2 on Sept. 18 at the Leon Gallery, is as inspired as ever despite the pandemic, with 31 new artworks completed in Providence, Rhode Island, where he had spent the past 18 months.
But Wilwayco, 69, hasn't always had it easy on art gallery row.
"I did my 'flag' series in 1979, which was a flop at the time. I was very young then and I got good art reviews. My paintings were featured in magazine covers. For the first time in my career, I asked for a loan from the bank for P22,000 just to finance the cocktails, framings and a simple catalogue," Wilwayco once recalled to me.
Alas, he sold only one painting from that exhibit, for P2,500.
Depressed, Wilwayco retreated into his shell. "I only shared my frustrations with my wife Loby. I didn't paint for one year, didn't want to read anything about culture or attend any art openings. By God's grace, I bumped into Dr. Rod Paras-Perez from UP also, and an art historian and printmaker. And he made me shed a tear when he told me that art is not like that. He suggested that I apply for a British Council grant and I did. I stayed for six months in Surrey. After that, I was back."
And he has never left. Even during this pandemic, or perhaps even more so during this pandemic, Wilwayco, who has been praised for his "artistic audacity," has kept busy.
He missed social interaction, but interaction was replaced by introspection. "The pandemic affected me because I'm not used to seeing people with masks, I couldn't see their expressions, I couldn't hug friends."
So he stayed home, and stayed inspired.
The result is a trove of new paintings that magnify not just a Higher Being, but also the most human of all beings. For how could man have survived a crippling pandemic without being embittered — if not by the grace of God?
According to Wilwayco, who flew back last July from Providence, his Magnificat Opus 2 is "a series of paintings, an abstracted visual interpretation of Johann Sebastian Bach's baroque musical composition relating to the Song of Mary, commonly known as Magnificat."
It is thus not just Mary's expression of faith, or Wilwayco's own expression of something that magnifies his soul, that is splashed on the canvas of his new series — but also his interpretation of Bach's own magnificence.
Wilwayco, who experienced his maiden brushstrokes at Continental School of Design Studies in Los Angeles before sharpening his skills at the University of the Philippines' College of Fine Arts, graciously gave me a sneak peek into the paintings — and they, to me, are visual canticles. My eyes tended to look upwards after the first glance, as if in praise for something or someone "in the highest."
"Being moved by the music of Bach, and doing abstract work, I'm eliminating pictorial realism, rationality, and absolutism to relate a biblical story while providing an allusion to musical sound, allowing color, texture, and line to be the principal subject," says this abstract storyteller.
"With no direct iconography or a hint to guide the viewer, I think it allows individual contemplation and freedom of opinion," believes Wilwayco.
He compares his Magnificat Opus 2 series "to geometric, non-representational modern or contemporary stained-glass, which we are familiar to glorious places of worship."
The face of God, after all, need not be in a face. It is everywhere.
"I felt I was guided all throughout the creation of this series," the artist says.
***
Is there a direct connection between the pandemic and his Magnificat Opus 2?
"Not at all, I don't subscribe to that," replies Wilwayco. "When I paint or I'm in the studio, I just concentrate on what I'm doing. I listen to the music that drives me and feel the beat."
And it is the beat of gratitude that may have magnified these paintings. They are, indeed, audacious.
"I am always grateful for the talent that the Lord gave me. Creating Magnificat paintings has become a source for daily meditation — thanking God that I can still produce artworks with religious themes, and hoping to promote a revival in spirituality and its collective world relevance," Wilwayco shares.
What keeps Wilwayco, who turned 69 last July, inspired?
"I always believe inspiration should catch me when I'm working, so I work, work and work!" he laughs.
After all, work as a testament to the Being that gave us the means and the talent to create masterpieces, magnifies Him, too.
(You may e-mail me at joanneraeramirez @yahoo.com. Follow me on Instagram @joanneraeramirez.)