Hope & fireworks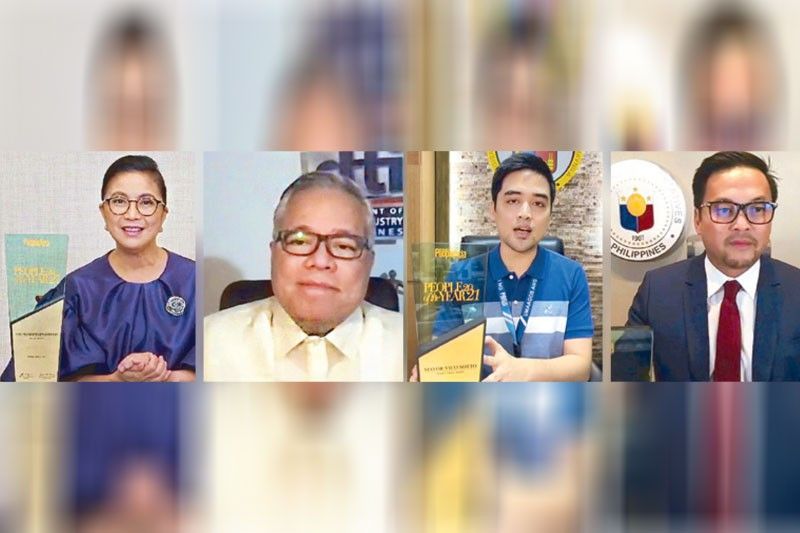 A constellation of hope glowed at the recent People of the Year 2021 virtual awards night as PeopleAsia magazine trained the spotlight on 11 extraordinary people and two corporations as guests sang along to the Katy Perry hit, Firework.
Yes, the show went on because PeopleAsia believes not just in spreading hope — but in sparking it — here and now, almost 400 days since the country was gripped by the pandemic.
In his remarks delivered from Washington DC, Ambassador to the US and PeopleAsia publisher (on leave) Jose Manuel Romualdez described this year's awardees as "extraordinary individuals, who are making a positive change in the lives of people."
This year's awardees were Vice President Leni Robredo, Trade and Industry Secretary Ramon Lopez, Pasig City Mayor Vico Sotto, STAR editor-in-chief Ana Marie Pamintuan, Deputy Speaker Rep. Mikee Romero, UP-PGH director Dr. Gerardo Legaspi, Pilipinas Shell president/CEO Cesar Romero, AC Energy president/CEO Eric Francia, Metro Pacific Investments Corp. chief finance officer Chaye Cabal-Revilla, iFern president/CEO Tommanny Tan and Cavite Gov. Jonvic Remulla.
HSBC, which has a 145-year presence in the Philippines, was honored as "Bank of the Year," and the award was accepted by its CEO Graham FitzGerald.
Sta. Elena Construction and Development Corp. was lauded as "Builder of the Year" and the award was accepted by its president and CEO Alice G. Eduardo.
"The only way that the Filipino can rise through any crisis is together," Robredo said in her acceptance speech, delivered via Zoom.
Lopez, for his part, thanked President Duterte "for the inspiration to always give our best and sincere service to the Filipino people, especially the marginalized sector."
Sotto, the youngest awardee in the group, expressed hope that his award "also serves as an inspiration for more leaders, particularly young leaders, to serve with honesty and excellence."
Romero shared the honor "with all the country's frontliners in the rigorous struggle against the pandemic."
Pamintuan thanked her mother and STAR president Miguel Belmonte for their support, and quoted a message from a friend, "Isolate now, so when we gather again, no one is missing."
PGH's Legaspi said his award's greatest inspiration "should come from our patients who have been our object of goals in improving lives and outcomes after COVID infection."
Francia's message sparked hope. "Amidst plans of reviving the economy, I believe we have a unique opportunity to build back better towards a more sustainable, resilient and inclusive future."
Shell's Romero vowed "to ensure that energy is provided during these difficult times, because many of us will agree that we need energy to continue to power our homes, to power the internet, to power the ventilators."
Cabal-Revilla exhorted fellow Filipinos to be beacons of faith, hope and love "during these dark and extraordinary times, no matter how desperate and sad we may be."
iFERN's Tan said, "Hope is seeing light in spite of darkness. iFERN provides not just hope but a means for people to thrive amidst the pandemic."
Remulla also sparked hope, saying, "Rest assured that the light at the end of the tunnel is very evident… Be sure that the leadership is here, the future is here and the cure is near."
HSBC's FitzGerald said, "I see our role to bring the very best of the Philippines with the very best of the international proposition in our products."
Sta. Elena's Eduardo thanked PeopleAsia for recognizing the movers of the construction industry as frontliners, "and for helping spark hope in the country tonight."
Jasmine Fitzgerald led a heartwarming tribute to frontliners, as she performed Hero, while images of doctors and other essential workers — some of whom succumbed to virus in the line of duty — were flashed on screen. Singer Jon Joven added more than a spark to the show when he sang Firework. They were accompanied by the Marcy David band.
PeopleAsia's "People of the Year" 2021 Awards Night was co-presented by PLDT Home, Pilipinas Shell and Hilton Manila; major sponsors Lueur Lauren, Brilliant Skin Essentials, Sunlife Canada Philippines Inc., KMV Asia, HSBC, Converge ICT, Sta. Elena Construction and Development Corp., The MVP Group's tollway infrastructure arm, Metro Pacific Tollways Corp., the Manila Electric Company (MERALCO), Mortlach Single Malt Scotch Whisky, The Philippine Amusement and Gaming Corp. and The Philippine STAR.
(You may e-mail me at [email protected]. Follow me on Instagram @joanneraeramirez.)