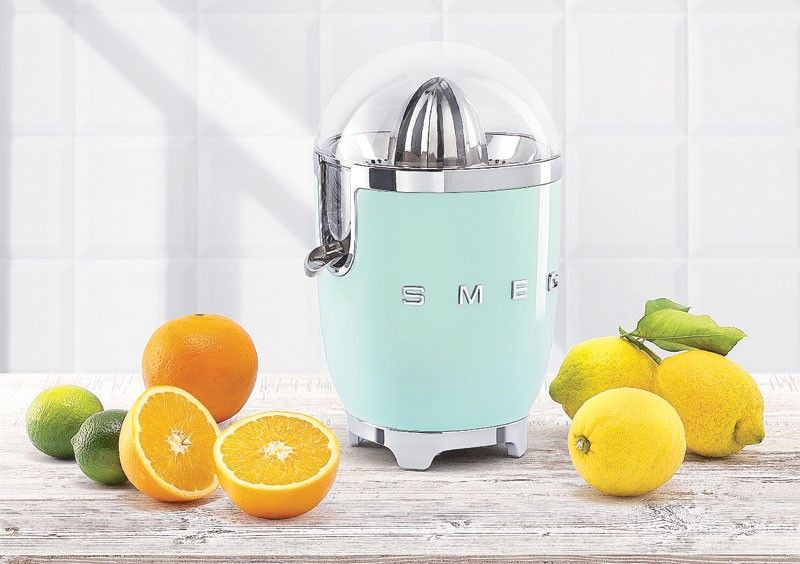 Citrus juicer by Smeg, an Italian kitchen appliance brand since 1948
Style and technology in your kitchen
THE PEPPER MILL
-
Pepper Teehankee
(The Philippine Star) - March 4, 2021 - 12:00am
This pandemic has made a lot of us more concerned about strengthening our defense mechanisms against COVID-19. We load up on fruits and get our regular dose of vitamin C from freshly squeezed lemons or oranges.
This is not tedious when you have a Smeg citrus juicer. Its powerful motor starts up automatically when you press the fruit half onto the juicing cone and every nutritious drop is extracted. The juice collector and non-drip stainless steel spout make it a no-waste and no-mess process. While the juicer appears very cute with all its retro curves and bubblegum colors, it is very solid.
Smeg is an Italian brand with a history dating back to 1948. The name is known for its outstanding aesthetics. Actor Xian Lim says, "I love the classic look Smeg offers that could never go out of style. It is very elegant and also adds a great touch to your kitchen space."
Xian owns a cream Smeg range cooker from the nostalgic Victoria line, a red Smeg FAB 32 refrigerator, and a pastel-blue Smeg stand mixer.
Filipina-Irish model Siobhan Moylan, who has a Smeg citrus juicer in pink, says, "I like how I can make fresh juice at home and I know all the ingredients that go into my juice. I love how I can make juice that tastes good with no sugar or preservatives."
Each appliance bearing the Smeg logo operates with cutting-edge technology, making it dependable and durable. A lot of chefs are Smeg users.
Chef Reggie Aspiras owns several Smeg appliances: a red stand mixer, red drip filter coffee machine, red toaster, a silver blender, and a kettle. She has a three-year-old Smeg oven and two others that she's been using for over 18 years. She also has a six-burner and a four-burner hub that are both 18 years old, too.
"It has served me so well and I can't seem to find a suitable replacement, nor would I want to because it still works perfectly," she says. "My Smeg ovens have been so reliable, considering how I overuse them — literally days and hours on end. I can truly say that Smeg stoves and ovens are designed to heighten the visual appeal of one's kitchen, while built and assembled to last. Smeg is a combination of beauty and brawn!"
Chef Rob Pengson, when asked about his cream Smeg blender, pastel-blue Smeg stand mixer, and red Smeg FAB 32 refrigerator, says it "looks great and the performance is legit!" He points out how the blender and the stand mixer can handle big volumes and produce consistent output. As for the ref, it impresses him how the odor from the different compartments don't mix and how the vegetables are chilled properly — the lettuce doesn't get frozen. He adds, "It's those little things that matter."
Chef Cyrille Soenen's black Smeg range cooker in his home kitchen is a six-burner with three ovens from the Victoria line. It's been working extra-hard these days with his pandemic-born businesses dispatching orders, catering to online parties, and preparing for private home dinners.
Chef Cyrille is happy to report that after five years of use, he has zero complaints about it and has never had to call for repair service. But what he appreciates most is how accurate the oven temperature settings are.
He also owns a cream-colored stand mixer, which he declares is capable of doing heavy-duty tasks daily. His pastel-blue Smeg citrus juicer is keeping everyone in his household healthy. Because it's so convenient to clean, they're encouraged to make lemon juice every morning.
He says his black Smeg espresso coffee machine is frequently switched on because he takes several cups of coffee throughout the day. "It's very easy to use; it doesn't take so much time to heat the water."
Are you curious about any of these kitchen appliances? Try them out at any of the Smeg Experience Centers located at Park Terraces in Makati and Design Center in Mandaue, Cebu. Smeg is distributed locally by Mondo Cucina, Inc.
* * *
For more information, visit www.smegphilippines.com or follow @smegphilippines on Instagram and @smegph on Facebook.
* * *
Follow me on Instagram @pepperteehankee.