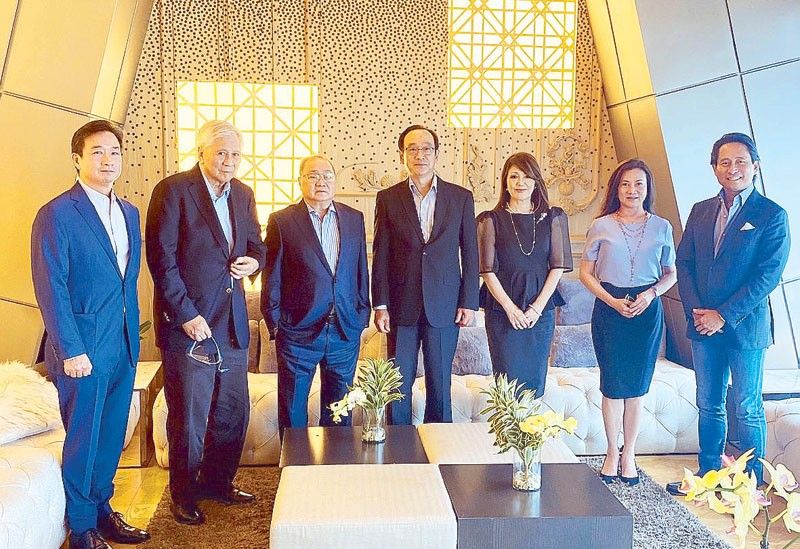 Farewell lunch hosted by MVP at the plush The Peak, Grand Hyatt BGC, (from left): Toyota Philippines chairman Alfred Ty, Ambassador Albert Del Rosario, MVP, Ambassador Koji Haneda, Madame Ihoko Haneda, Connie Toledo and the author.
The innate difficulty of having an ambassador as a friend is the abject reality that their tour of duty ends at some time. The friendship and camaraderie cultivated through the years inevitably come to an end. It's never enough; you'd want them to stay.
I recall among my friends in the business, diplomatic, and even political circles, that there were even attempts to lobby for the extension of a number of ambassadors. We knew that this was, perhaps, an exercise in futility, but we felt that it was better than inaction.
I felt it was a symbolic manifestation of how we all felt.
There have been a number of ambassadors to the Philippines who have remained good friends even after their tour of duty has ended.
Ambassadors by nature are very friendly people, and His Excellency Koji Haneda, Ambassador of Japan to the Republic of the Philippines, is no exception.
The Japanese are a very gentle, courteous, and hospitable people, and Ambassador Haneda best personifies these traits.
Ambassador Haneda started his tour of duty in the Philippines in October 2017. He was no stranger to the country, though, as he had started his diplomatic career here back in the early '80s.
Upon his arrival then, Ambassador Haneda pledged to make every effort to promote and enhance the strategic partnership and friendly ties between the Philippines and Japan.
Not that there was any mending or bridging to do, as both countries enjoyed a healthy and close relationship back then. In fact, in January 2016, Japanese Emperor Akihito and Empress Michiko made a state visit to the Philippines, their first-ever official visit to Southeast Asia, on the occasion of the 60th anniversary of the normalization of Philippine-Japan relations.
When President Rodrigo Roa Duterte made a courtesy call on the Imperial Palace in October 2017, his second visit to Japan upon his assumption of office, he thanked the Emperor and the Empress for their kindness in visiting the Philippines and its historical significance.
President Duterte has visited Japan four times since becoming President in 2016. This just shows the extent of mutual cooperation, good relations and friendship being enjoyed by both countries. I recall being part of the business delegation in all these presidential visits.
Ambassador Haneda has been instrumental in ensuring that these ties are well maintained and enhanced to the next level. Suffice it to say, relations between the Philippines and Japan further strengthened during his three-year tour here.
It was during Ambassador Haneda's stay here that several loan and grant agreements between the Philippines and Japan were signed for President Duterte's "Build, Build, Build" infrastructure program.
One of these agreements is the 104.53-billion-yen loan package for Phase 1 of the Metro Manila Subway Project, the country's biggest single infrastructure project under the Duterte administration.
Over 650-billion-yen worth of loans had also been signed with the Japan International Cooperation Agency (JICA) since Ambassador Haneda started his stint in 2017.
More importantly, as we grappled with the COVID-19 pandemic this year, the Philippines became the first recipient of Japan's emergency support loan for COVID-19 with the early disbursement of a 50-billion-yen financing package in August.
Japan was likewise once of the first countries to respond to the Philippine's call for international assistance in the Marawi rehabilitation and reconstruction effort.
Ambassador Haneda was also instrumental in Japan's assistance in the development of a Subic Bay Freeport master plan.
Beyond infrastructure and economic development cooperation, Ambassador Haneda was also credited for raising the bar of mutual cooperation in the realm of maritime security, the Mindanao peace process, as well as people-to-people and cultural exchange.
His stint in the Philippines has been acknowledged as being one of the most productive.
Sadly though, his tour of duty ended in November. Melancholy was in the air at the Malago Club House in Malacañan Park when he made his farewell courtesy call to President Duterte, where he was conferred the Order of Sikatuna with the rank of Datu.
It would have been nice if they stayed on into the Yuletide season and spent Christmas here. He has been a good friend through those three years of his tour of duty here, and we will cherish the warmth and hospitality that he and his lovely and elegant wife, Madame Ihoko Haneda, had shown to me and to my family.
How can we ever forget the delicious lunch they hosted in my honor at their sprawling residence? Believe me when I say: it was definitely the best Japanese cuisine we've ever tasted. And don't get me started on the sake! Totemo oishi!
His is a friendship that will last beyond his stint here, no doubt.
Watashi no shin'yu, Ambassador Haneda-san. My good friend. Thank you very much for everything. Iroiro to arigatogozaimashita.
In the midst of the Yuletide season and of this COVID-19 pandemic, there have been many challenges but also many opportunities, many trials but also many blessings. May we continue to hope in a better and brighter tomorrow, and may we share that hope with others, especially those who need it most in these trying times.
Tuloy pa rin ang Pasko!
A Merry Christmas to one and all!
(Yoi tomodachi means good friend in Nihongo).